---
2015 Part 1
Countries/territories visited: .pt, .es, .fr, .ch, .de, .at, .sk
This has been an exceptional year for travel beginning with Portugal through Spain where Miloš took his last breath at 11.5 years. Then to France back to Switzerland. After doing some servicing for me and Ruth the van there are excursions to Germany and Italy before a trip around Austria and Slovakia. After a short sojourn in England I set off to Iceland, then an extended train ride across Canada before entering the US down the West Coast to L.A. before flying to Fiji.
We are still in Albufiera when a muslim group attacks Charlie Hebdo in Paris. "Freedom of Religion" or "Freedom to Ridicule Stupid Ideas" which is it to be?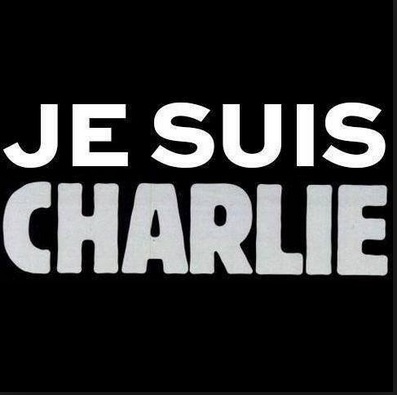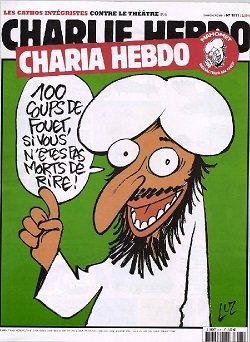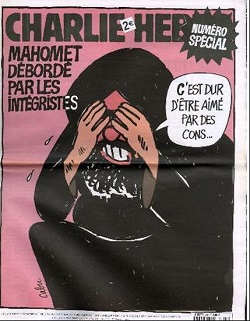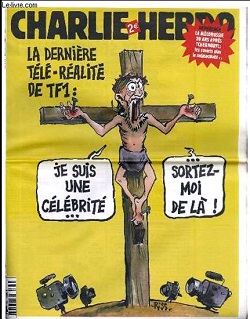 And there is a full moon.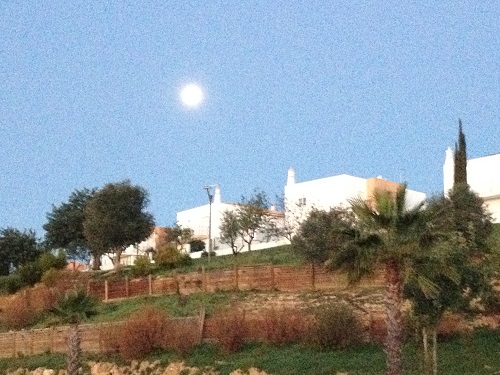 And what looks like a poinceta tree.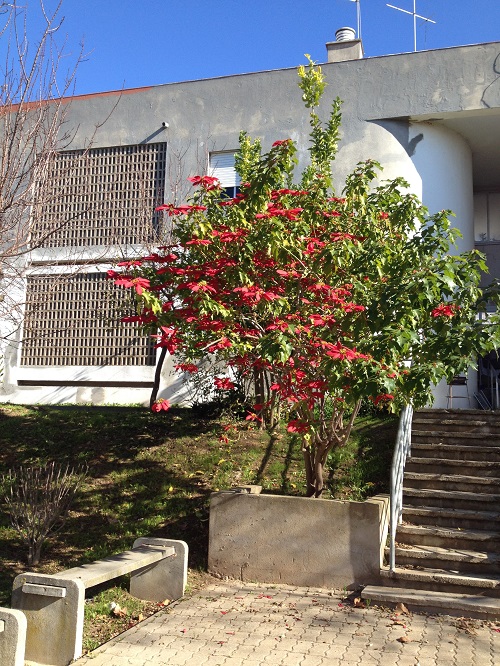 This one I particularly like. It seems to me to capture the stupidity/danger of religious belief - blind obedience to belief without evidence.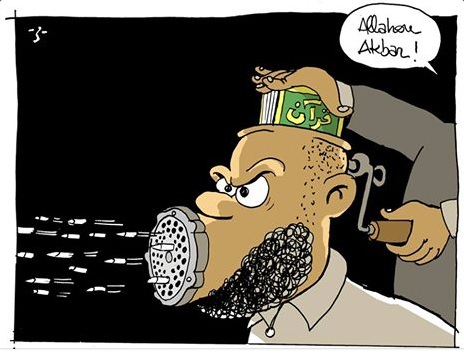 Then a friend on FB found this: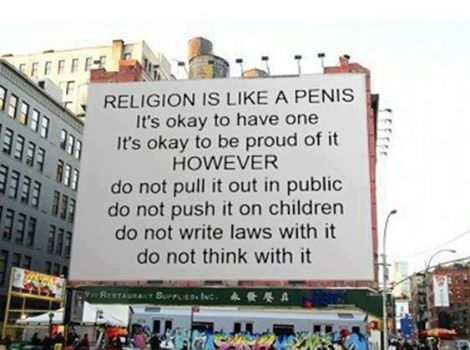 Especially relevant in regard to children. Stop brainwashing children should be a foundation of our society, sadly it isn't.
We go down to the sea, to another part of the beach.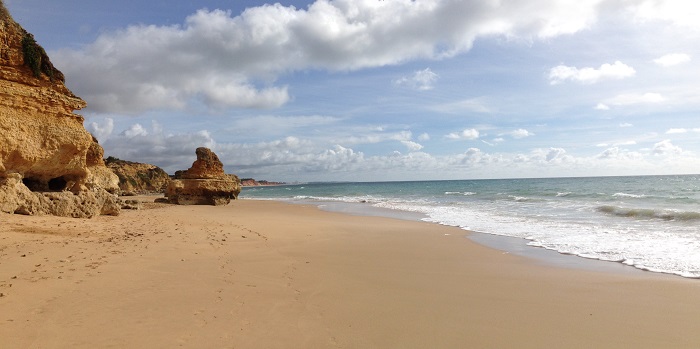 And Miloš does his modeling pose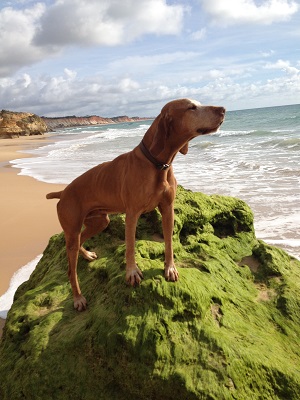 I am at Sunday Lunch again - strong sunlight. Oh dear.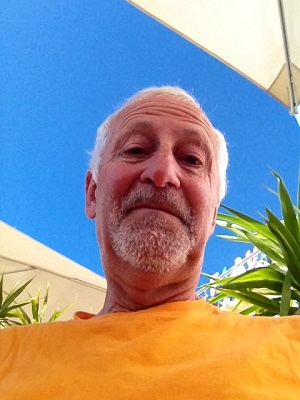 And the sun still shines a few days later.
Then one of my sons arrives and we go to around the coast.
| | | | | |
| --- | --- | --- | --- | --- |
| Carrapatiera Parking | | No services but a spectacular location | 37.19258 | 8.90266 |
The wind and rain is ferocious. Ruth rocks most of the night.
Then a night in Silvas.
| | | | | |
| --- | --- | --- | --- | --- |
| Silvas Parking | | Only water, but this is being upgraded and will cost a few €s methinks. Close to the town, cafés and the Moorish citadel. | 37.185338 | 8.445325 |
Before heading to a five star campsite:
| | | | | |
| --- | --- | --- | --- | --- |
| Turiscampo Campsite | | All mod cons and a price to match. Isolated. | 37.10197 | 8.73452 |
Lots of chores to do. And some tennis to watch. And lovely hot showers in a decidedly spotless bathroom each morning.
We then leave and explore the walking possibilities at a local Barragem - dam.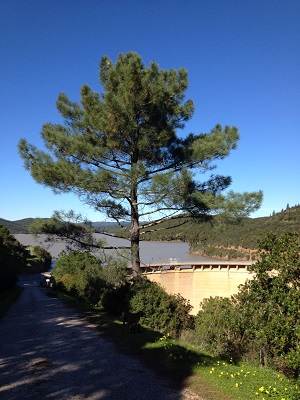 Then overnight on some rough ground opposite Lagos.
| | | | | |
| --- | --- | --- | --- | --- |
| Lagos Wild Parking | | Nice view of the town and 100 meters from a long sandy beach. | 37.10325 | 8.67113 |
The sea wall is the revier of a number of wild pussies.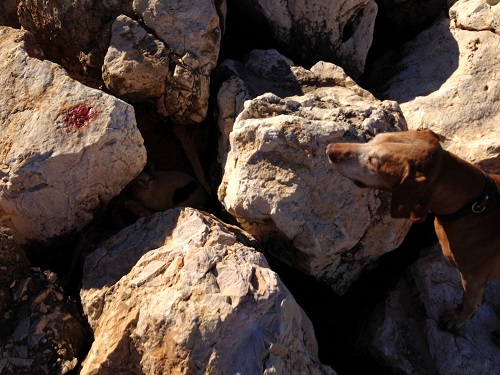 Then one night beside a similar beach at Alvor.
| | | | | |
| --- | --- | --- | --- | --- |
| Alvor Beach side Parking | | All mod cons - not - and a price to match. Isolated. | 37.12307 | 8.59401 |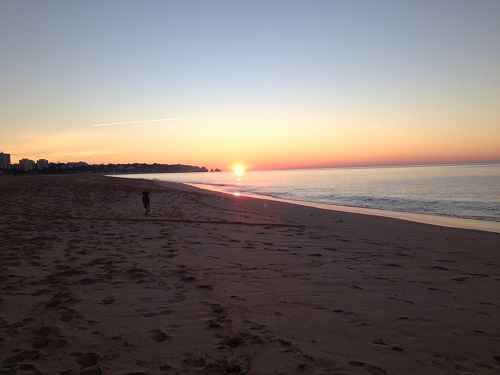 Then it is time to drive north towards Lisboa where Ruth needs some work done. We stop at Lago Santo André
| | | | | |
| --- | --- | --- | --- | --- |
| Lagao Santo André Beach Parking | | Isolated. Beside the lagoon. | 38.11398 | 8.79615 |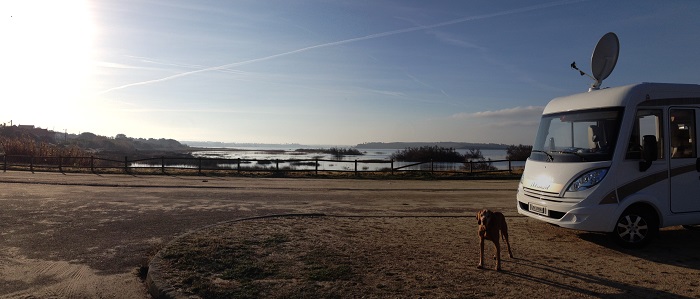 After two nights we head off to Lisboa and visit the Hymer dealer. We have to wait a few nights before Ruth is scheduled.
| | | | | |
| --- | --- | --- | --- | --- |
| Belem Parking | | No services. Next to the ferry terminal. The original parking is closed and there are signs prohibiting overnight parking. | 38.69564 | 9.19846 |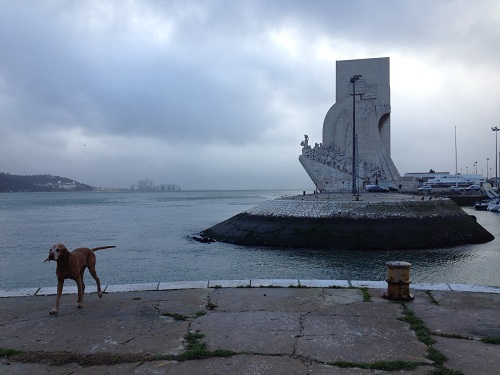 There is an Energy Museum next to the parking. It was built in 1939 with major components from the UK and Germany. This facility provided electricity for the city and industry along the river.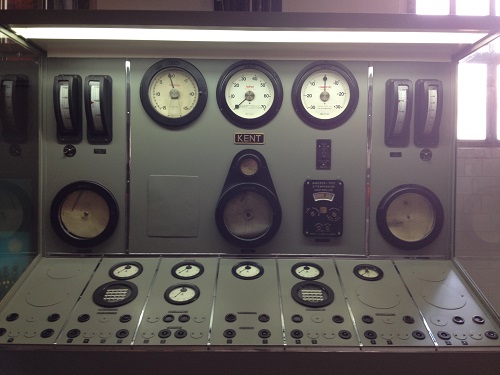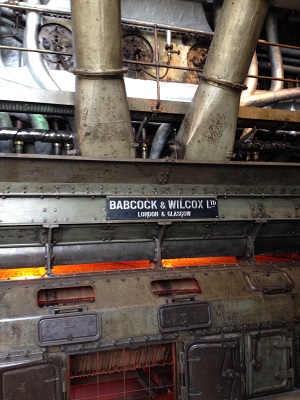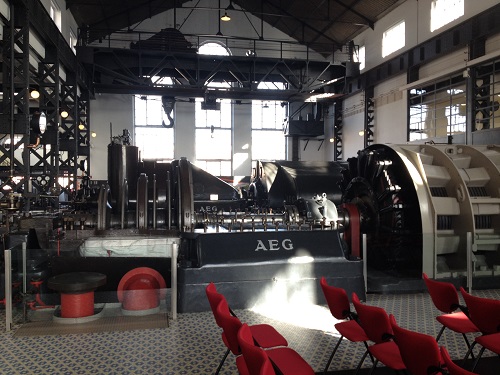 Reminds me very much of a power station I helped to design the monitoring system for in Austria - Neu Korneuberg just outside of Vienna.
In the morning as the sun battles the gray and the damp we walk alongside the river before ingesting a coffee at the kiosk next to the (busy) commuter ferry.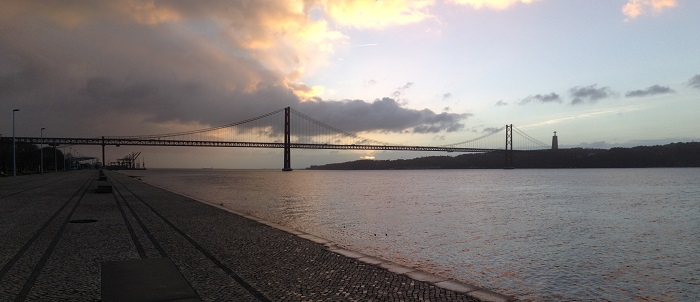 Then for one night at the Orbitur at Guincho to be close to the Hymer dealer.
| | | | | |
| --- | --- | --- | --- | --- |
| Orbitur Guincho | | Quiet and about 1 klick from the spectacular beach. | 38.72171 | 9.46776 |
The following day we get some things fixed and drive (about 6 hours) back to Albufiera, where Spring seems to have arrived judging by the cherry blossom on the trees surrounding the campsite.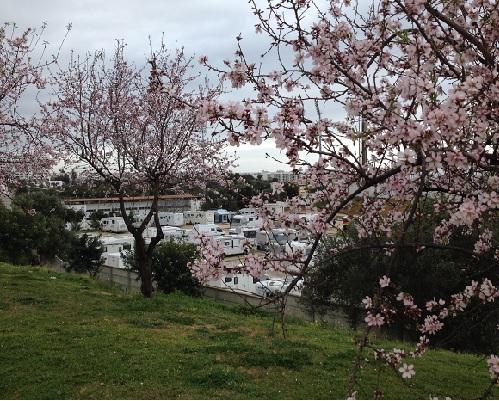 The nights are still cold but the days warm if not hot - a sun which can burn sensitive skin quite quickly.
The journey back to Marbella to meet family begins. Faro Beach, Pedro d'el Rey, Monsaraz and the dam.

El Rocio where the bypass road has been completed and the Stork we saw some years before seem to have moved elsewhere - I would too with the traffic noise.
Then onto Sevilla for a couple of nights at the lorry park
| | | | | |
| --- | --- | --- | --- | --- |
| Autocamper Parking Sevilla | | A rather desolate place with huge holes in the approach road, Wifi in the reception, one shower and toilets. Quite a hike from the city. | 37.36237 | 5.99460 |
Then down the coast to take a look at the Trafalgar Lighthouse at the end of a fabulous beach.
| | | | | |
| --- | --- | --- | --- | --- |
| Pinar San José Campsite | | Quiet with excellent facilities (well except they still haven't worked out how to separate the wet shower water from the still dry clothes.) | 36.20120 | 6.03045 |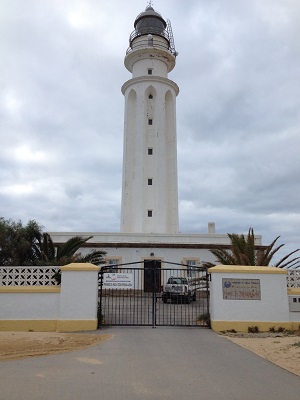 We then head to Gibraltar where the wind blows the sand and the spray at constant velocity. Miloš's ears go horizontal.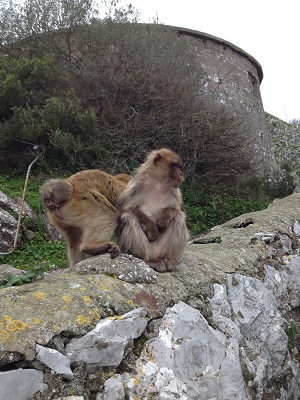 The following day it is on to Malaga and then to the Cabopino campsite with a clean Ruth, well-walked Miloš and a hot shower. We speak to friends and relax on the beach in the sun.
| | | | | |
| --- | --- | --- | --- | --- |
| Cabopino Campsite | | Good services, Quiz Monday nights. Great Pizza and a lovely beach - especially for dogs in the Winter, with a view of the Atlas Mountains if you are lucky. | 36.489308 | 4.742902 |
Then family arrives in Cala de Mijas and we go and park up outside the Wok nosherie alongside the main road, sunny and not too much noise at night.
| | | | | |
| --- | --- | --- | --- | --- |
| Cala de Mijas Parking | | No services but a spectacular location | 36.57452 | 4.62119 |
Breakfast with Miloš on my lap. His favourite position.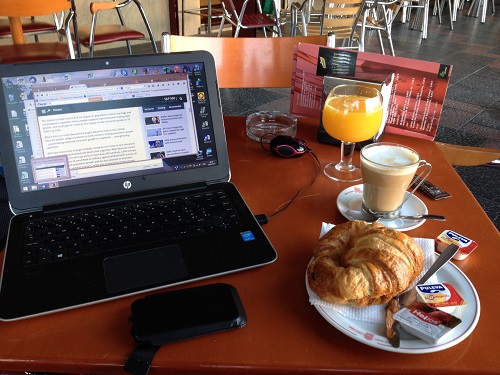 Miloš 3-SEP-2003 to 23-FEB-2015

In the morning he walks slowly and then sleeps on a sunny balcony until the afternoon. Walking later that day he keeps stopping and does not want to go on. His breathing is sometimes racing.

We drive to the kind vet in Calahonda where he is gently given a strong anesthetic and something to stop his heart and he passes quietly as I stroke him. One last huff from his lungs and his distress is no longer.

He was a strong force in my life, especially through some troubled times and always in a good mood and pleased to see me and almost everyone else too. He was an exceptional character, gentle to the point of being soppy. He exuded joy and contentment. The pain he has felt since last September won't bother him any more. I think he knew we were never going to mess him around too much. He was a proud, strong dog even though he almost never showed how strong he was.

I miss him greatly while thinking often of the wonderful times we had together for more than a decade.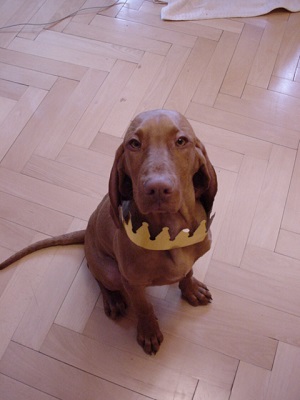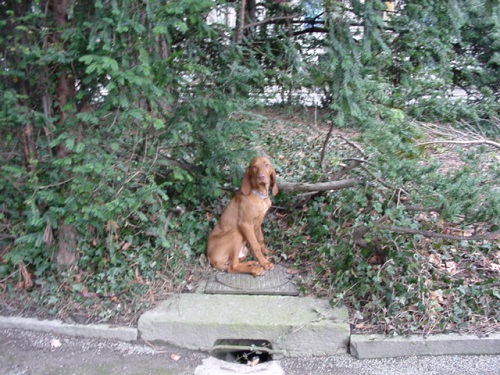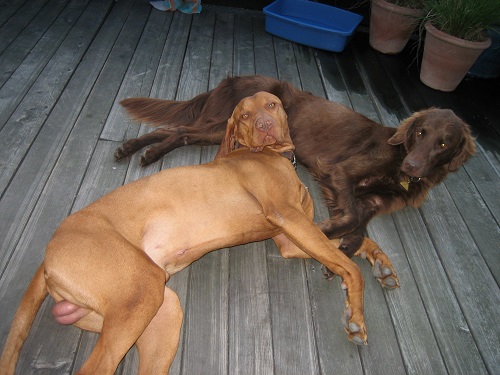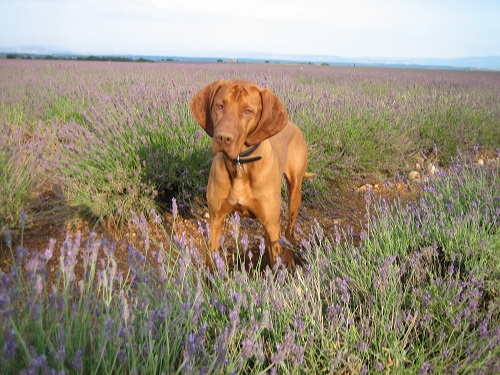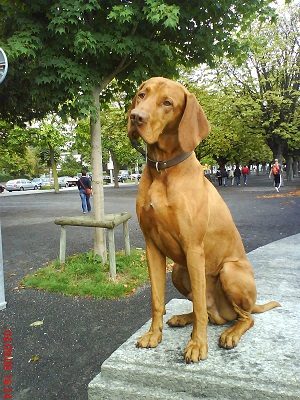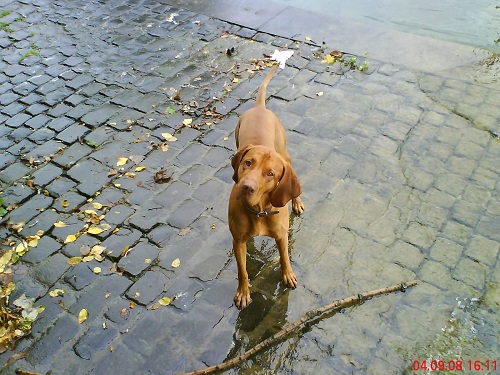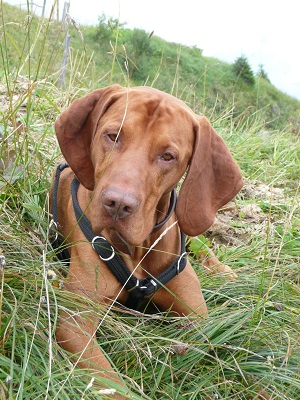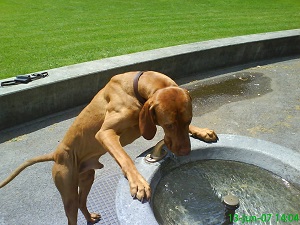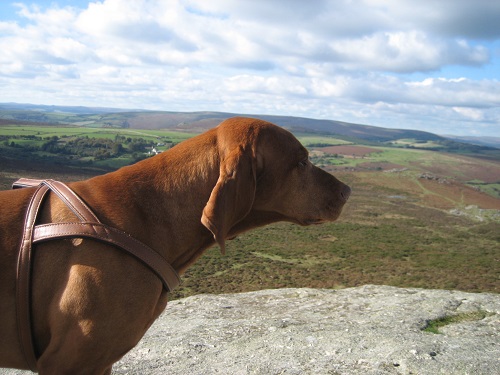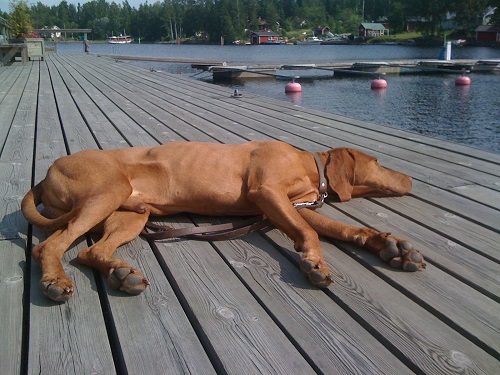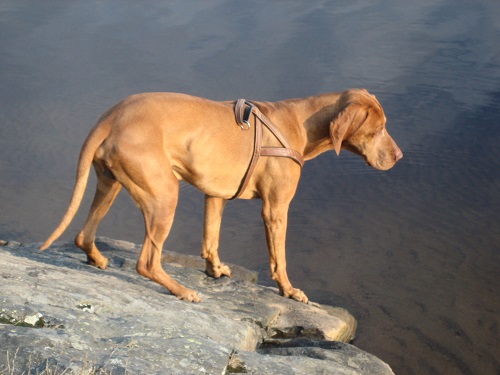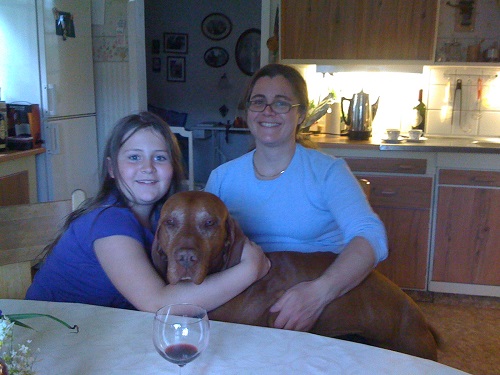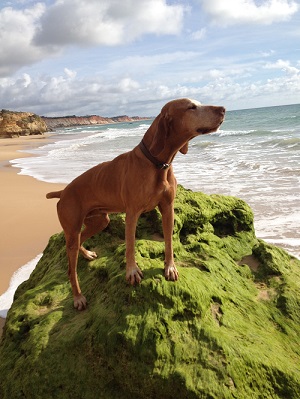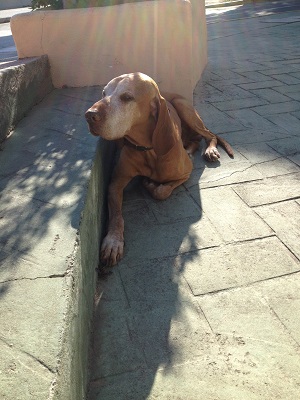 Rest well my friend.
I stay at the parking in Cala de Mijas for another 10 days and spend time with family before heading back to Cabopino campsite for a few days. Then it is onward up the coast - a lot of the way on the new A-7, past Almeria to the hills by the coast. Lunch on cliffs with a blue sea and fluffy white clouds at La Isleta, but wild camping is no longer allowed.
| | | | | |
| --- | --- | --- | --- | --- |
| Los Escullos Campsite | | Nice site, friendly staff and free Wifi | 36.80344 | 2.07976 |
The very next day I see a hill.
It turns out it was a bit further in the distance and a tad higher than I had thought.

In memory of Miloš here is a video of this conquest.
We leave and drive 440 klicks to a basic, but friendly camping north of Valencia. We seem to have driven a way since Ruth came on the scene.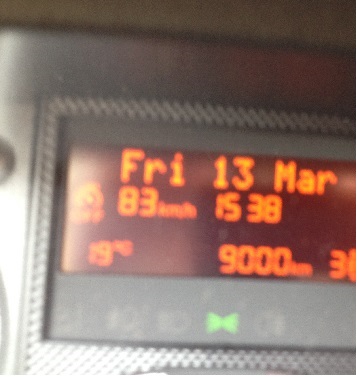 | | | | | |
| --- | --- | --- | --- | --- |
| Valencia Camper | | A friendly, small (40 pitch) site 300m from e Metro station. | 39.58042 | 0.44609 |
First a delicious Paella with friends in the bar. The following day I take the Metro into the city, see the stuff of which a "Fallas" is made, which includes large wooden figures which are burnt, and the letting-off of very, very load fireworks - I wonder if this is how war sounds like?
Here some ninots: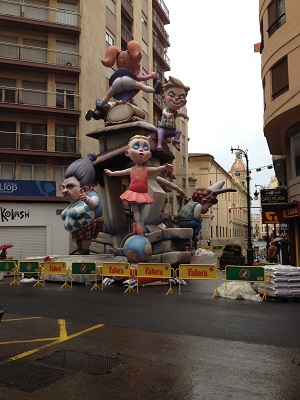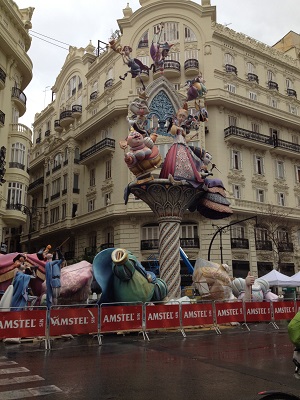 Then I take the bus to see the new buildings, spectacular, but apparently based on massive debt. Lots of tourists, so maybe the funds are now rolling in?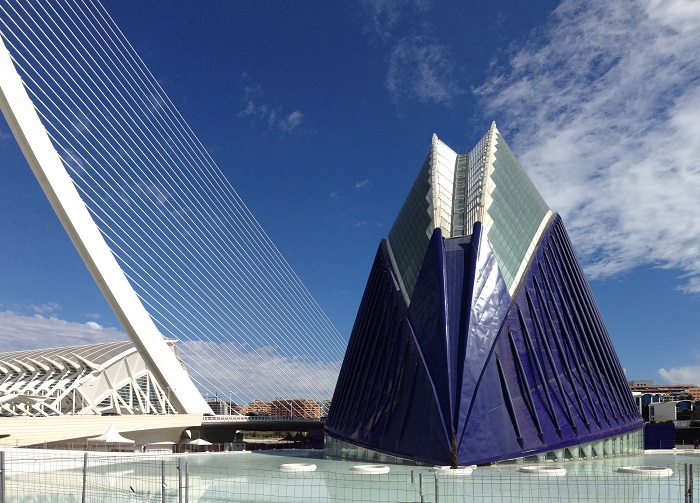 And in the afternoon the Mascletà
The next day I take brompton to the beach, down to the science center and back through grove after grove of orange trees. With a leisurely lunch of course...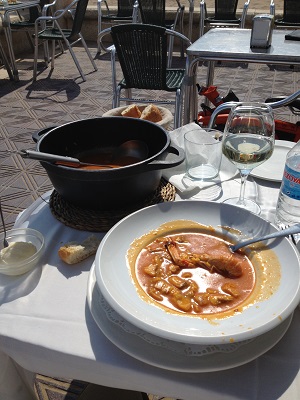 Then on to Zaragoza, dry and 4 degrees - Brrrr, so straight away off to Huesca for more diesel and a coffee. Where we something I haven't seen for many a decade.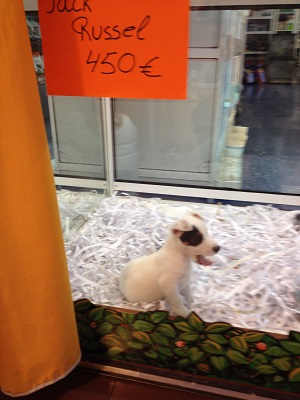 Up the hill to Sabinanigo where Miloš and I spent a cold night in 2011 (a false diversion of great magnitude that was, and the first time I took the bumper off Maria) and around Jaca and into the tunnel (free, 9 klicks) and into:
The mountains are cold, the buildings gray so we drive to Pau and then north to Aires sur Adour for a quiet night.
| | | | | |
| --- | --- | --- | --- | --- |
| Aire sur L'Adour Parking | | €3 for the night by the river. | 43.70298 | 0.25523 |
And it's market day with bright sunshine to warm a body.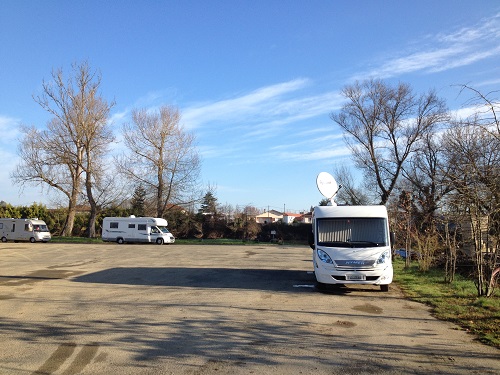 Like most french villages it has a huge market building, this one quite modern - and of course milling with people.
| | | | | |
| --- | --- | --- | --- | --- |
| Oradour-sur-Glane Parking | | About 1.5 klicks from the monument, quiet | 45.93533 | 1.20518 |
Up early to view the ruined village, but it isn't open. Terrible event from June 1944. It does open at 09:00.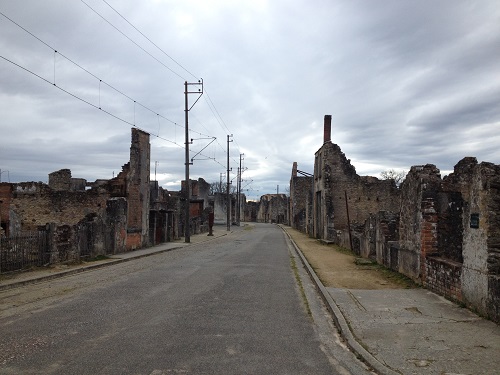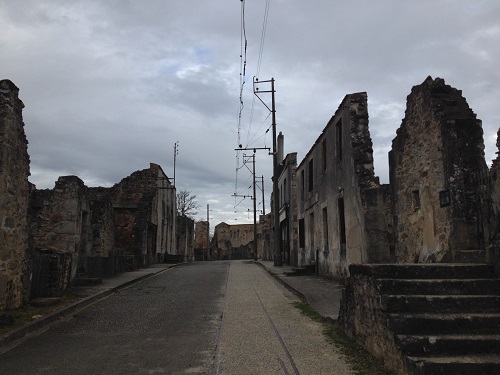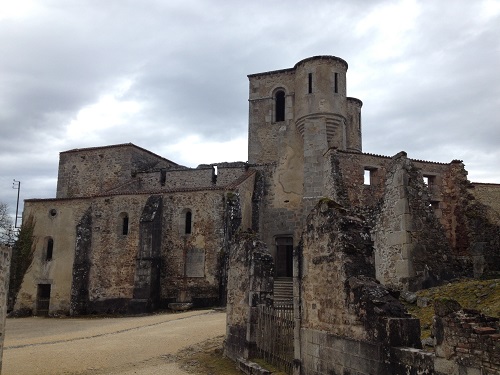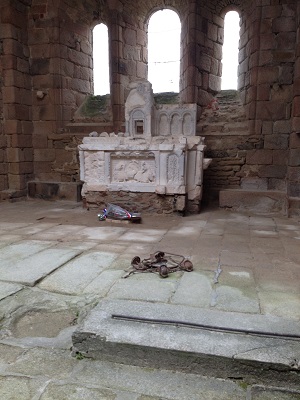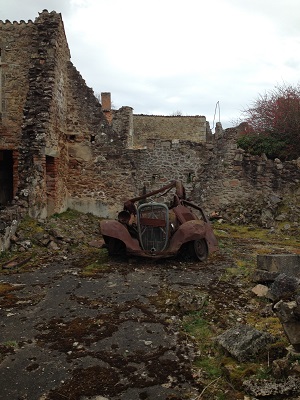 Then off we go on a long, straight road to Tours on the Loire to another ACSI campsite
| | | | | |
| --- | --- | --- | --- | --- |
| Les Arcacias Campsite | | Good site, with free Wifi and very friendly staff. Advertised as being next to the river, but doesn't mention the fast road between it and the river. Good for cycling along the river though. | 47.40257 | 0.77981 |
Have to get on the bike and go to Tours - about 25 klicks in all.
What a delightful railway station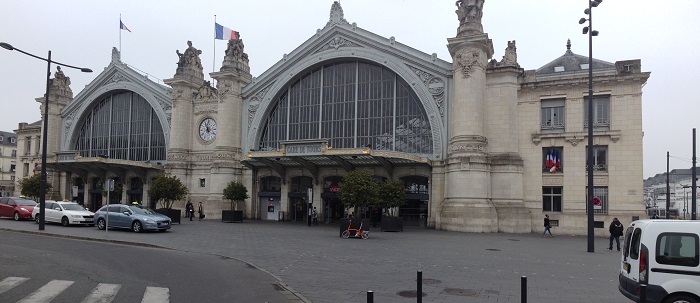 And look, no wires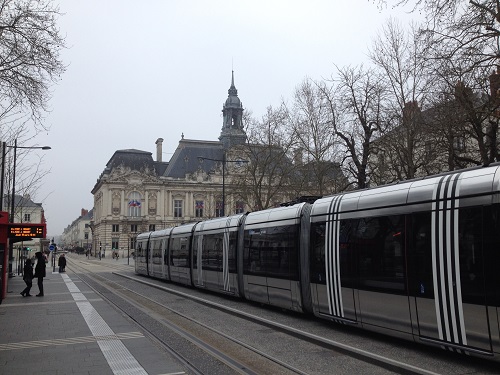 But then again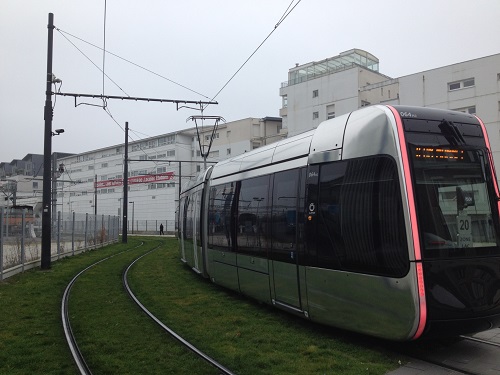 Two nights are enough and we head up river to Orleans, well just brush the city, then up to Ambroise which is a bit cold and then on to Sully.
| | | | | |
| --- | --- | --- | --- | --- |
| Sully Campsite | | Next to the river not far from the original train bridge, now disused - what a shame. Facilities are somewhat primitive though they work. | 47.76997 | 02.36209 |
The following day I get on the bike and do about 50 klicks (with a few diversions) to Chateauneuf-Sur-Loire which is a little tiring due to the wind. Still I do need to get a bit fitter.
Next stop Briare where a canal crosses the Loire.
| | | | | |
| --- | --- | --- | --- | --- |
| Briare Parking | | Beside the canal | 47.63424 | 02.74029 |
Was here with Miloš a few years ago. A nice place, especially where there isn't any wind.
I head off for a bike ride in morning mist and get back in brilliant sunshine. Then it is time to move on up river.
We end up in Autun, at the parking beside the lake (and a McDonald's) where I speak to a Scots couple - all politics and how things need to change.
| | | | | |
| --- | --- | --- | --- | --- |
| Autun Parking | | Beside the lake but some morning noise from passing trucks. | 46.95535 | 04.31677 |
Up just after dark, head to Chalon and have coffee and give Ruth a wash. Then onwards.
| | | | | |
| --- | --- | --- | --- | --- |
| Miloš's breeder | | So many dogs - lovely! | 46.86540 | 05.20299 |
Welcomed by 8 vizslas - what a delight, and the boss of course.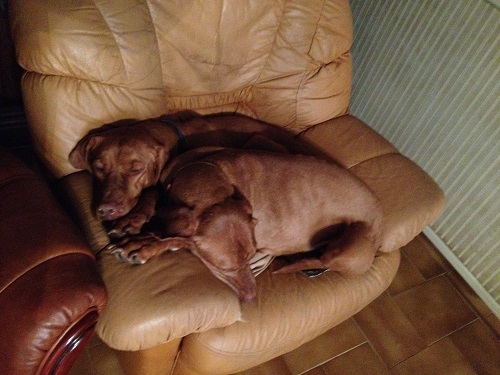 Friends arrive and we have a delightful couple of hours beating the breeze. A dogs' paradise if ever there was one.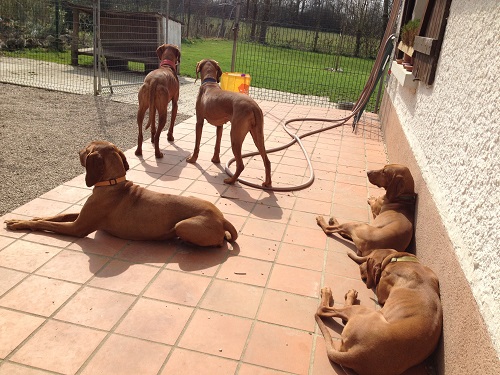 | | | | | |
| --- | --- | --- | --- | --- |
| Les Rousses Rest Area | | Behind the village - a quiet carpark. | 46.48783 | 6.06677 |
The following day is a Saturday, so off to
and the shopping Center in Chavannes to meet friends for breakfast. I remain in the area for several days mostly chatting.
I also visit the UNCHR - what good work they do.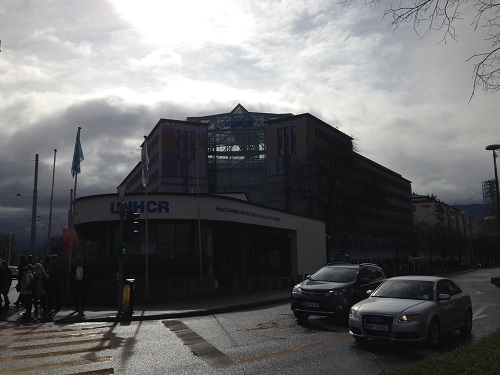 Then to Neuchatel for supper with a long-time friend and a chat of course.
Back in Zurich (home) the weather is none too good, but good talks with a good friend.
It is Easter and an invitation to go to Lake Garda drifts in, so off to
Where it is warm and sunny.

And a man gets his just deserts.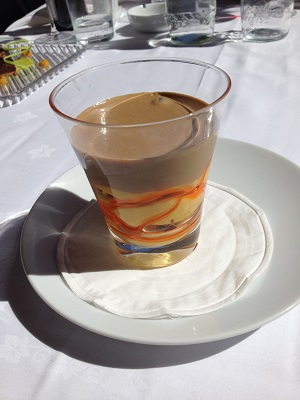 Back to Zurich and almost immediately to
to stay overnight in Freiburg, a walk through the town which seems to be buzzing, and not just because of the sunshine.
| | | | | |
| --- | --- | --- | --- | --- |
| Freiburg Camper Parking | | € 10 per night. Wifi €1 for 24 hours. Nice walk to the city. | 47.99940 | 7.82566 |
I then deliver Ruth to the dealer for some corrective work. They arrange transport to the train station Bad Krotzingen and off I go to Basel and then back to Zurich.
Switzerland
Now it is time to get serious about the trip, so I book flights and the train across Canada, then a few hostel rooms.
The whole set of things to get seen too also starts, doctors, organising pills etc...
Then there's the films, meals and I go back to Geneva to visit with friends and make some new ones before picking up my son to head off to Austria after a lovely noodle meal in Zurich
Germany
The Arlberg tunnel is closed so we take a route through Germany with an overnight stay in Nesselwang
| | | | | |
| --- | --- | --- | --- | --- |
| Nesselwang Camper Parking | | € 10 per night. | 47.62005 | 10.49812 |
In the morning we take a look at the old town of Füssen. And buy some hats.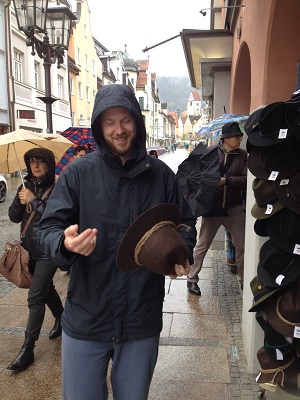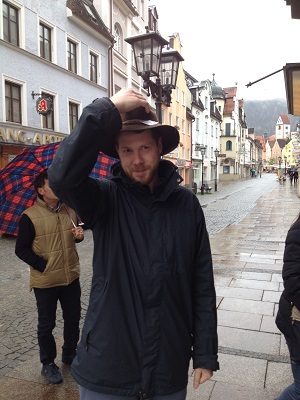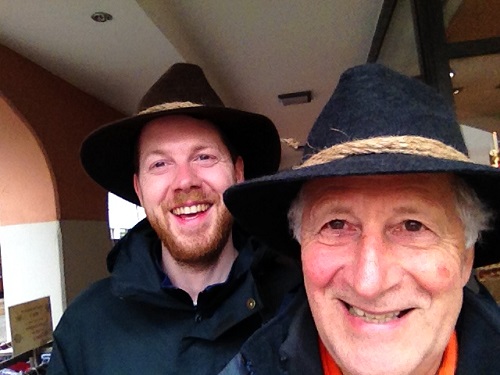 South of Füssen we take the main road all the way to Freepass and then down to Innsbruck and from there to Mayerhofen and Finkenberg.
I was there in 1970 on a skiing holiday.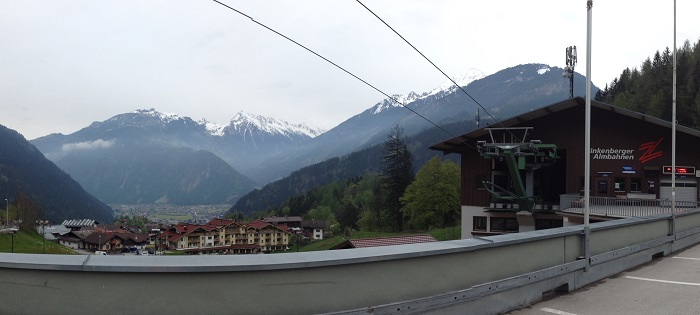 We overnight at the campsite.
| | | | | |
| --- | --- | --- | --- | --- |
| Mayrhofen Campsite | | € 20 per night. W/o Wifi. | 47.17567 | 11.86943 |
Then we go to Salzburg to get a train ticket for son and head to the World Heritage Site at Hallstatt - nice - where do all these tourists come from?
| | | | | |
| --- | --- | --- | --- | --- |
| Hallstatt Campsite | | € 28 per night. With Wifi and moisture.. | 47.81189 | 13.64698 |
The views are spectacular, with the train on the opposite side of the lake. Mist hangs over the mountains in the morning.

Still, can't hang around, off to Salzburg where son Barney takes the train back to Zurich and I head to passau - why not? It rains, but not much.
| | | | | |
| --- | --- | --- | --- | --- |
| Passau Parking | | By the Donau, quiet | 48.57419 | 13.42833 |
Sleep comes easily.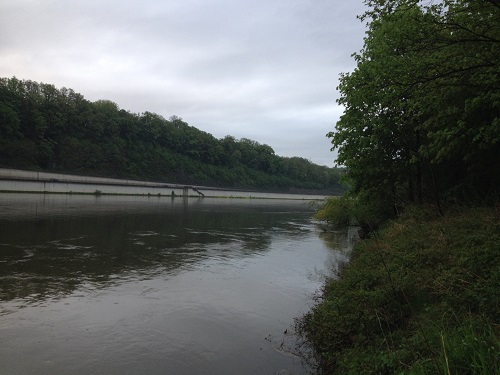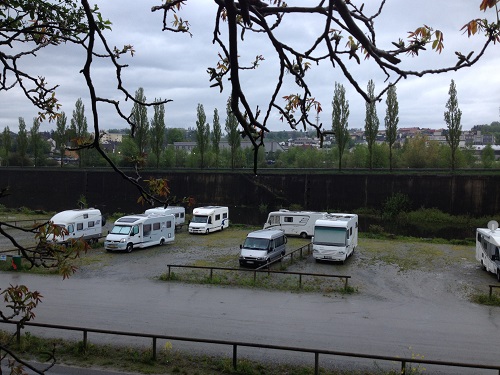 The drive down the Donau is in parts really beautiful, well mostly.
In Grein there is a castle once part-owned by Queen Vicky, because her man who was a member of the Haus Sachsen-Coburg und Gotha, though the name pf the family at the top of the UK priviledge pyramid was changed to Windsor during WWI.
| | | | | |
| --- | --- | --- | --- | --- |
| Grein Campsite | | By the Donau, quiet and all facilities, including free Wifi. | 48.522420 | 14.85348 |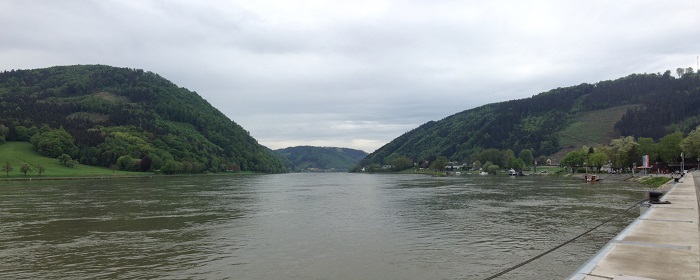 And the following day it's on the bike.
And the view from the other bank.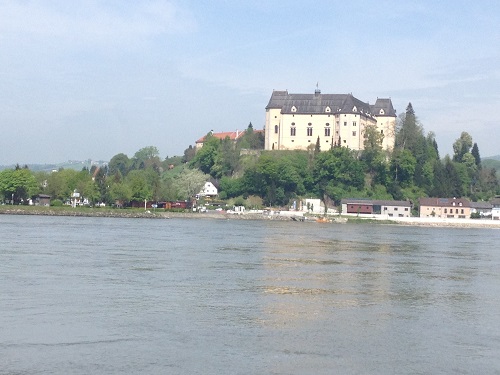 And morning sunshine.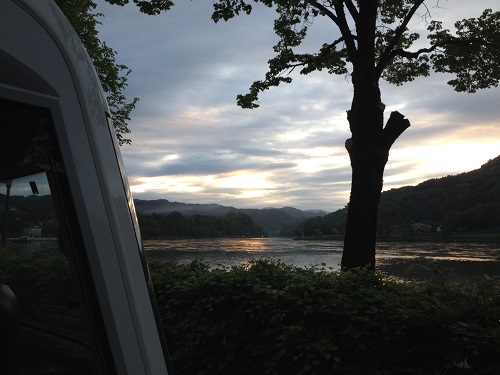 The next stop is Weikersdorf am Steinfelde not far from Weiner Neustadt to spend some days with an old friend and her wolfhound. Delicious Wiener Schnitzel and Apfelstrudel is on the menu.
At the weekend it is off to
To visit another old friend with a house in the hills in a fairly remote part of the country.
| | | | | |
| --- | --- | --- | --- | --- |
| Ostry Vrch | | Ruth is holed up with a farmer | 48.79861 | 17.51442 |

Visit the town of Myjava while Ruth is safe at a farmer's yard.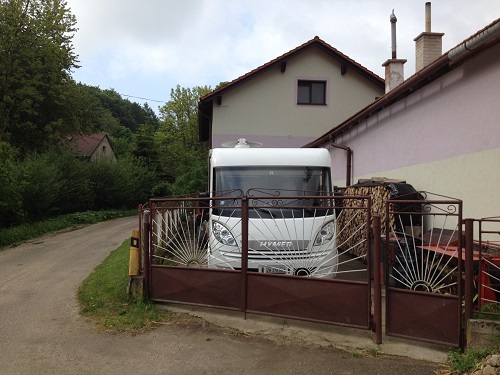 Then back to
Austria
First I ass by a place I was at 41 years ago, at the power station in Korneuburg. I was the lead technical developer for a monitoring system installed by BBC.
From there back to a good friend's place and a bike ride not far from Wiener Neustadt, the Hohe Wand Nature Reserve.
Also visit Rust on the Neusiedlersee for local sausage for lunch and Baden - for coffee and cake.
Then off to Vienna to have the radio fixed - Ruth now sings again - trouble is it is the Eurovision Song Contest and the air is filled with the songs of Europe.
Time to pack up and head towards Graz and then Stainz for quiet night. The rain is soft.
| | | | | |
| --- | --- | --- | --- | --- |
| Stainz Parking | | Just the local car park. | 46.89377 | 15.26823 |
After coffee and a roll in one of the local hotels (this seems to be a popular tourist village) with free Wifi, off we go towards Klagenfurt via Eibiswald to a village by the lake - Seeboden
| | | | | |
| --- | --- | --- | --- | --- |
| Seeboden Campsite | | A quiet spot beside the lake. | 46.81544 | 13.52005 |
Not a lot of movement early in the morning here. Still, found a hotel for coffee - friendly staff.
Switzerland
Then off back to Zurich to visit sons and register at a new address. It is soon time to hit the road again to
Italy
Torino next stop an overnight stay at Chieri where I was with Miloš in 2011.
| | | | | |
| --- | --- | --- | --- | --- |
| Chieri Rest Area | | Up the hill from the town. | 45.014436 | 7.832441 |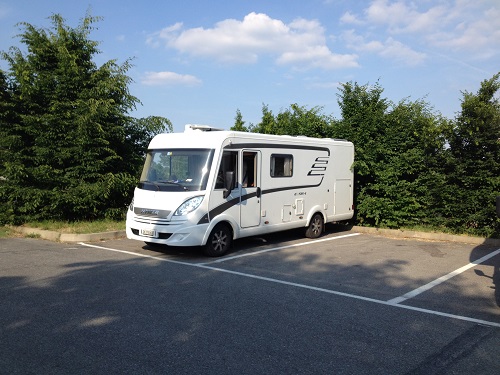 Free Wifi in the local café. Then on to the lake for a visit to the waterside village. With an overnight stay at a very friendly site.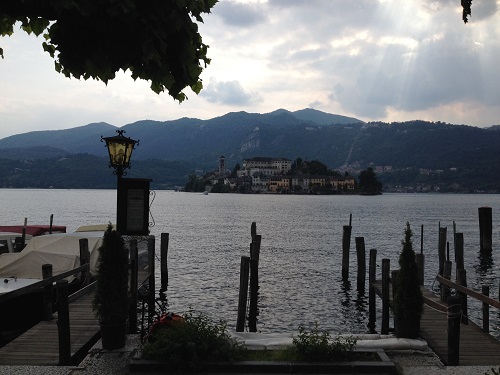 and some girls using paper!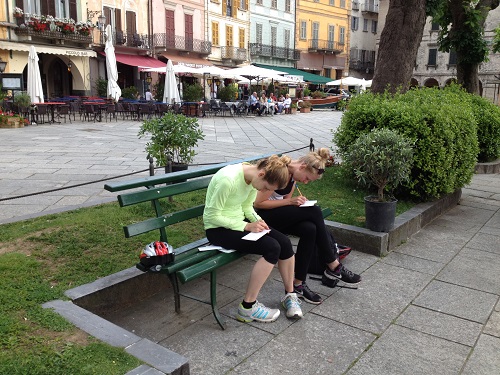 | | | | | |
| --- | --- | --- | --- | --- |
| Orta San Giulio Campsite | | Parking by the lake facilities across a road. | 45.801926 | 8.420781 |
Up into the hills and into
Switzerland
and the Simplon Pass then down into the Wallis and a stay at the rather good TCS site beside a lake. The also do a rather good raclette in the bar.
| | | | | |
| --- | --- | --- | --- | --- |
| Sion TCS Site | | Well laid-out, good facilities. Nice park and lake too. | N 46.21145 | E 7.31530 |

Then on to Martigny and the Fondation Pierre Gianadda.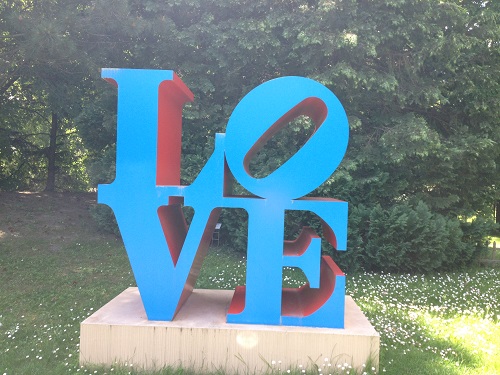 We had one of these on loan once in Erlenbach.
And this lady captured my sole...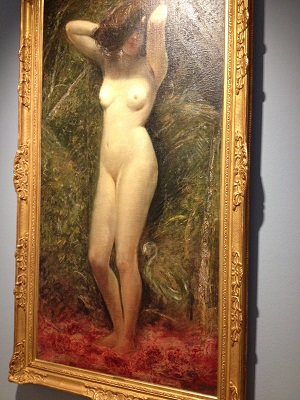 No singing either.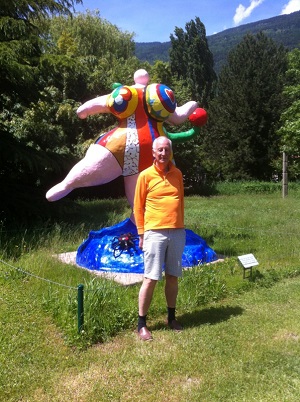 Then a few days in Geneva, before driving to
Germany
to prepare Ruth for the long wait until I return. A lot of packing - just a rucksack and a wheelie.
| | | | | |
| --- | --- | --- | --- | --- |
| Freiburg Camper Parking | | € 10 per night. Wifi €1 for 24 hours. Nice walk to the city. | 47.99940 | 7.82566 |
Freiburg has a public holiday, something to do with the body of a dead deity.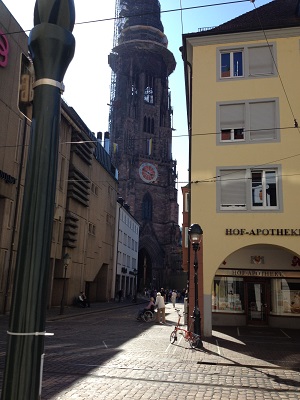 And Grünemeyer gives a concert at the Messe.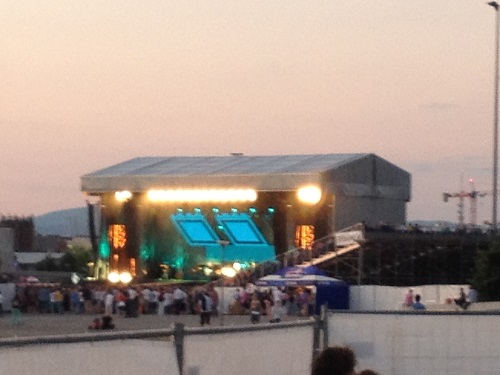 Before leaving Ruth at the Hymer dealer for the rest of 2015 and then back to
Switzerland
To clear up the cellar in the Stockerstrasse, meet friends and family before a quick trip to
Italy
Well a mad dash to Garda and Venice - the Biennale - and back.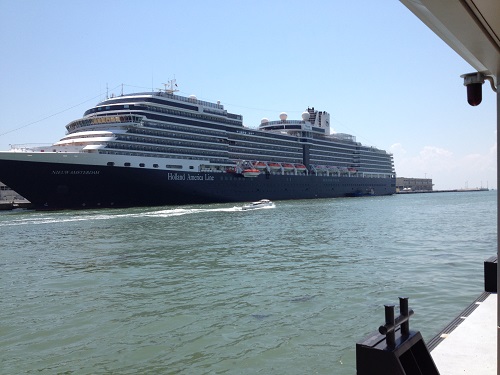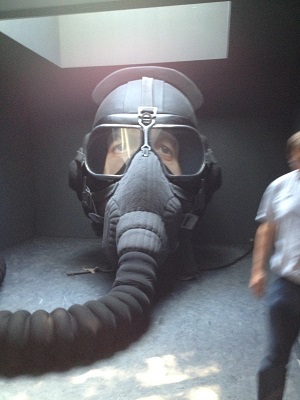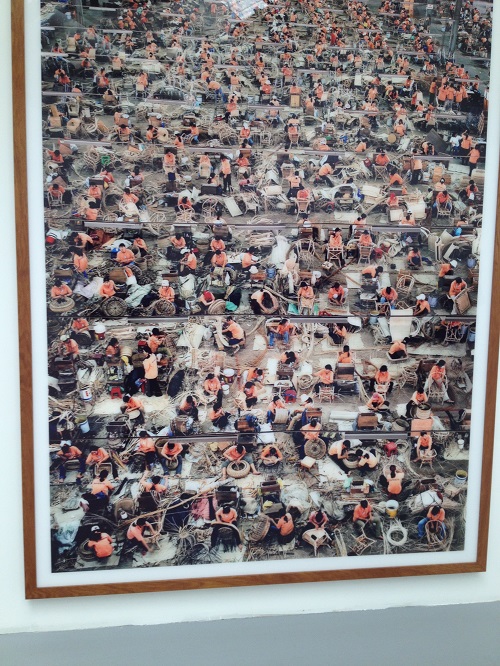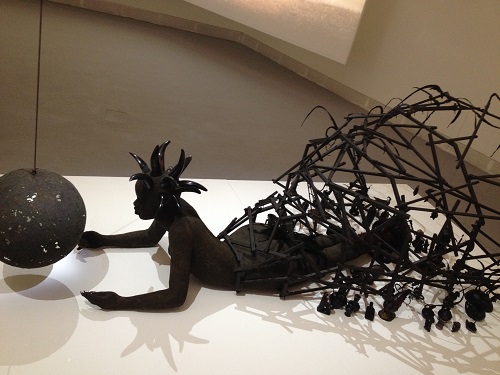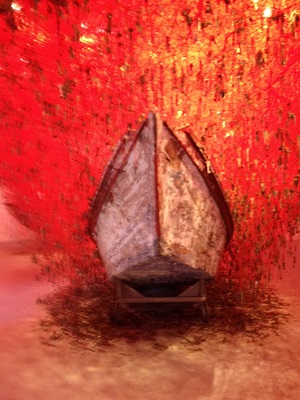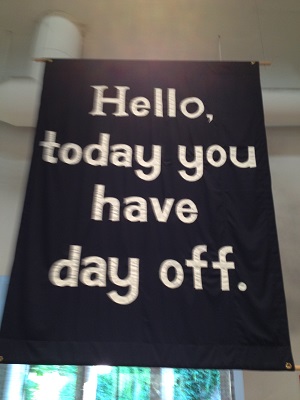 To visit family in Totnes on the 11-JUN.

Then back to Zurich for breakfast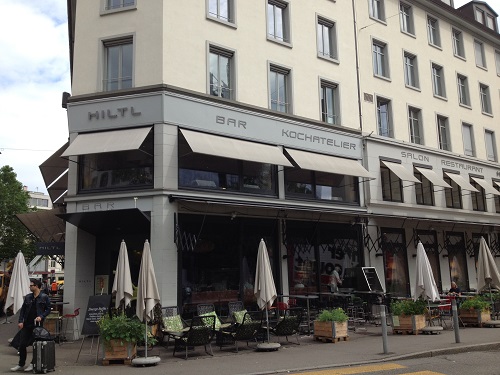 and off on the 18-JUN by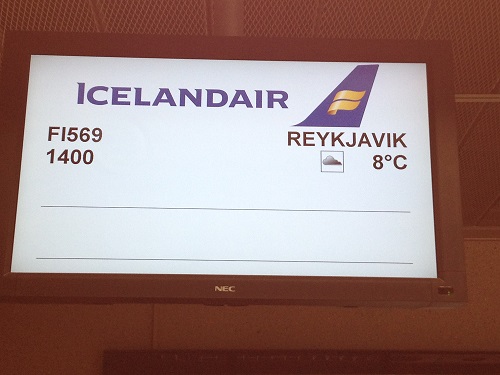 to
To meet some people I once did an EU research proposal with.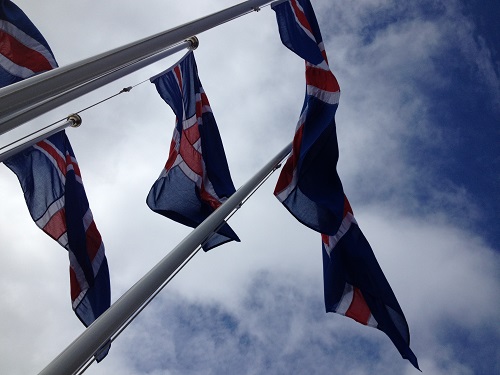 And food at the Icelandic Fish and Chips, plain but good.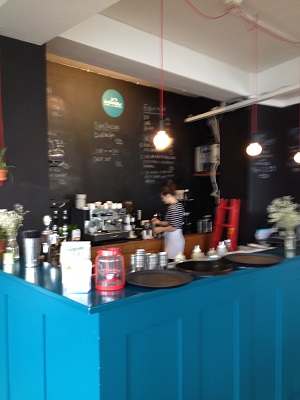 Lief was here and there a thousand years ago.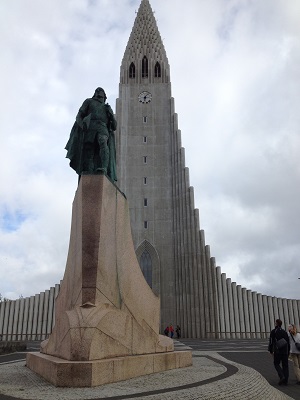 Apparently one of Europe's biggest.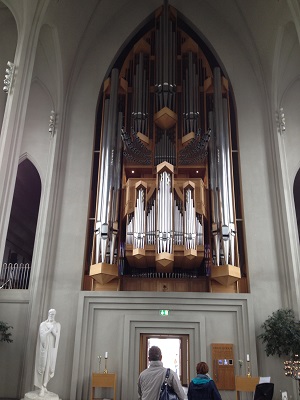 The view ain't too shoddy either.
There are the occasional camper vans/mobile homes on the roads. Apparently it is allowed to wild camp, as long as one keeps off the main roads.
There is also an interesting museum about the early settlers with some of the original manuscripts, from the pagan era.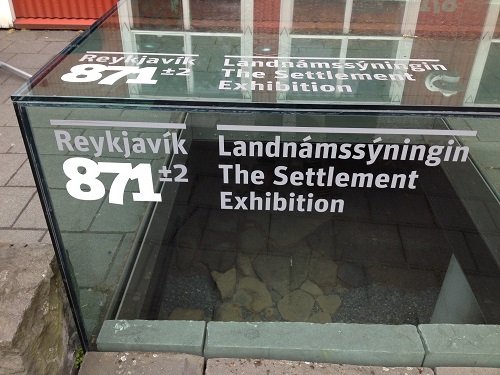 And then on the 20-JUN I leave the country where 30% of the population have a university degree and over half believe in elves.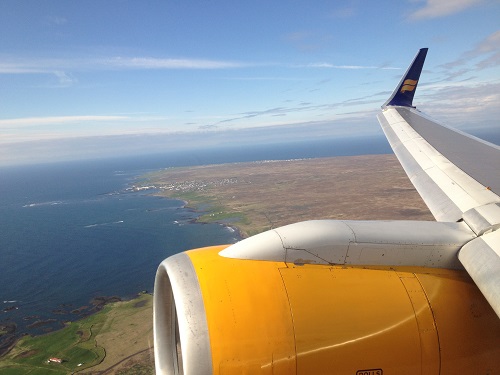 where we land in
Good morning Halifax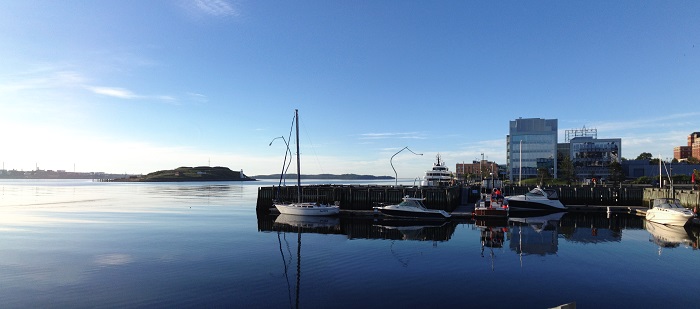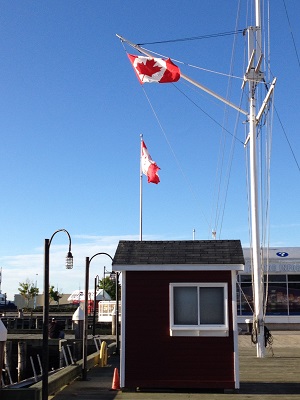 then a trip to Peggy's Cove which is a major tourist attraction.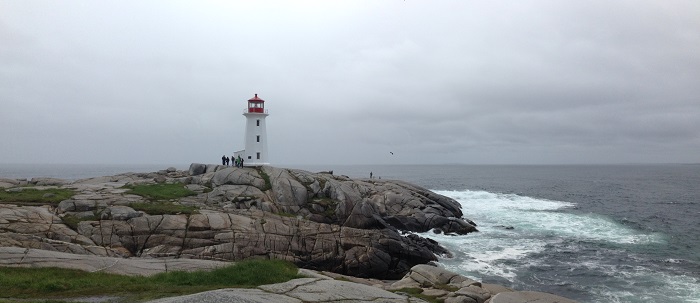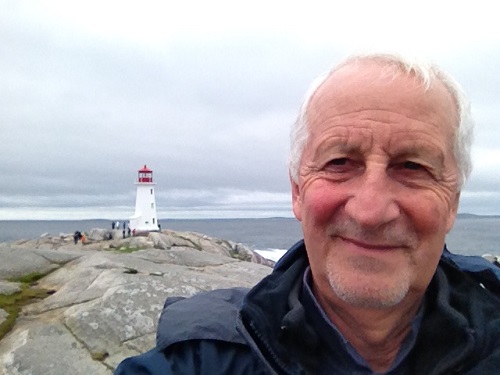 Unfortunately it was also the final resting place of Flight 111 where an ex colleague in Honeywell and DEC lost his life along with his wife and two children. Now tell me about this loving god of which you speak.
There are a number of memorials to this event, the only one I could see was this on the coast - from the bus.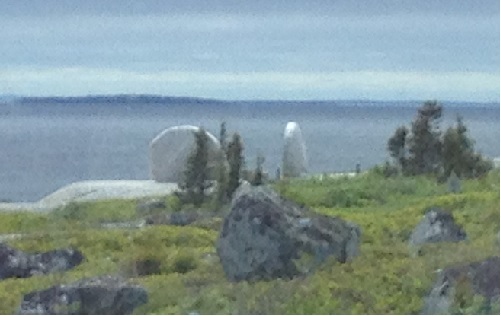 A lady wrote a poem about the crash which hangs in the coffee shop near the lighthouse.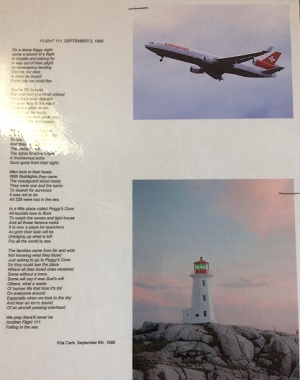 The next day I take the ferry to the Alderney Landing in Dartmouth (all these names which I have known since I was a child) and discover the Canadians have the good sense to put a public library right at the terminal.
The object of the exercise is to get some exercise - across the bridge.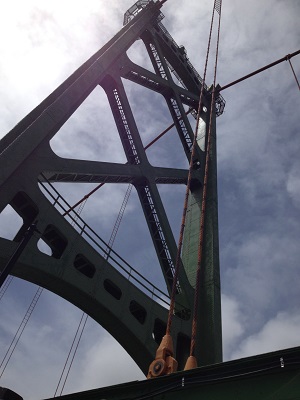 What beats this?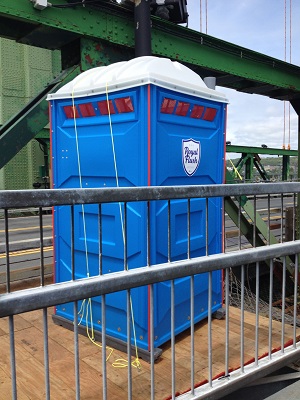 Then there's this - wrong colour of course.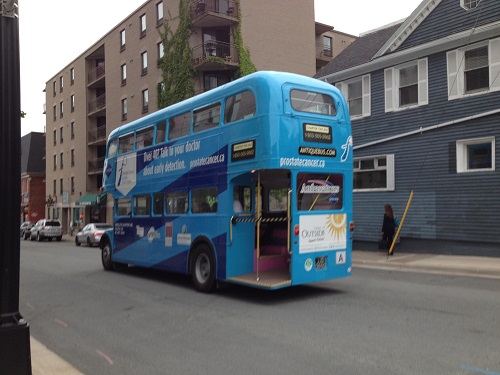 But this is the right idea.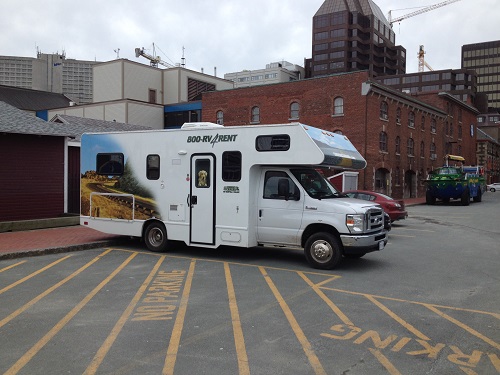 Then follows a visit to the "Museum of the Atlantic" - not really worth it.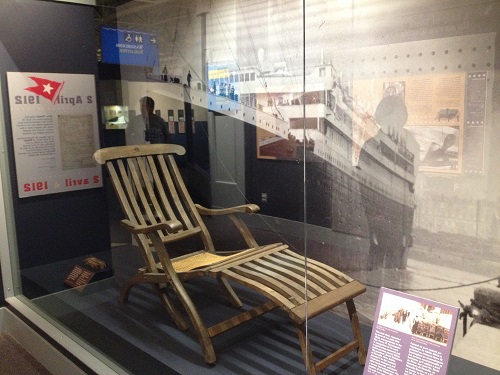 On the way to the railway station I see a string of kids. They do this here until the age of 3. Miloš would have found this amusing I'm sure.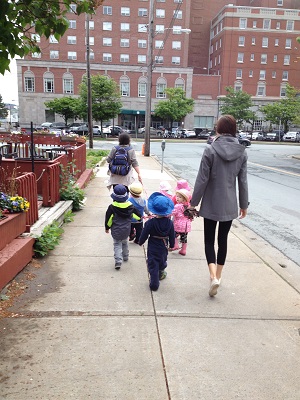 Then on the 24-JUN it is time to move on, well rattle at a modest speed.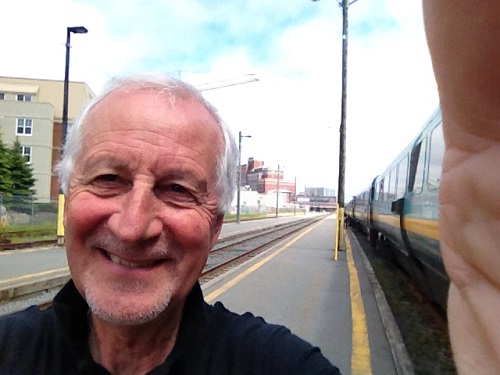 This part of Canada was flattened by a glacier.

But, what a beautiful sky.
We make a stop (well shaken) at Sainte Foy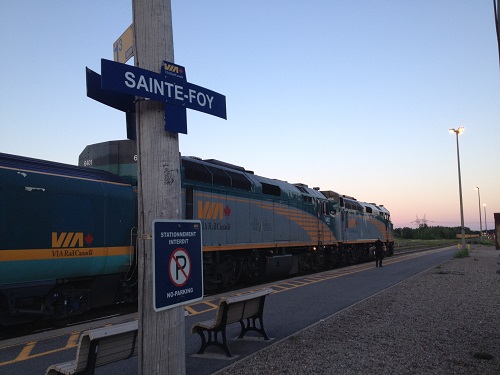 And on the first day in Montreal, a bus tour of the city with a view to the East

and including the place where Miles Davis and that lot used to eat.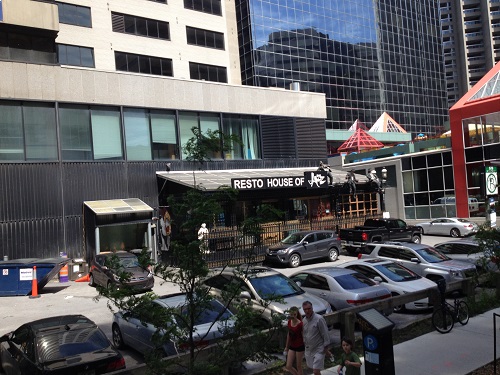 It turns out a few events are on this time of year. Quebec Day - 24-JUN, Canada Day - 1-JUL and today (26-JUN) the Jazz Festival starts - 6 days of live music and lots of tourists.
It seems some guy raised a huge amount of money to build this place - St. Joseph Oratory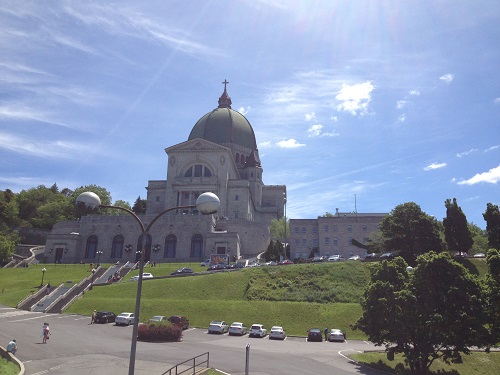 Just think how many school places this could have funded. Oh and it was started in 1924 and completed in 1967.
Then it's time to hire a bike and off along the waterfront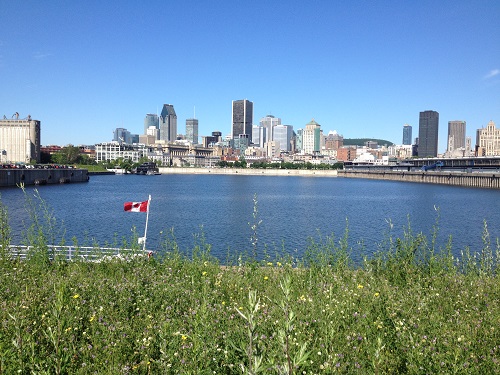 and to the Expo 67 houses "Habitat 67" at the most successful World's Fair of the 20th century.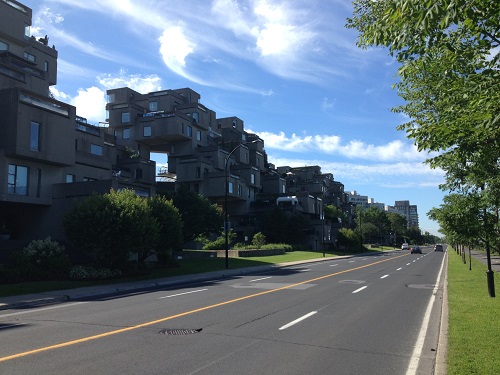 And the Formula 1 circuit where some people are attacking the blacktop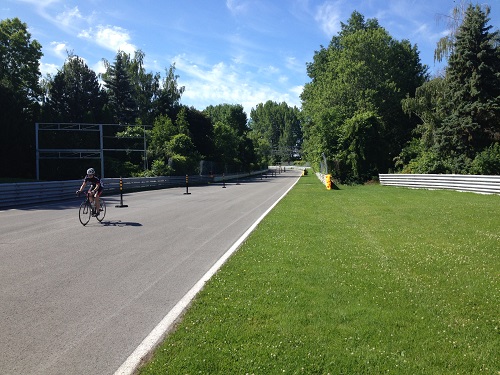 and a few bridges

Before taking in the Botanical Gardens which are extensive.
Ottawa awaits on the 27-JUN after another train trip - my goodness is Canada flat. Other travelers may wish to avoid this train journey, the trees block the view most of the time.
But, the HI Hostel - the Jailhouse is not a cool place.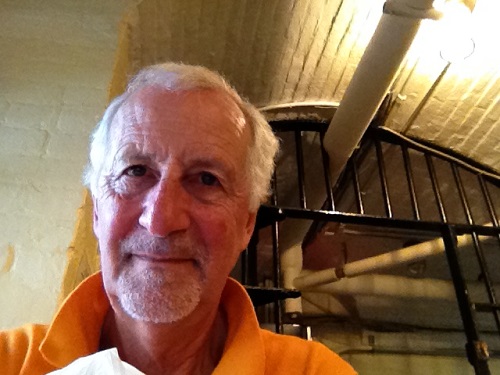 A visit to the Canadian War Museum was good, especially for people who don't know much about previous engagements, which does not include me.
A walk back passes a couple of large buildings, including the parliament, which is being prepared for Canada Day.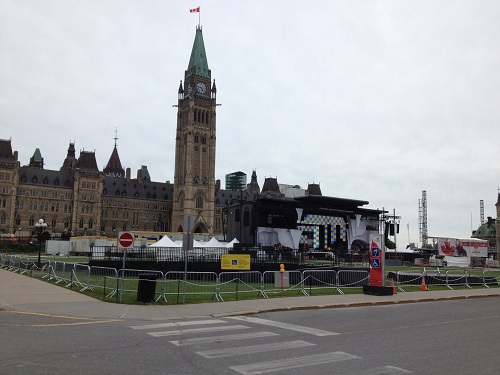 And the following day it rains, so back to look at the insides of the parliament building because the bike ride is not an option.
Here the ceiling where the press gets to listen to announcements. The French fleur-de-lis and the English rose, to signify the main heritage of the country's legal systems.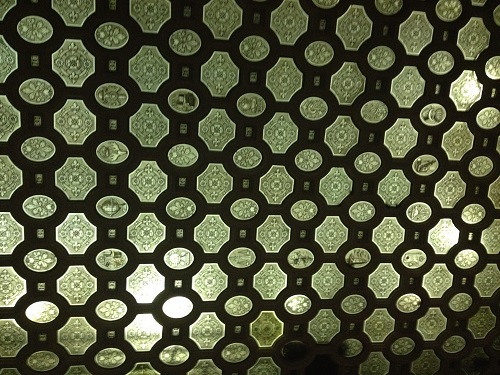 The commons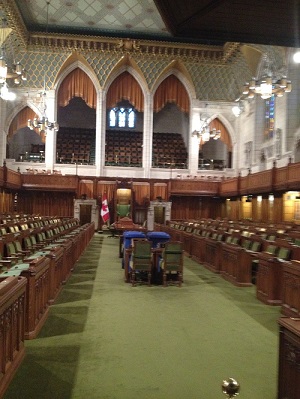 The Senate: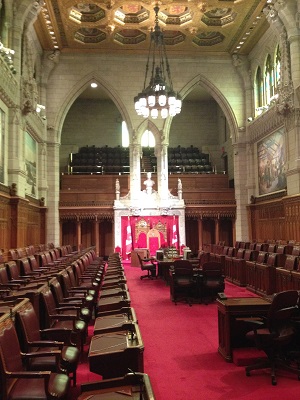 And the original (pre-fire) library: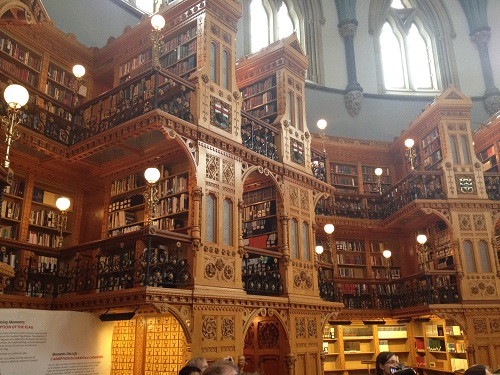 And then to Guelph via Toronto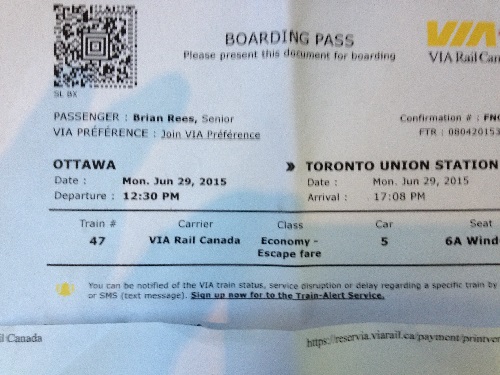 Something about leaving on a fast train tra la la?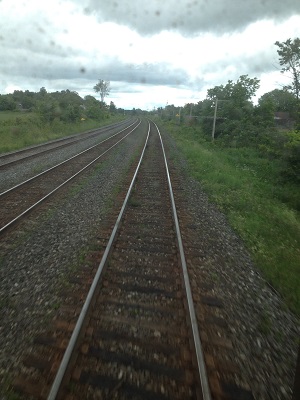 Guelph is unexceptional. I try and find out about family, but fail. Then I see this monster: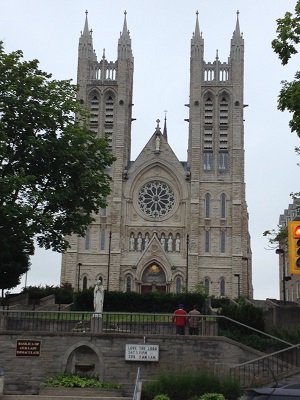 Best position in town. I wonder how much it cost - at least the price of 2 hospitals and 3 schools?
Breakfast! In Gosport I used to work at one of these - as a cook.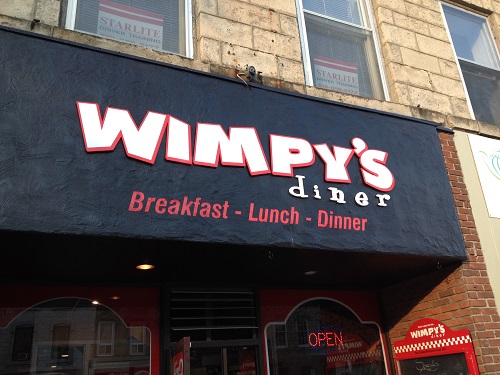 And before you know it it's: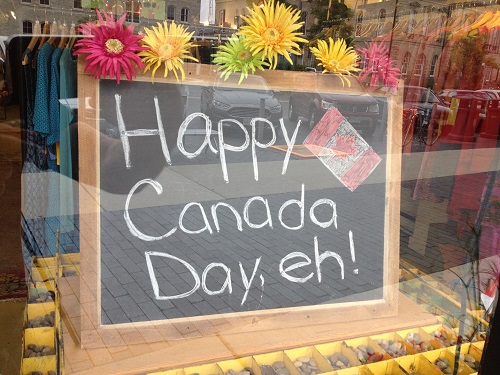 THis made me smile: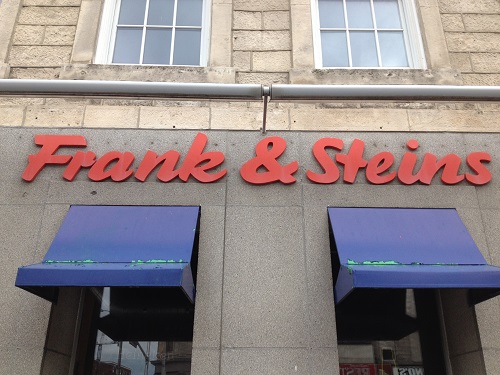 At the local celebrations immigrants are being turned into Canadian citizens.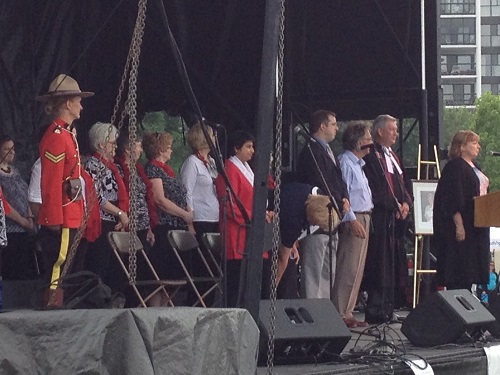 On the 2-JUL it is off back to Toronto.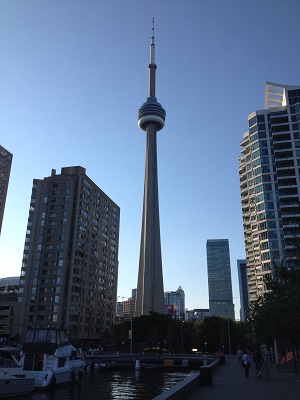 But then on the 2-JUL I get on the train - The Canadian.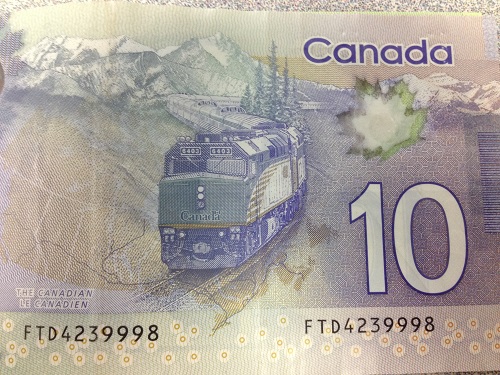 What a great little cabin, all to myself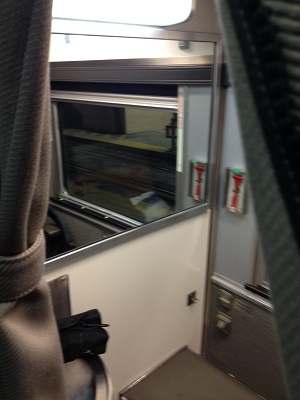 And we rattle around the whole night until the dawn.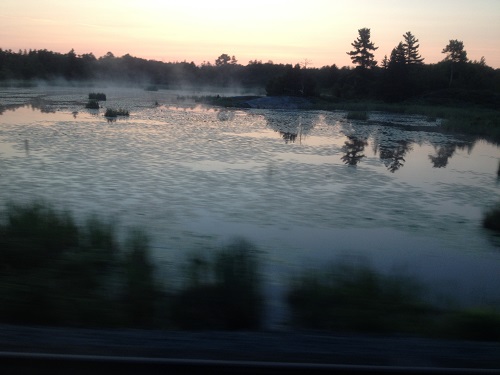 After breakfast there is the viewing car.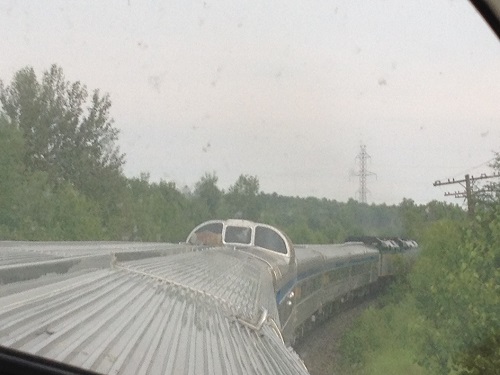 A long one this: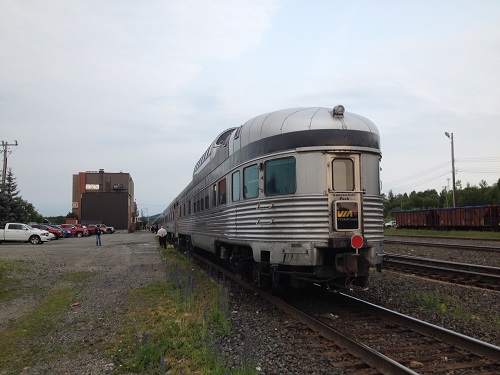 And from the front.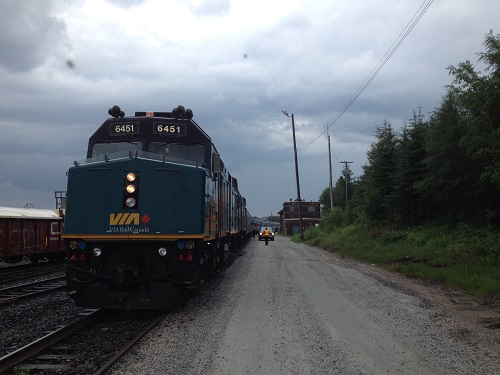 Alongside the tracks is a veritable copper mine. I was told that the Chinese used this out-of-date system to provide internet access to all the country's train stations.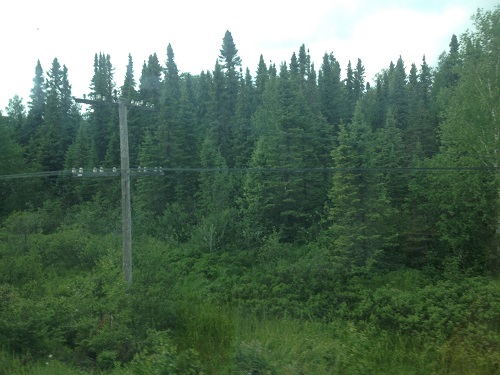 We get a short break in an overly warm Winnipeg, but don't have time to see much. The Railway Museum is not worth the C$5 entry fee. Just across the road is the Canadian Museum of Human Rights, a strange building but there isn't any time to go inside.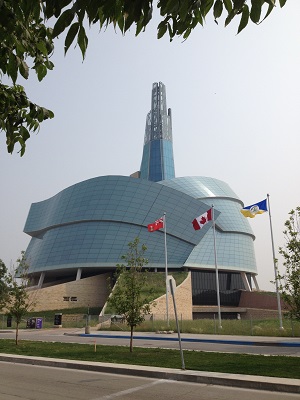 Someone is keeping a watchful eye on the place.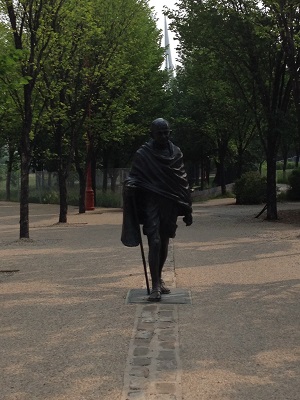 Then it's Edmonton which is still flat and the train station a way out of town. On the way we pass a large oil terminal - that filthy shale oil.
Then we see some rockies which seem none too high or imposing if one is used to the Swiss alps and the train down to Milano.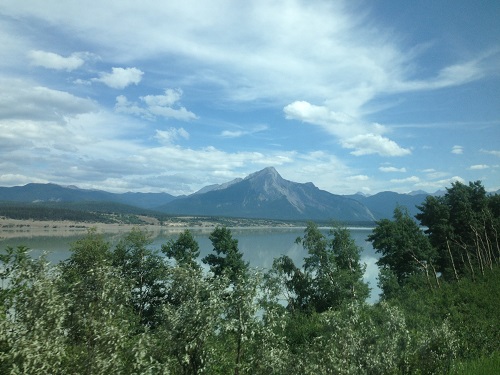 Next stop is Jasper which is nestled in the hills.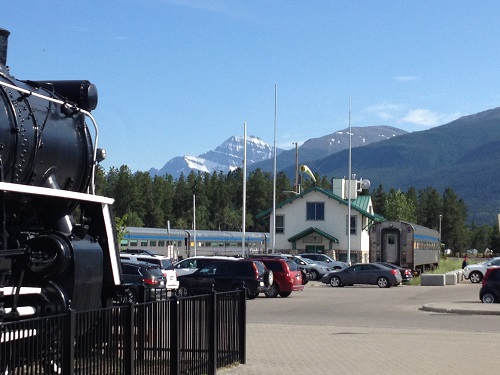 Then the lights go out. The next morning we are heading down the other side beside a mighty river as the sun emerges.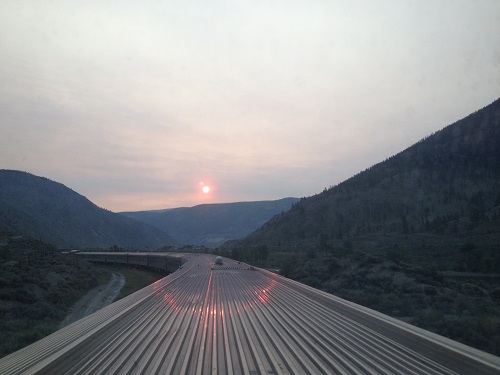 And now in Vancouver on the morning of the 6-JUL for a larf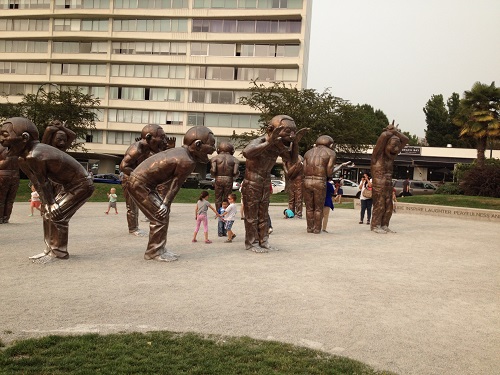 The hostel is in a less salubrious area, some bums on the street. It does seem to me that they choose this life style, but I could be wrong.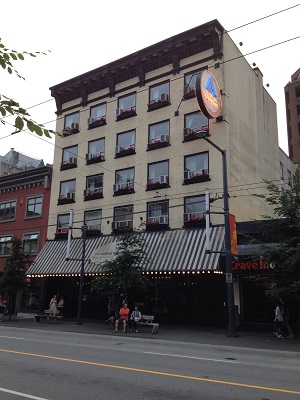 Some special wheels in this city too.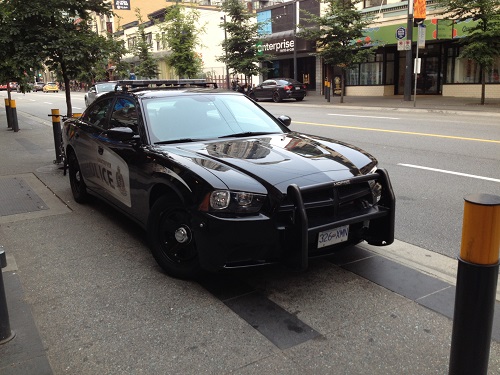 The city tour "hop on Hop off" stops at Stanley Park

Then it's off on the 9-JUL by skytrain, bus and ferry to Victoria Island.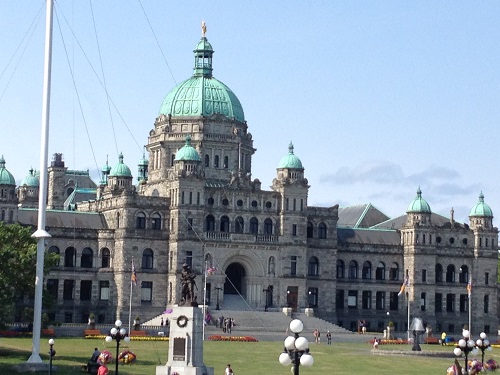 Otters waiting to play in the harbour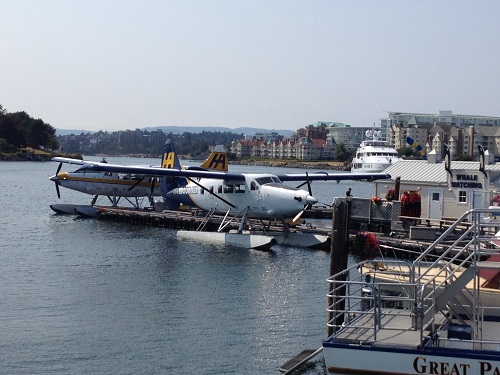 I think the splitties breed here.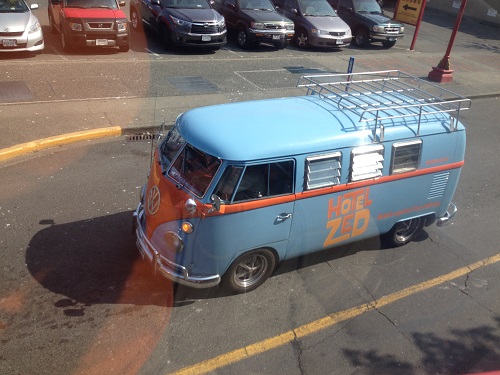 And this was on the ferry from Victoria.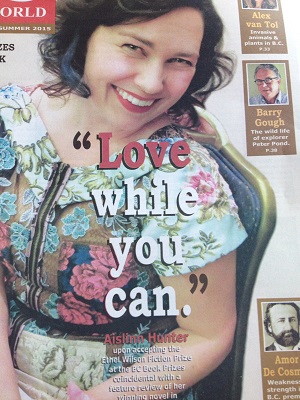 Arriving in Seattle by fast clipper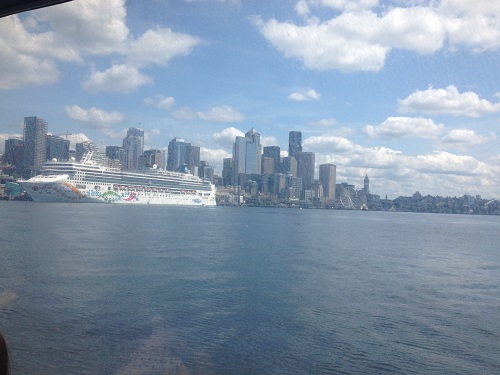 Stay with good friends in Medina whom I have know for many years. What a pleasure. Then of course I have to go to "The Crumpet Shop"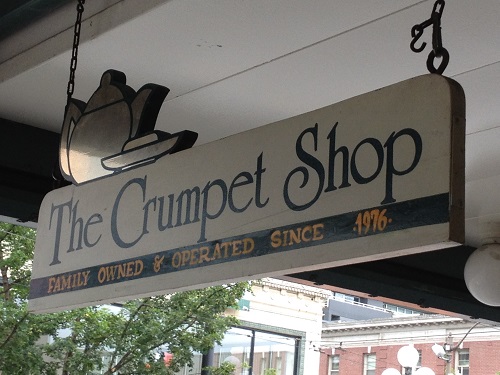 And the Public Market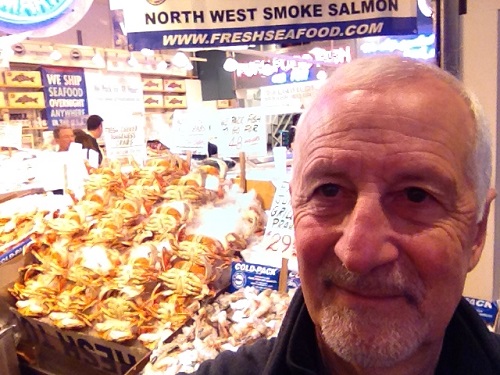 The Flight Museum is also a must, with (what I consider) one of the best-looking aeroplanes to have been made, the Lockheed Constellation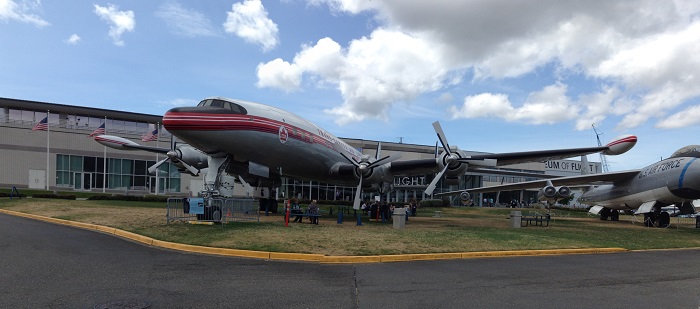 The Boeing factory is a place I haven't been before, so I do the tour, which is fine, but not that informative. No photos allowed, so sadly there aren't any of the 747, 777 and the (relatively) new 787. This are big beasts and surely cannot fly.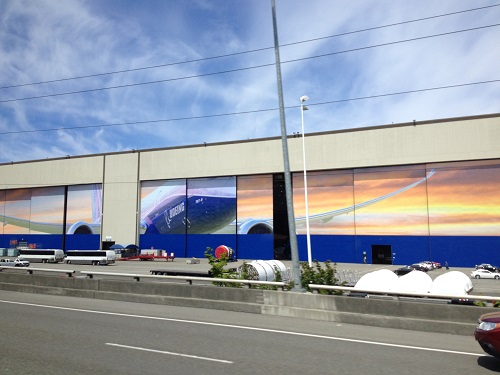 And didn't see the Wheedle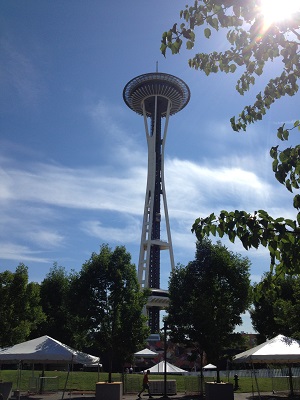 But did ride the monorail. I wonder what will happen to it when the big one comes as indeed it must sometime?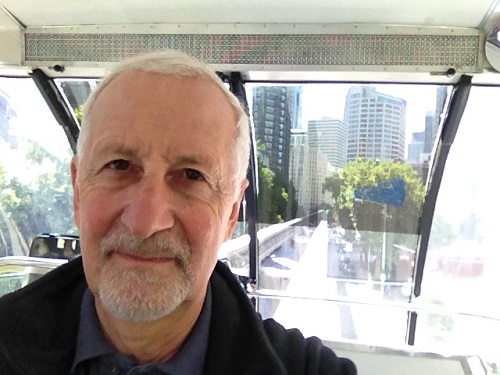 At the art Museum there is some delightful glass works as well as modern art.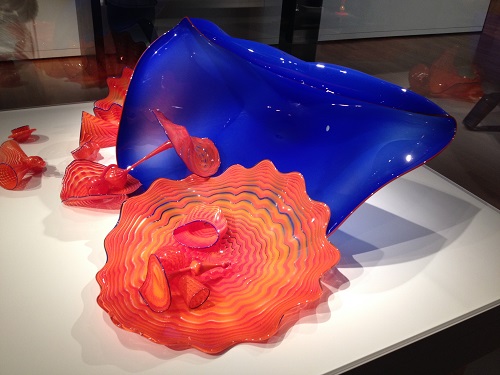 And a totem pole - made out of blankets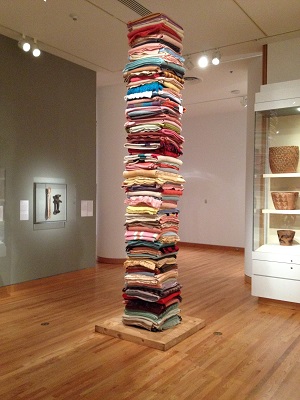 The Library is also a building I haven't visited before. This is a serious piece of architecture, really something.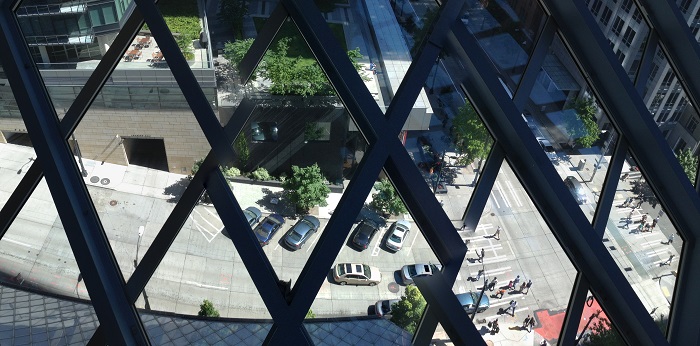 Some of the interiour is spectacular and the place is full because of the free Wifi. It seems some of the more unlucky folk spend time here - reading. It is so unfortunate that in the US a medical condition can cause a person to loose everything.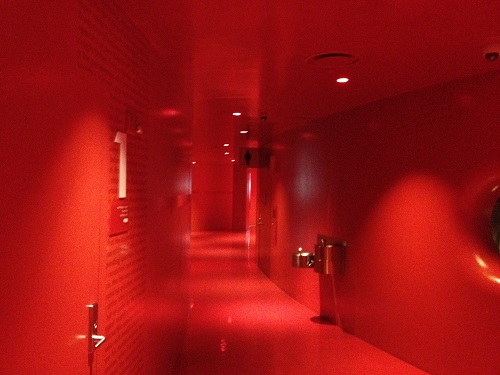 Mind you someone screwed up. This urinal is so low you get splashed - not nice.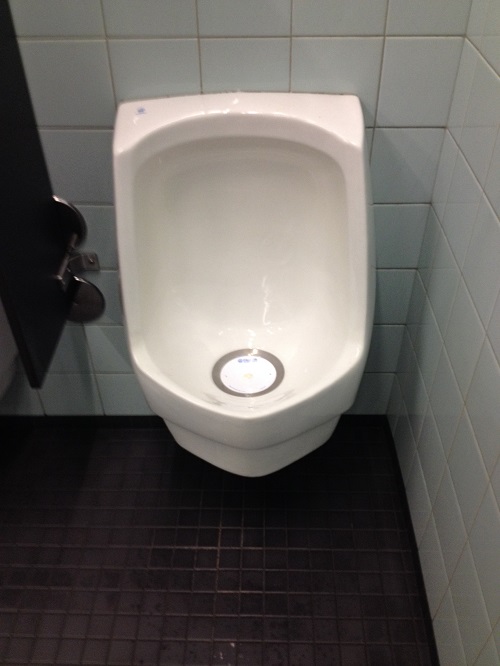 Then the Botlbus (don't be confused, it is run by Greyhound) for an uncomfortable ride down to Portland where it is really quite warm.
We pass a hill on the way, Grace Kelly be saluted.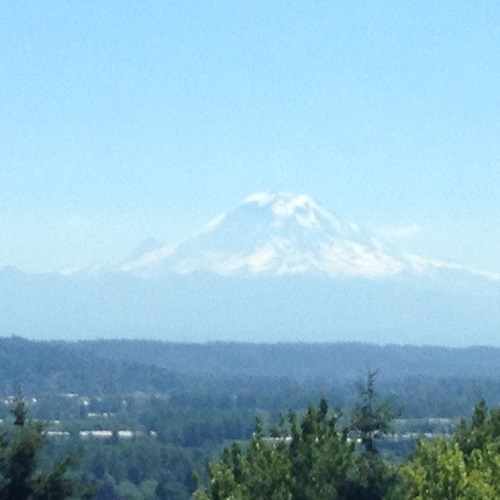 Again I stay with friends, actually an ex-boss of an ex-boss. Such a delight to catch up with folk.
A ride in an air-conditioned car to the coast to see Oceanside and end up getting a head cold.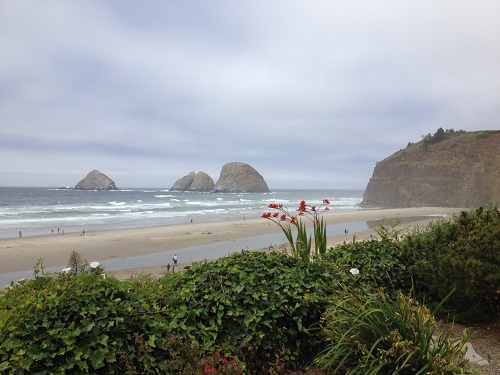 And also the Cape Meares lighthouse which has been partially resoted after falling into disuse and after two guys shot it up with high-powered rifles.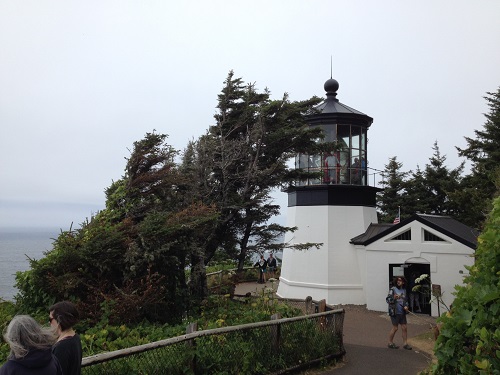 Next is a flight to Oakland. But, as the price of a ticket is a bit high I end up goung through LAX, with a longer delay because the flying machine has a problem and they have to wait for a new part.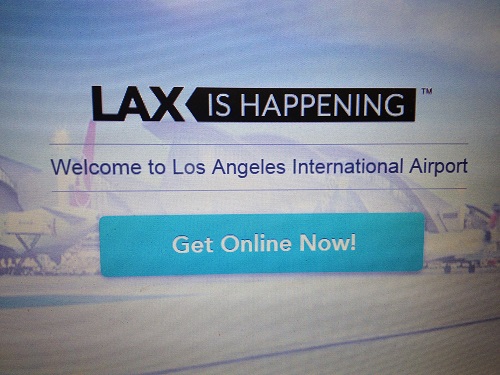 At OAK I take the BART and visit long-time friends, again a warm welcome and good conversation.
Next is on to Palo Alto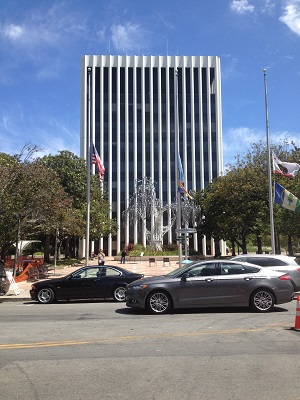 And a snack at "The Creamery"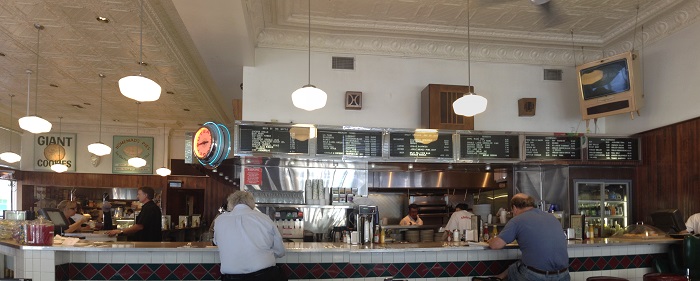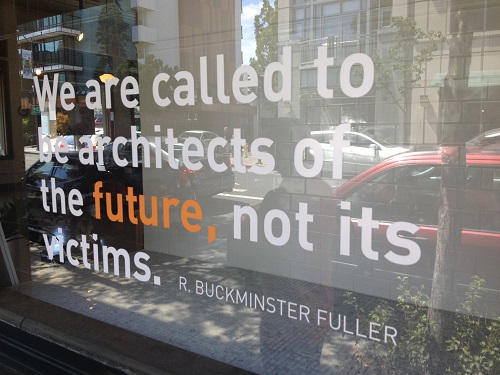 Another stay overnight, again with good, long-term friends. Great conversation and hospitality ... what a priviledge this journey is. The next morning it's coffee.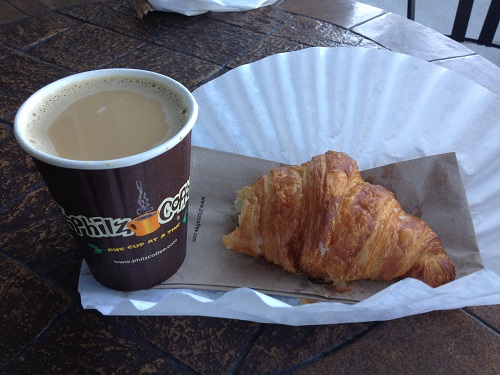 and on the road again off to Half Moon Bay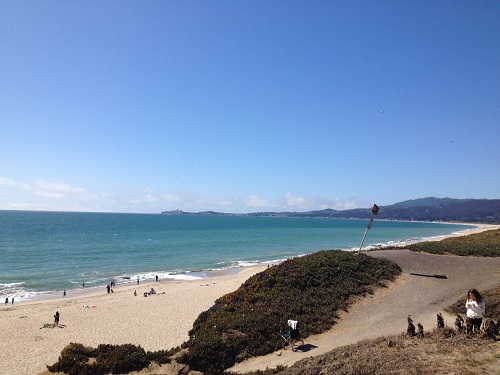 And yet another great time with terrific friends, great food too, at Sam's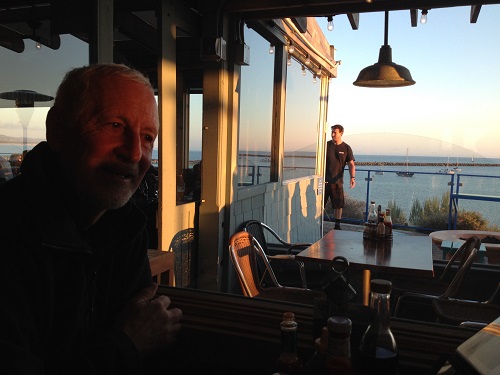 A wonderful lighthouse on the way, where there were a lot of fish coming up from the deep, much to the delight of pelicans, cormorants, dolphins - and whales.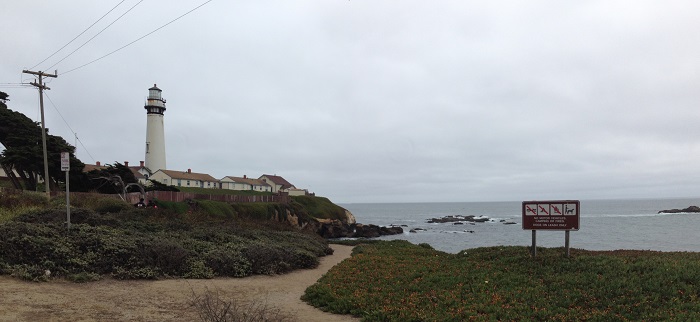 After some Ice Cream in Santa Cruz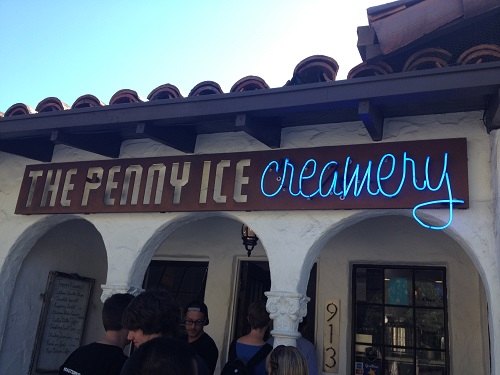 we go on to Aptos and another good friend and his lady.
The following day we head off to The Computer Museum which was originally set up by DEC people.
And, much to my surprise I see this machine, which was at the center of my life for a while.
And of course down the coast we visit the Monteray Bay Aquarium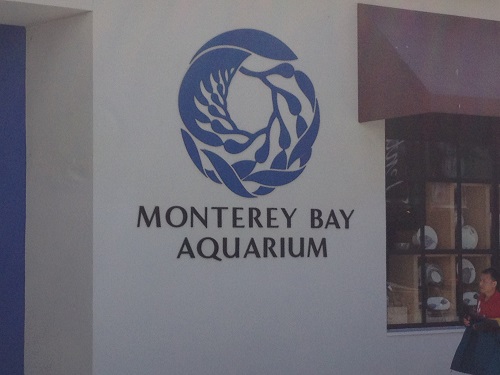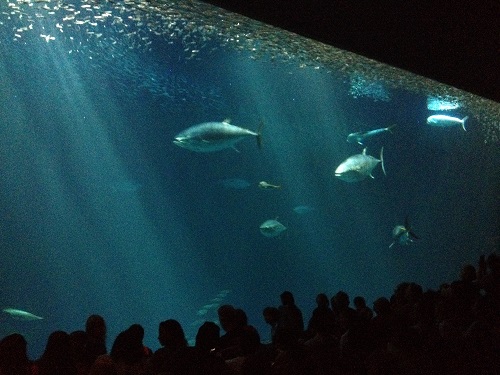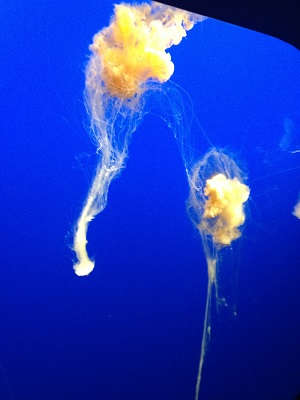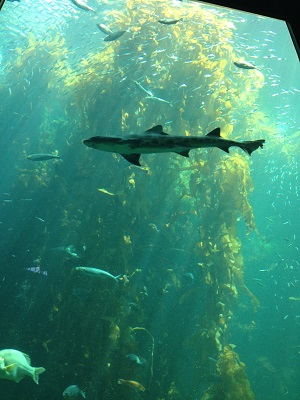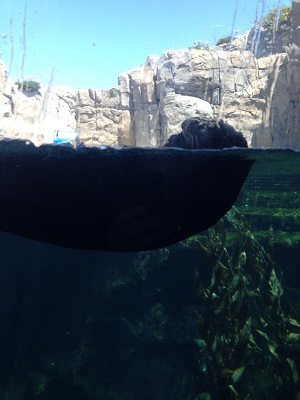 And then onto Big Sur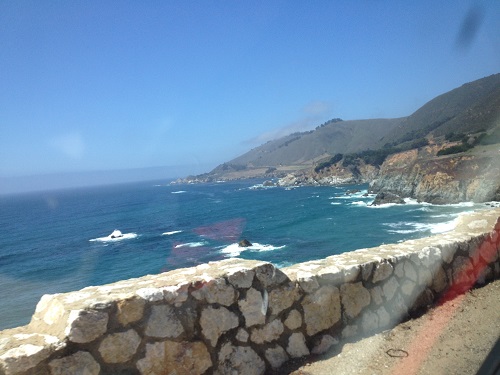 At the end of the coast road we see these
We arrive in San Luis Obispo and we have supper, all great fun.
And more great friends have got a Vizsla.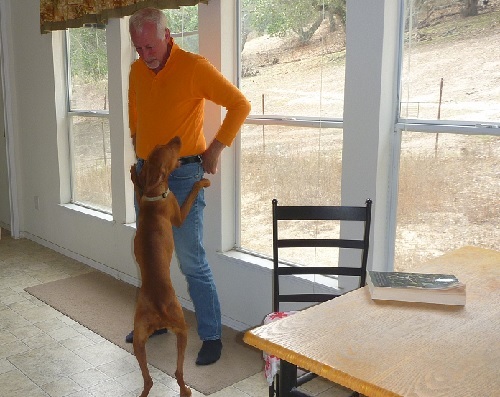 The following day I get to fly in a small plane c/o my host and even get my hands very sticky.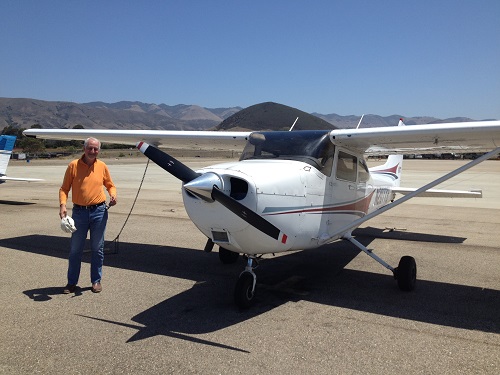 Next step in the US is a train ride.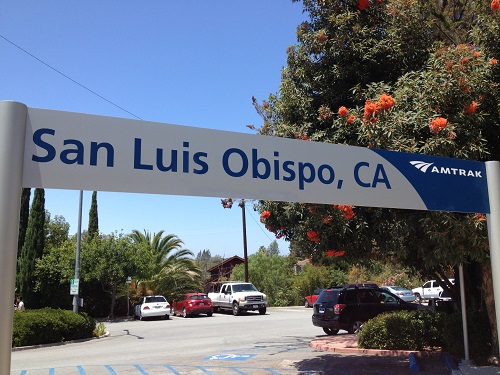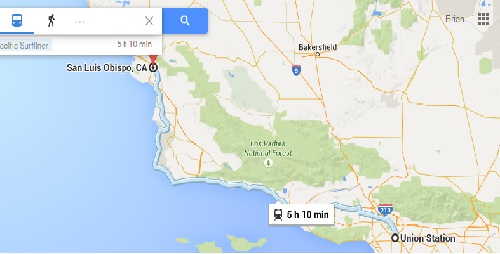 And from the train I see a number of camper vans, parked up by the Pacific ocean.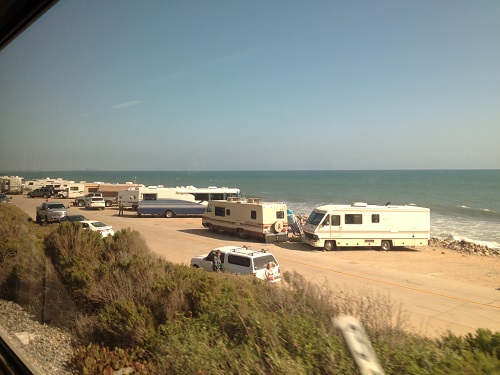 I even remember this long ocean road from a visit many. many years ago.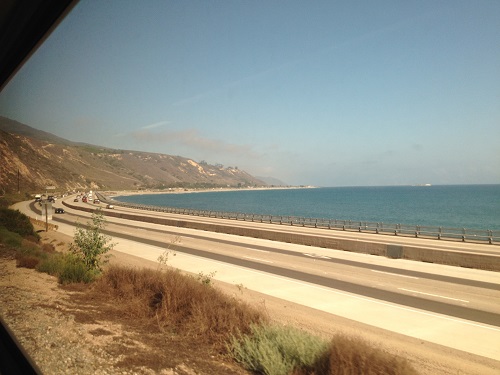 We go through Santa Barbara where we were as a family in 1988.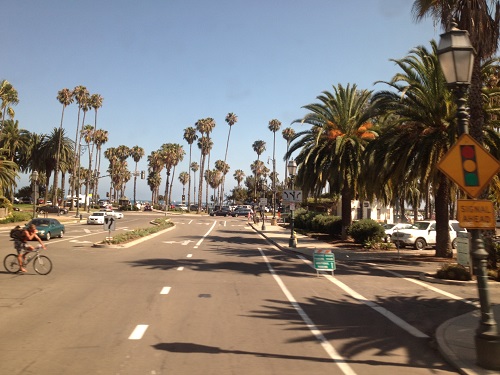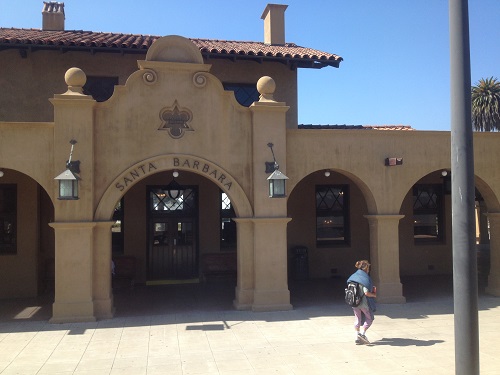 Why do I get the feeling that all this is temporary? That is in spite of the huge concrete roads and the orange groves beside the railway tracks.
After, what seems like an entirely non-arduous trip the L.A. Union Station is in view. What a lovely building it is.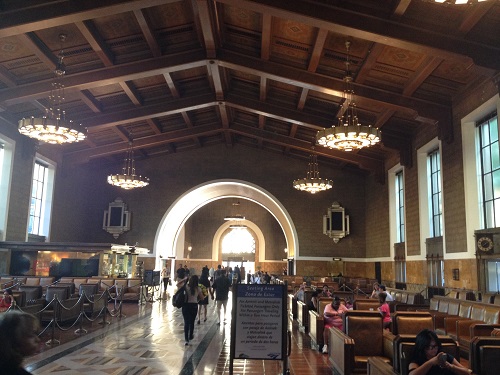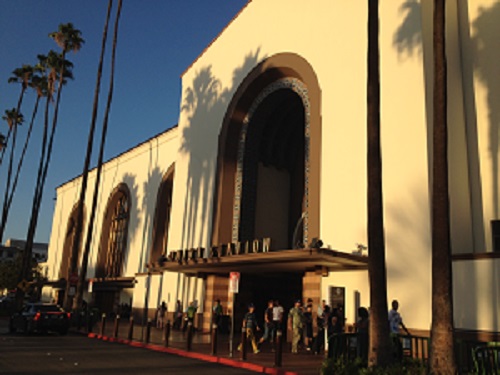 I am met by a very old friend of the family and shown her Victorian home on the hill with a view of the city. We chat about times in Devon more than 45 years ago and I eventually am overcome by tiredness and collapse into a deep sleep.
This trip down the coast meeting people from the past has been a wonderful time. What a trip, and what great people.
Thank you to all of you!
Next morning we take über into the city (I was an über virgin) to look around, first the Symphony Hall - Frank Gehrig at it again...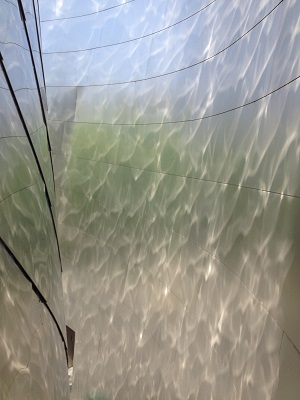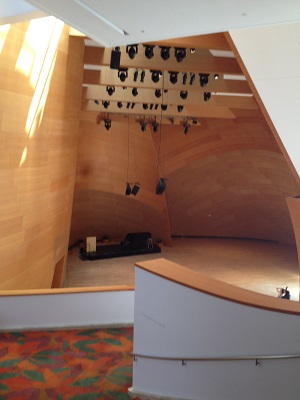 Then, there is the Art Museum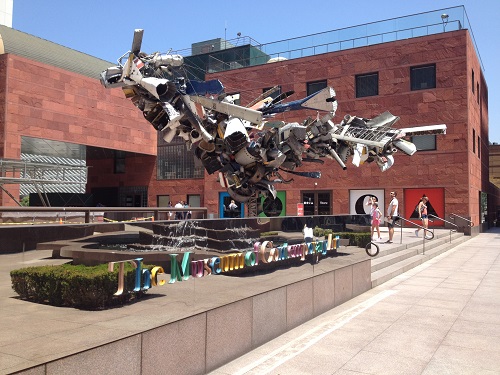 Later I am driven to LAX and check in for the flight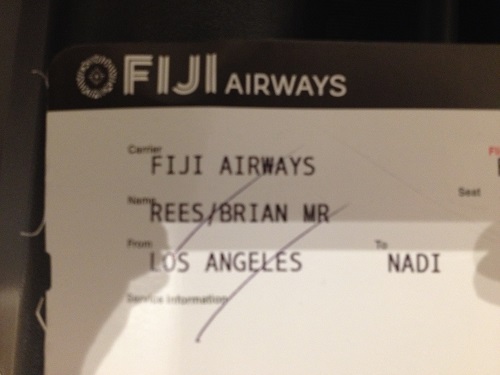 to
It is only 10 hours or so. How welcoming the hostesses are on Fiji Airways.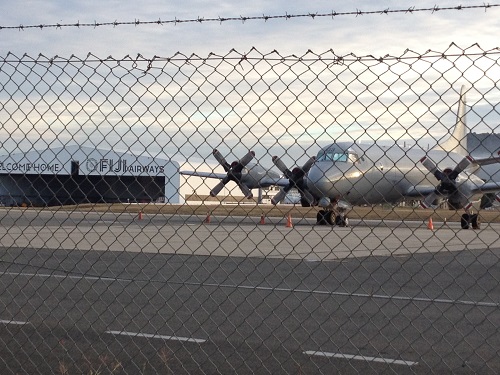 The drive to the capital takes a while and we pass Pacific Harbour with an island in the gray.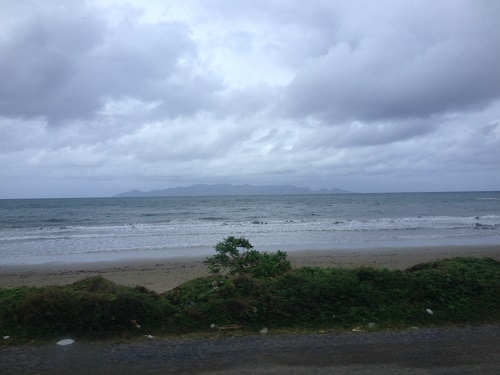 There are stinking busses for everyone.
And the ladies love their flowers, not just to put in their hair.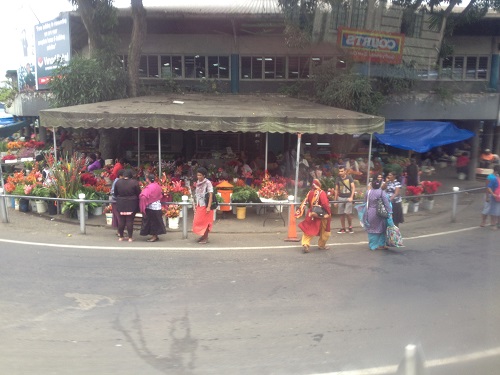 I check in to the Suva Motor Inn,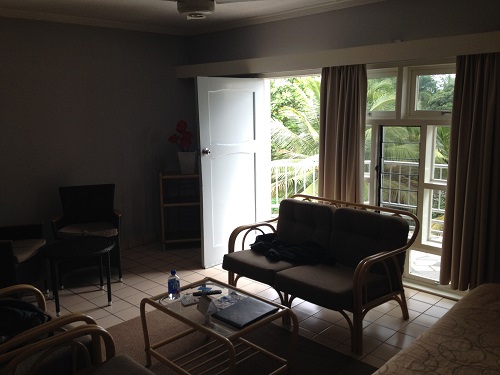 not far from the government buildings and the Fiji National Museum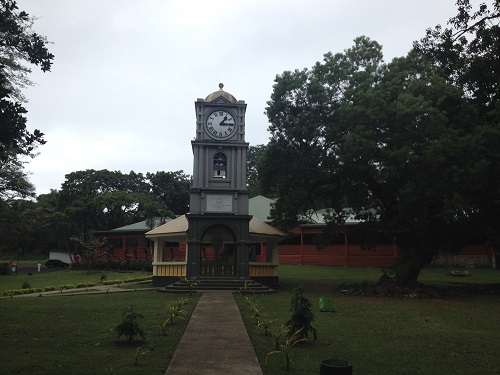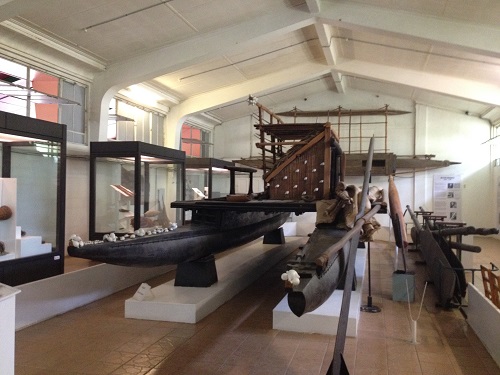 Apparently, one way to capture fish is to poison them. Hope they get well-cooked afterwards.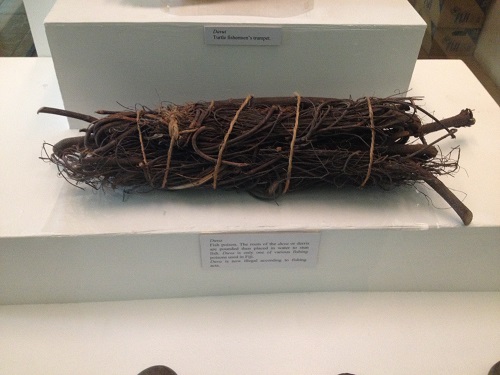 I walk back, through the park to the best hotel on the island.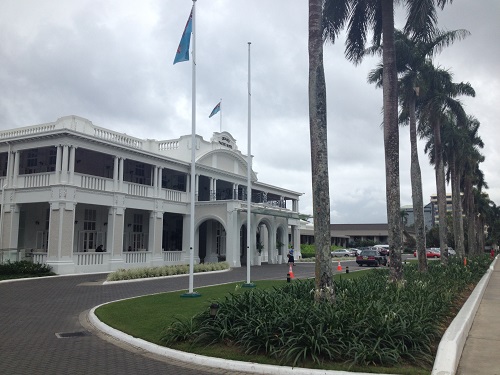 Another long sleep is on the menu, followed by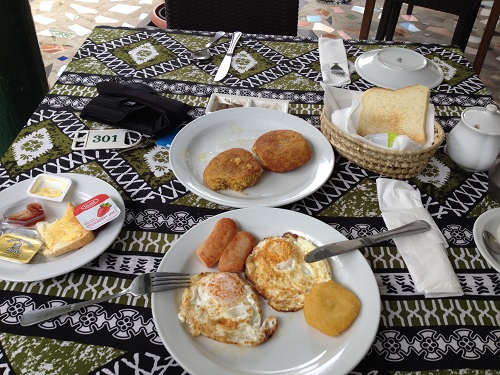 Another day goes by. I get postcards to send to the folks back in Europe and visit the open market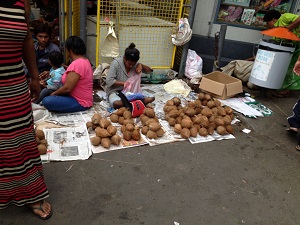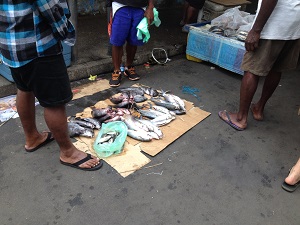 And there are some cute buildings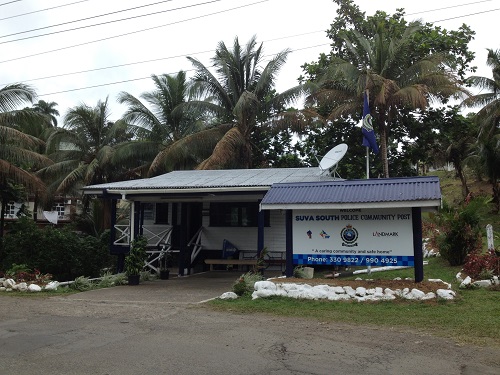 Before heading back to the bay nearer the aiport for one night

There are any number of friendly dogs around too.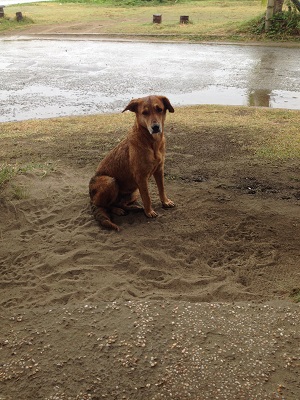 The following morning, the 3-JUL, it is time to head off to Australia.
---
© Copyright 2003, 2004, 2005, 2006, 2007, 2008, 2009, 2010, 2011, 2012, 2013, 2014, 2015 Brian Rees All rights reserved