---
2015 Part 2
The travels continue to Australia. The journey back takes in Hawai'i and L.A. again before spending the final part of the year back in England.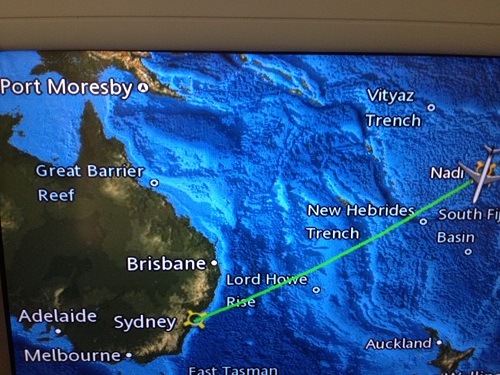 To be met by a very good friend of many years and the OZ experience begins.
Lots and lots of chat to catchup and coffee by the bay - the one where Cook landed with a cronut. (Me not him.)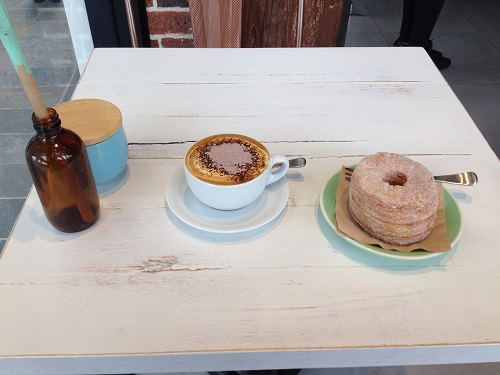 And, what season is this I'm in?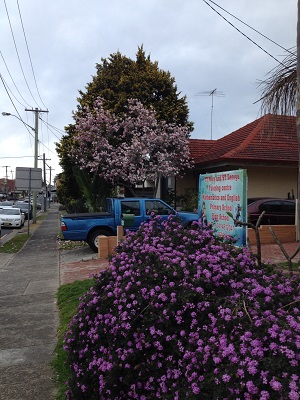 and a visit to the city - one of the best on the planet (IMHO)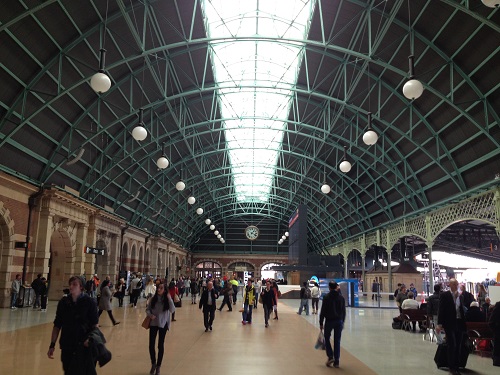 The café where the shooting took place - but no Wifi, so no more visits.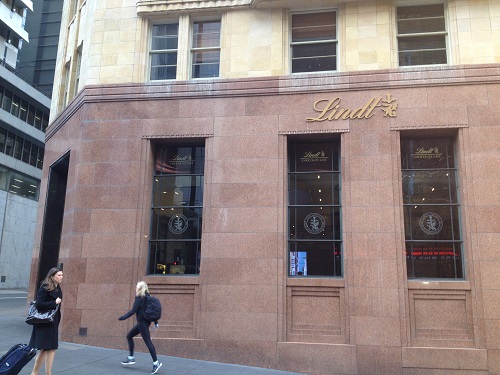 Noisy Birds in the back yard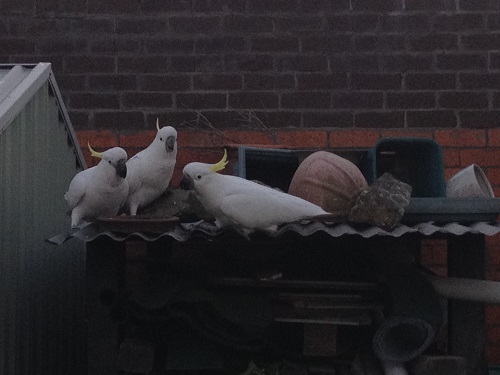 Then a while spent on a Winter's beach - Cronulla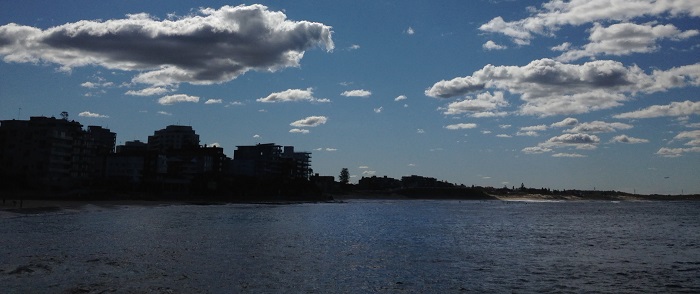 The local Farmer's Market is held in the grounds of the local school and it well attended. What a great place to be able to inspect and buy good local produce?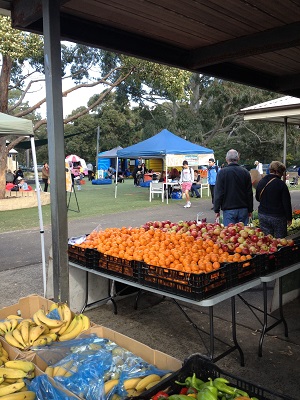 Then a trip down the coast. Maybe you can see the Sea Cliff Bridge at Coalcliff? I will be back here on a bike next week - well that is the plan.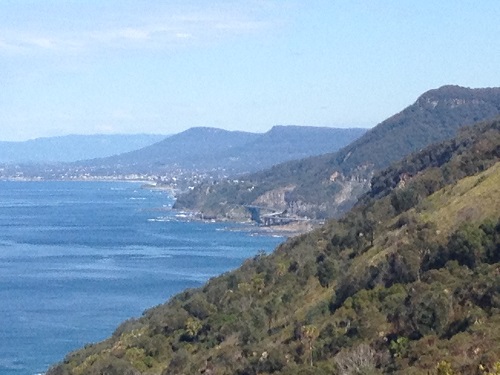 We also drive through the Royal National Park.
Next, a stroll across the bridge

down to the bike shop to pick up the trusty steed which I bought multi-hand off Gumtree.com.au ready for the off:
Answer me this : "Why do Australian TLDs have .com before the .au?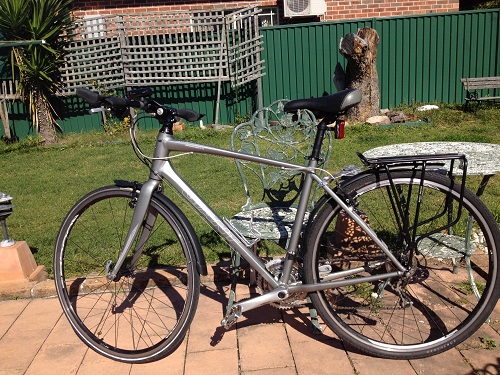 To Canberra for a few days to look at some of the sites while staying at the very modern YHA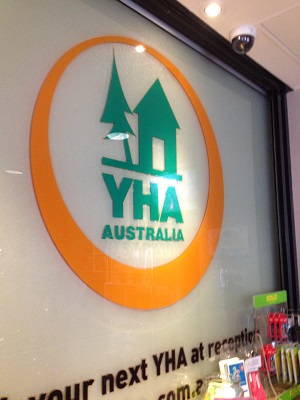 The first day some shopping at this emporium, they are all over the planet, I wonder what will become of them in the future?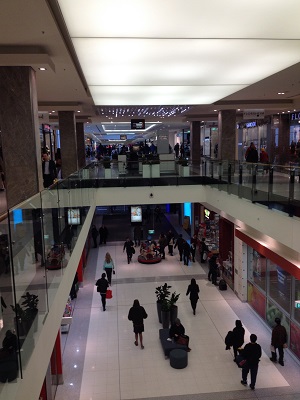 Then the Australian War Memorial which is impressive and reverent, which is good.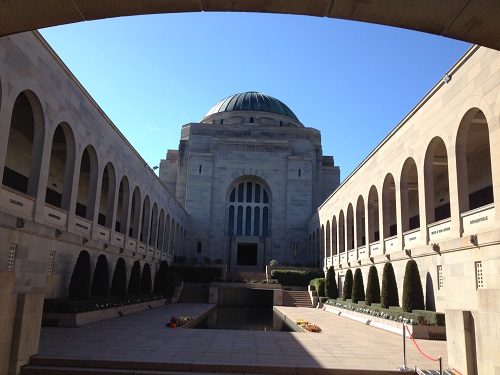 And, down the road looking towards where the politicians pratt around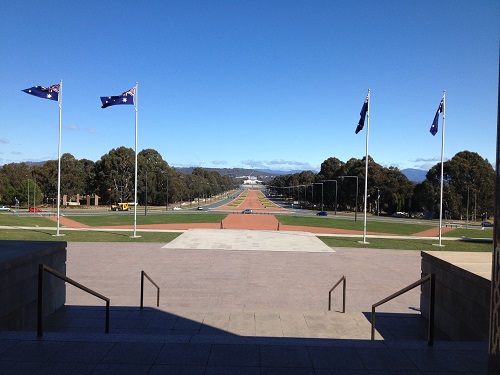 there is this memorial to all the nurses who have served military personel.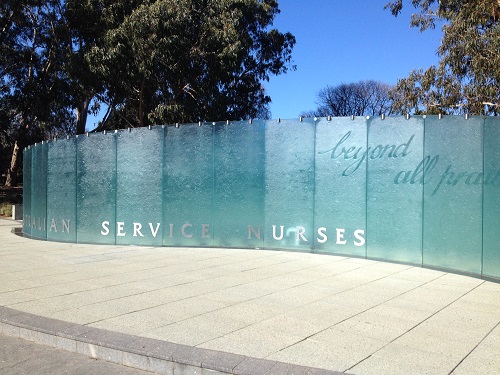 Next stop is the National Museum where I don't recognise many of the people mentioned on the walls, well except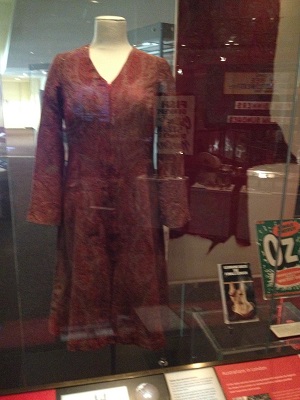 Because I read her most famous book all those decades ago. And then this feisty little native lady.
She was one of the world's leading players in the 1970s and early 1980s, when she won 14 Grand Slam titles: seven in singles (four Australian Open, two Wimbledon and one French Open), six in women's doubles, and one in mixed doubles. The National Museum of Australia holds the Evonne Goolagong Cawley collection of memorabilia. This includes her 1971 and 1980 Wimbledon singles trophies, the trophy from her 1974 doubles win and two racquets used in these tournaments. ( Wikipedia)
14-AUG. After two nights in Canberra it is finally off down the road on the bike.
BAfter 5 nights I am back in Sans Souci the sun comes and goes as I do some catchup.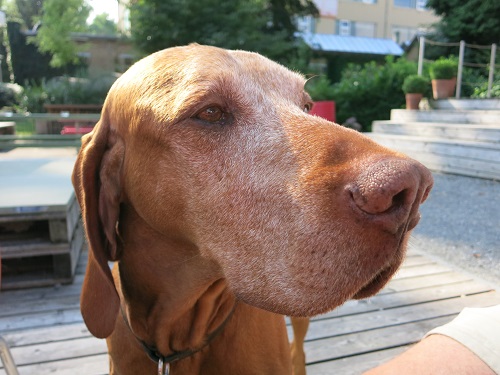 23-SEP It is now 6 months to the day that Miloš left. The day began In Calas de Mijas in a small café in the main square, where the busses drive through taking passengers old and young northwards. We had opened the place. I tried to help the young lady put the tables out, but she had responded so strongly I was told by her body language to sit and behave. Miloš looked on as much as to say "I told you so, don't mess with her." While I ate and drank the welcome coffee Miloš stood and watched, he didn't even attempt to sit. Once I was done he slipped his front paws onto my legs as was his wont. This always felt good. We then visited family in the apartment overlooking the beach. We went for a bite in the restaurant on the beach before Miloš and I headed back to the van, stopping on the way for Miloš to drink from a public fountain, for which we get shouting and angry gestures from a nearby taxi driver. I sleep for a while then take Miloš for a walk around the large carpark before going back to the flat. But, we never get there. He keeps stopping and just looking at me. I know it is time. For months we have been visiting the vet in Calahunda and he is now not doing well at all. His heart is rushing. We drive in the van to the vet's office and wait for her to arrive back from lunch. A discussion ensues, but I know this is it. The papers are signed and I look into Miloš's eyes with no words. After his heart stops his lungs let out what seems to be a sigh of relief.
He was such a gentle friend, though I do still often think of his passing in a vet's office, I always switch to the grand times we had together. As my son says - The King of Dogs. I miss him.
We now have rain in Sans Souci so bike riding is off the agenda for the time being.
In the city I go and collect tickets to see Matilda, walk along the waterfront and visit the Queen Victoria Building.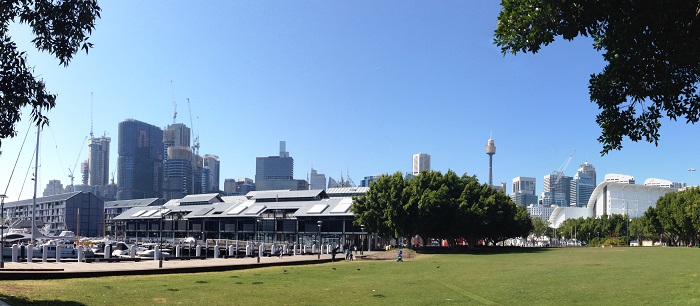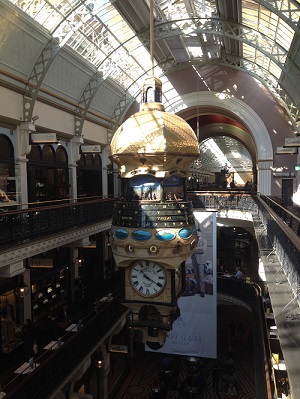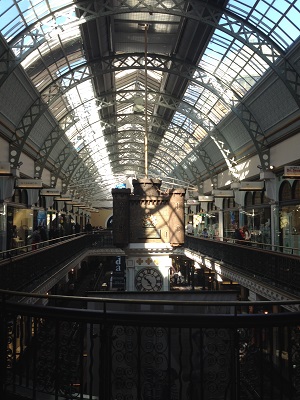 And why is it that wherever the Brits go, like Victoria in Canada, Calahunda in Spain or here in Ramsgate Australia, they do this?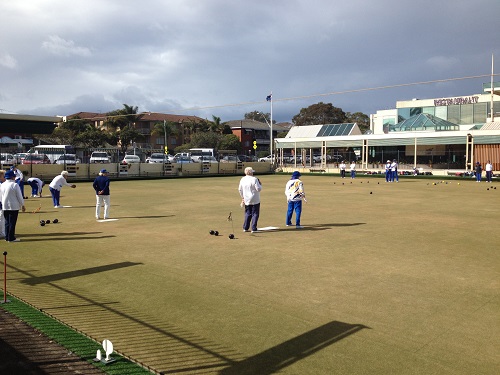 27-AUG and back to the city lights at the Lyric Theater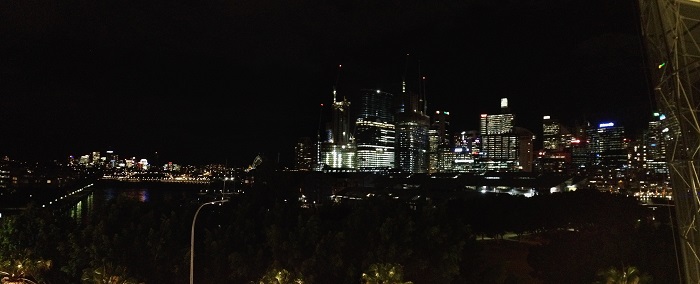 To see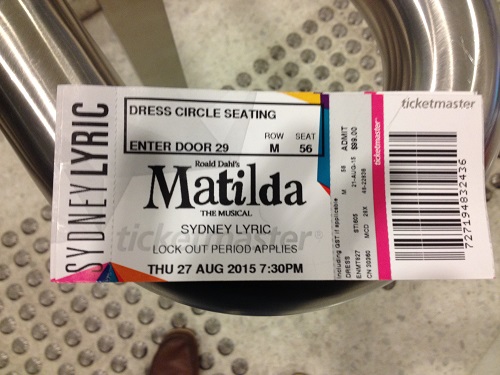 We go to a mining exhibition at the Olympic Park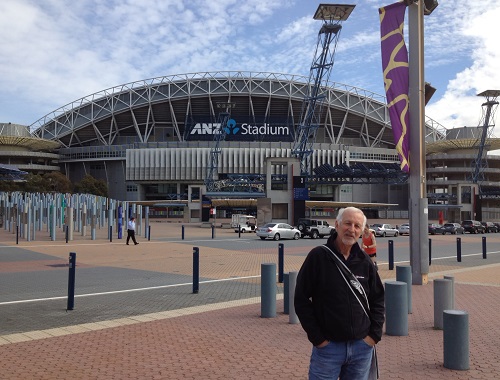 And I get an early birthday present - a box full of goodies for the trip. What nice friends I have. Thank you!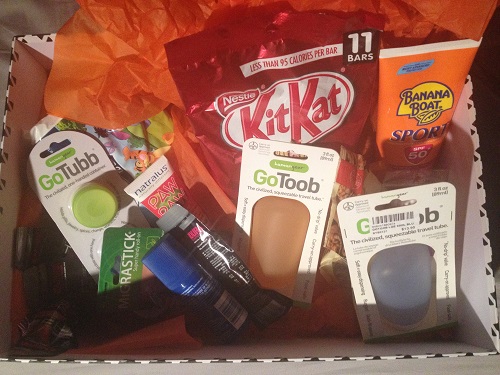 So, then it is time to try and cycle up the coast towards Brisbane.
Then back to Sans Souci to enjoy the (very strong) sun before planning a trip to a remote farm, Melbourne and Adelaide.
I start going to the local olympic-sized swimming pool. Not as fit as I thought I was. Water resists.
On the 7-OCT I take a train into the city and up towards the Blue Mountains and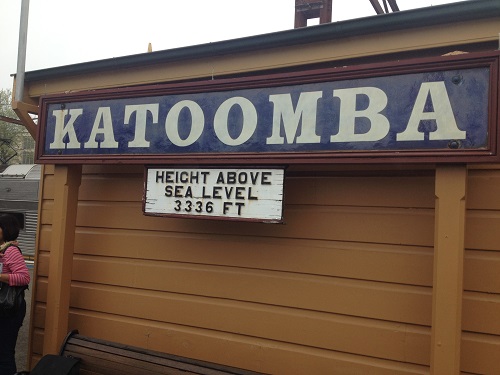 The plan is to walk down to the Three Sisters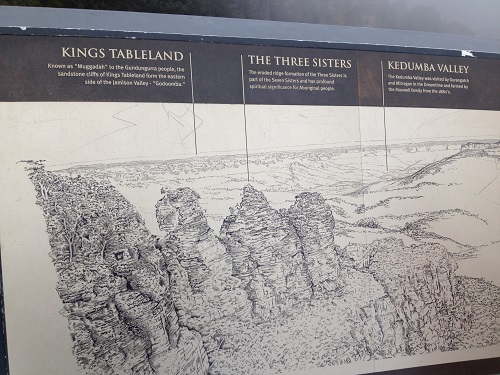 But all I can see is: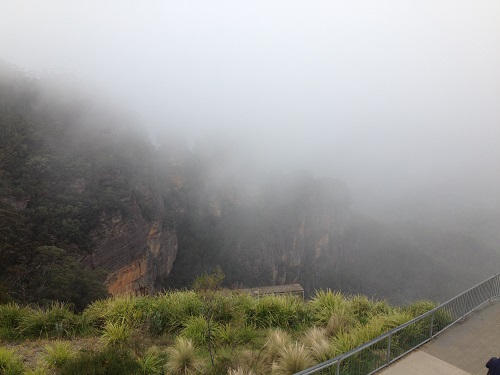 But further around the cliffs there is this view:

Then it's Saturday night and we are off to see Sydney FC play in Moore Park.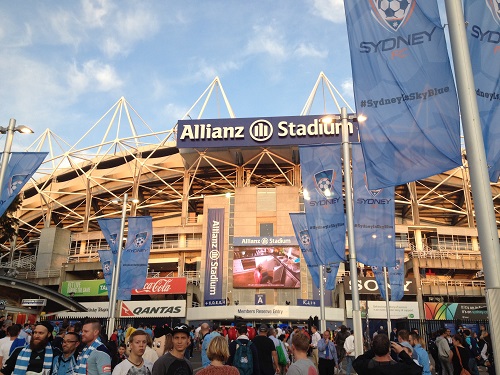 And tomorrow it is off to Woop Woop - the Aussie term for "very remote". We stop at a café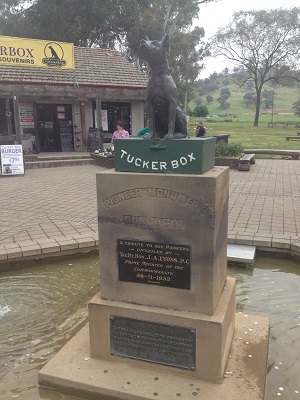 And then on to the farm.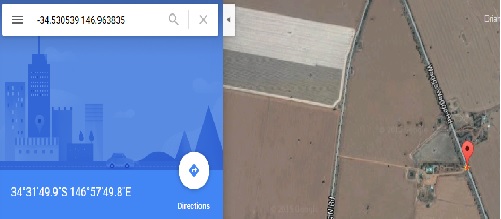 In the morning, the view from the the top of the Silos is impressive.

And we take a ride around to Lockhart to see the local art.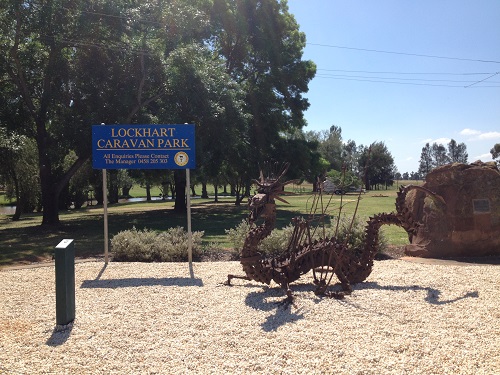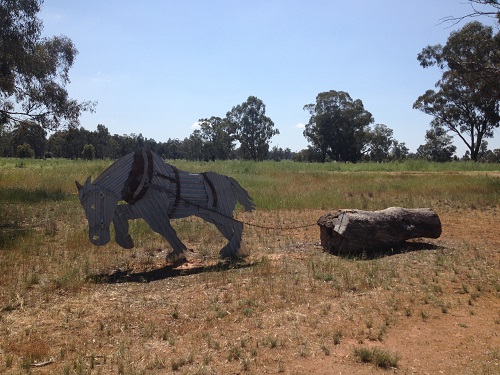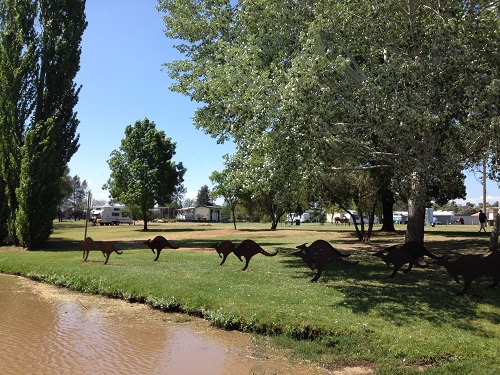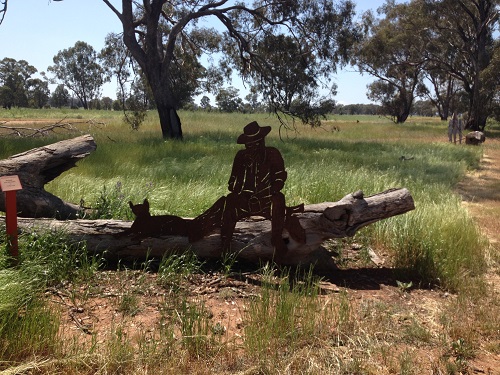 Next stop is a small hill called Galore followed by Narrandera for coffee, another Verandah town this, before heading back to the ranch. The following day we walk up a local bump for a view.

The following day 14-OCT I take the train from Wagga Wagga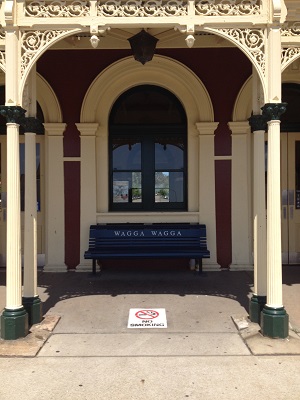 to Melbourne and the Southern Cross Station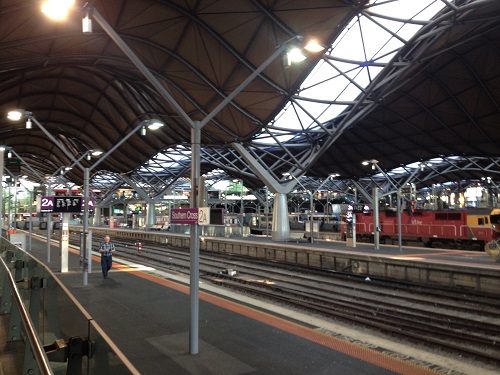 The YHA is not far, newly-renovated and noisy due to construction next door.
I get to see the Shrine of Rememberence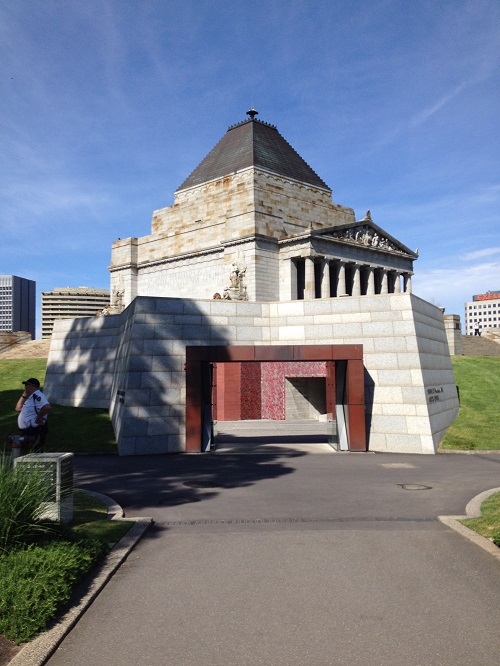 and any number of creative buildings and laneways.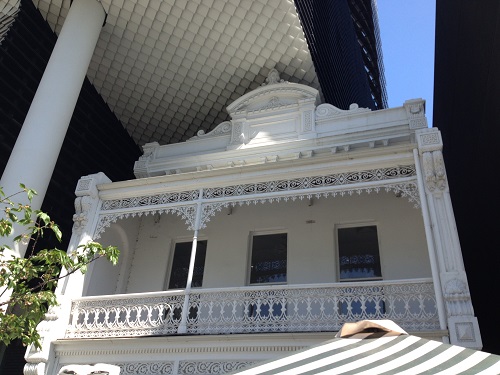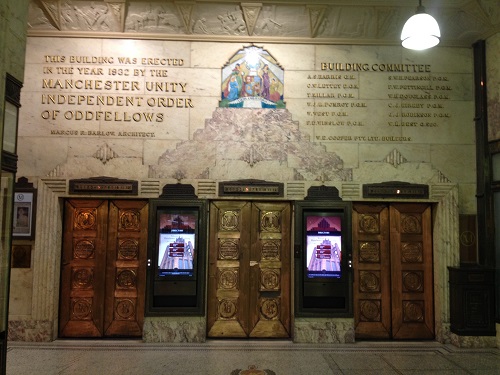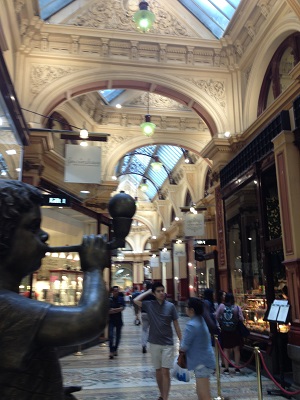 And the famous nude which caused such a stir some years ago. She is also the mascot of HMAS Melbourne and hangs in Young and Jackson's, a local refreshment house.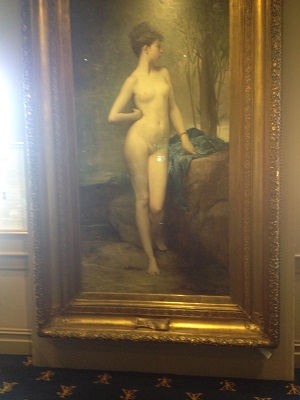 Then the Town Hall which held a reception for ABBA in the 1970s.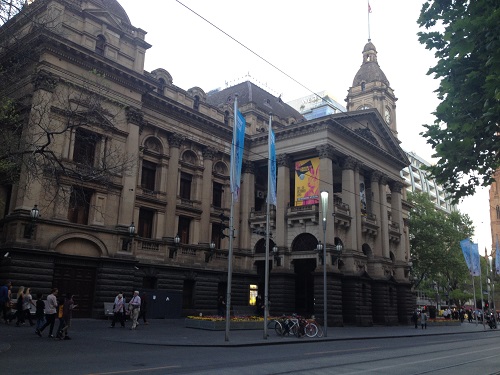 And at the Museum a replica of one of the largest gold nuggets ever found - 65 kilos.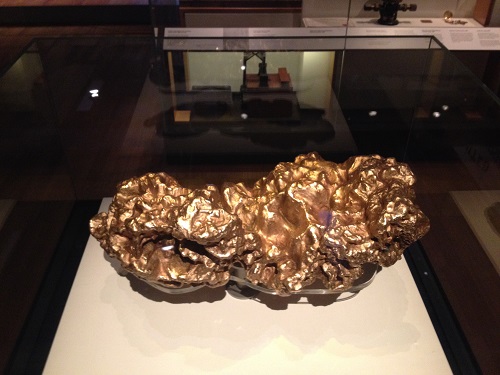 And before I leave Melbourne I take a selfie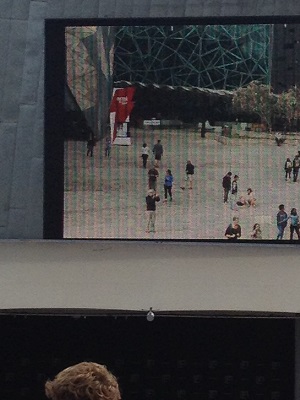 And on the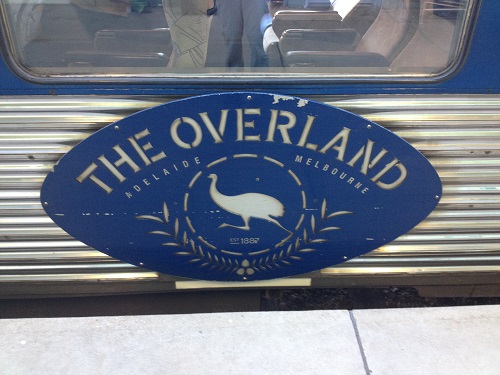 into South Australia to Adelaide and over the Murray River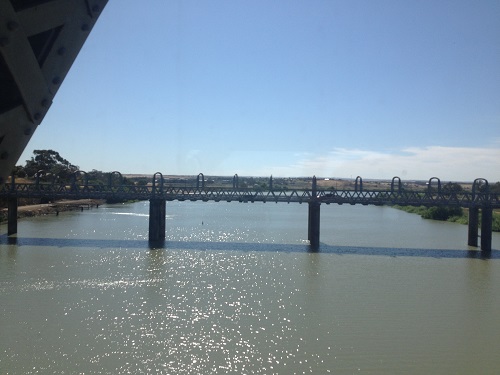 Another great YHA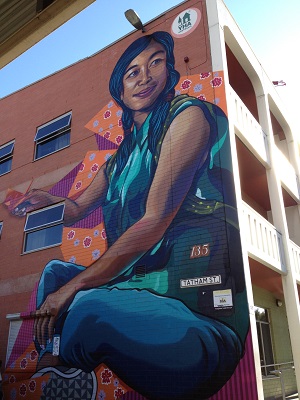 On the Sunday 18-OCT, I go to the Museum which is not impressive, and the Migration Museum, which is closed, but I find this impressive statue.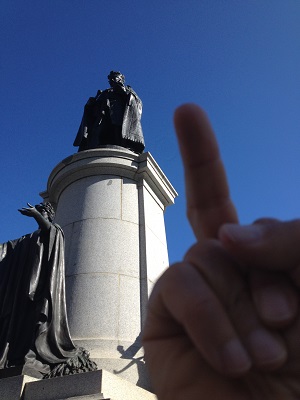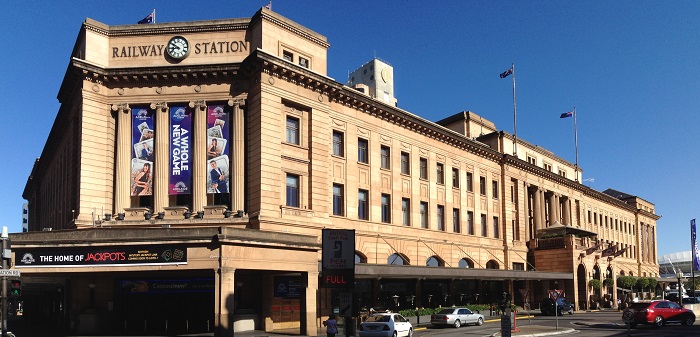 It is warm here too. Before getting on a plane. Now I know why the ticket was so inexpensive.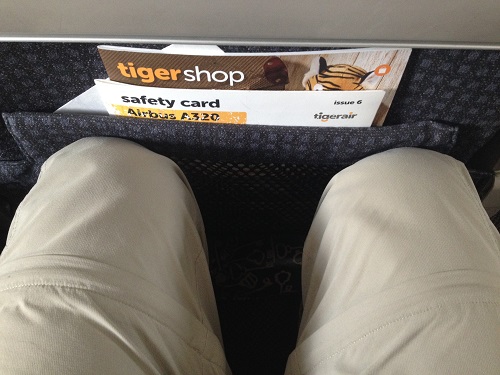 Back in Sans Souci, walking past a new commercial development I see this: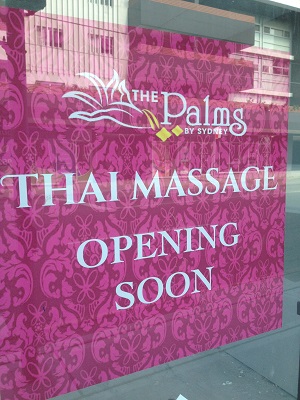 We then get a few days of (sometimes heavy) rain, but all is good.
One morning, early, I head off to Bondi Beach. What an impressive seawater pool.

And it just happens to be during the Sculpures exhibition.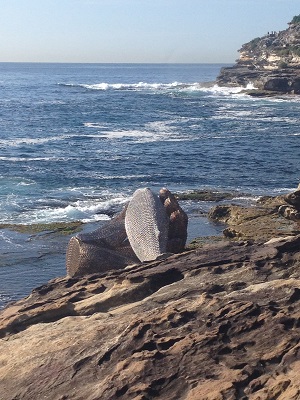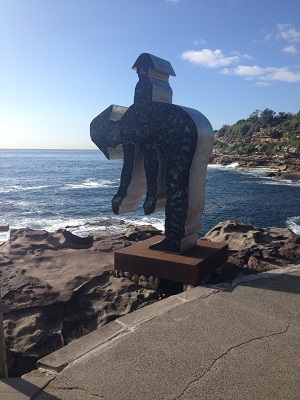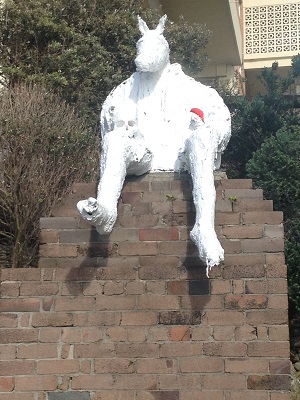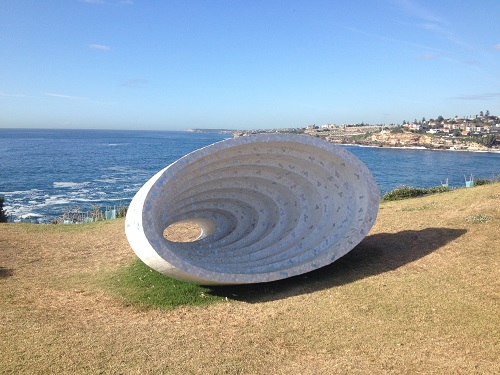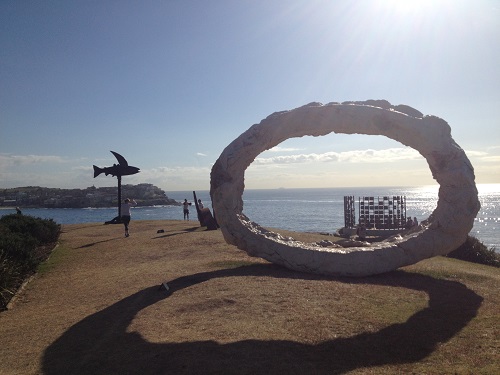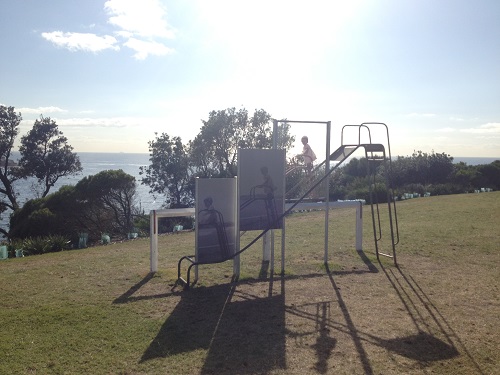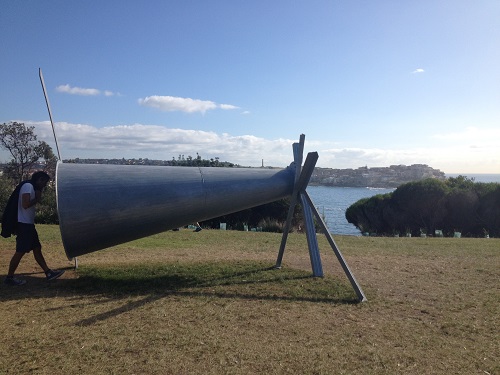 And then there's this: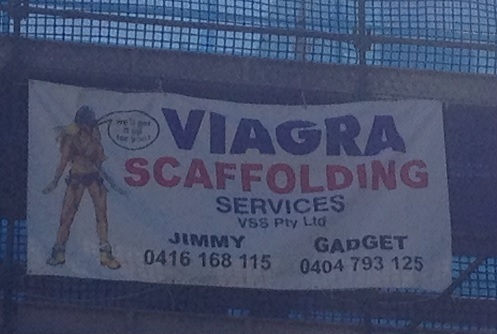 Well done Aussies.
It's hot on the beach, so time for some Slip, Slap, Slop.
The Jacaranda trees are all out.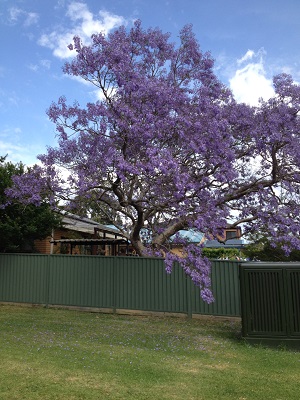 And we get a week of poor weather, including an interesting front.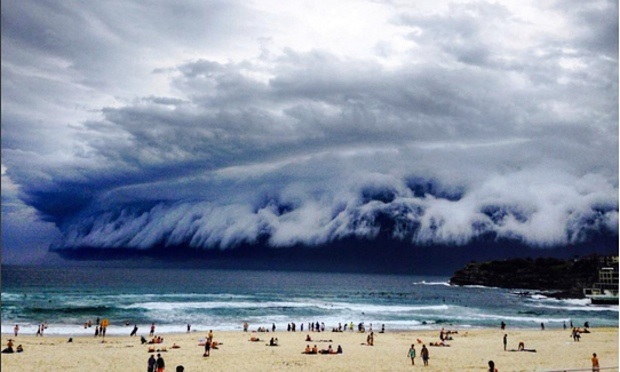 And then the same beach from the air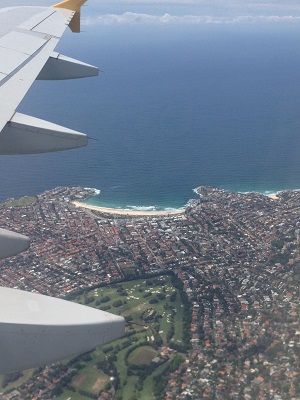 On the way for a few hot days in Brisbane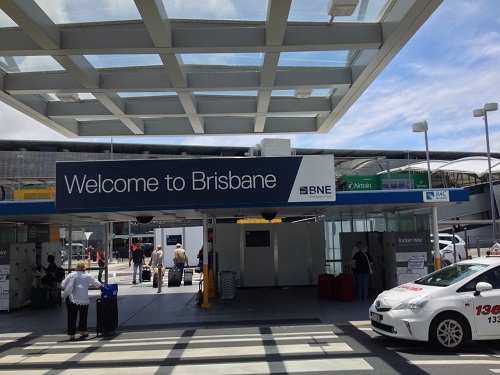 And back to Paris. It is well past the time to make a change. We need to get rid of stupid, backward ideas. This isn't the Middle Ages anymore.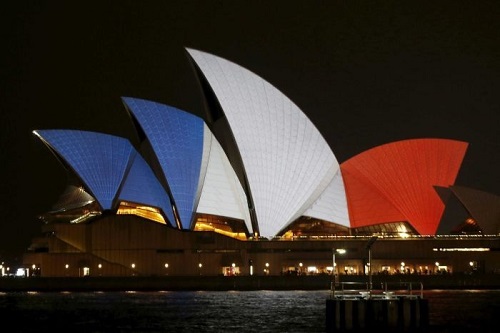 Just west of the Gold Coast is the Springbrook National Park, volcanic and with some striking features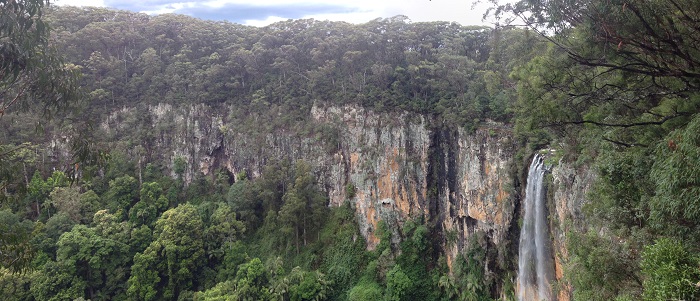 On the way back it's a visit to the dam at Hinze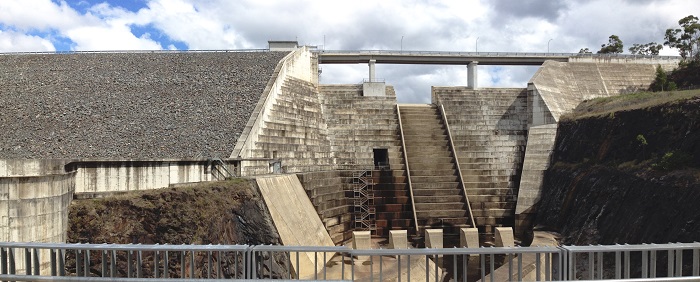 Aparently it is mandatory to ascend the tower - Skypoint Observation Deck: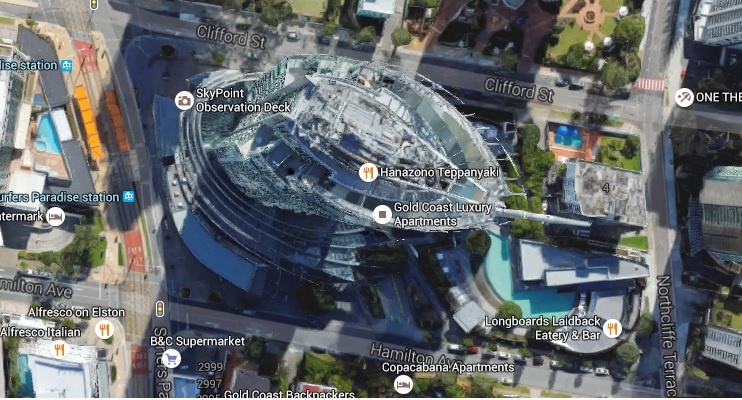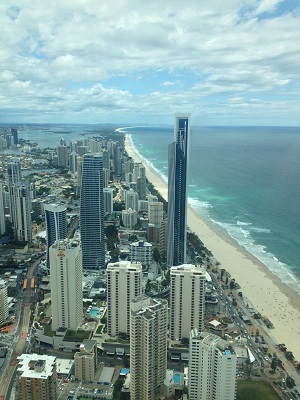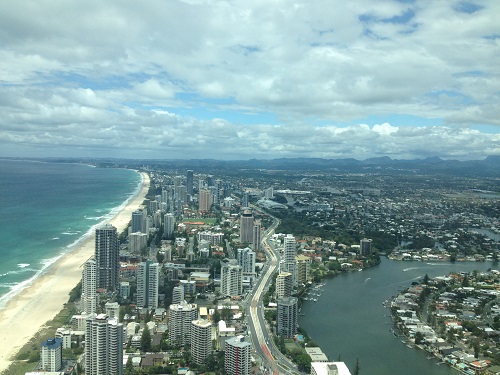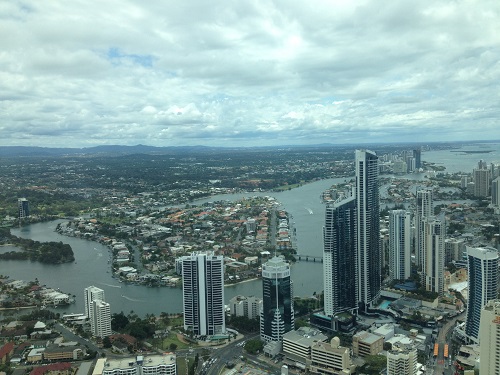 Another trip is to the Skywalk at Tambourine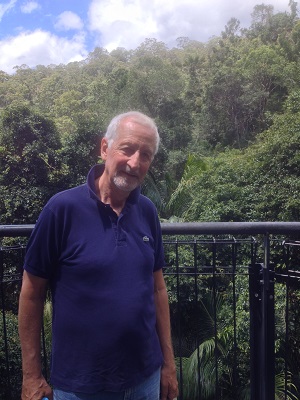 And terrific Japanese food at Etzu Izakaya.
And then I see this: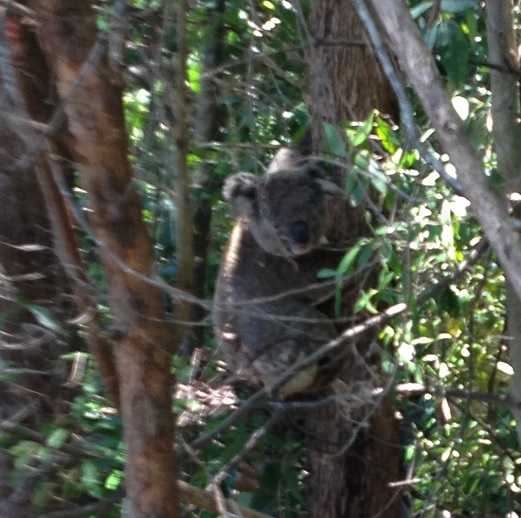 And then spend some time on the local beach at Currumbin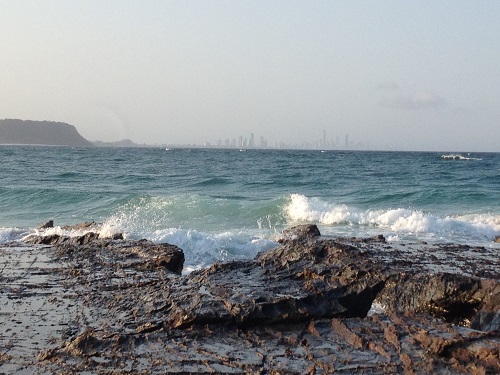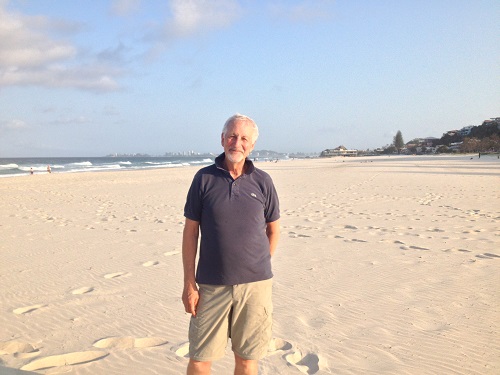 Next stop is Noosa Heads with lots of water (the river has been diverted) beaches and parks.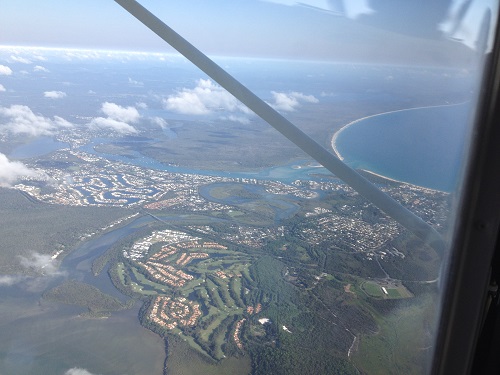 And a trip to Fraser Island by Cessna with Air Fraser Island.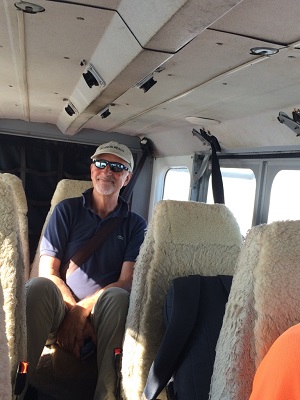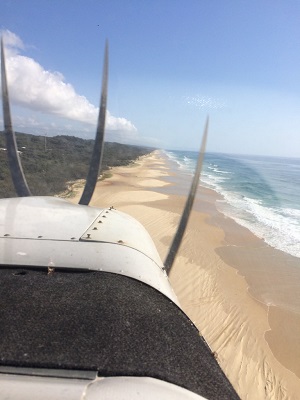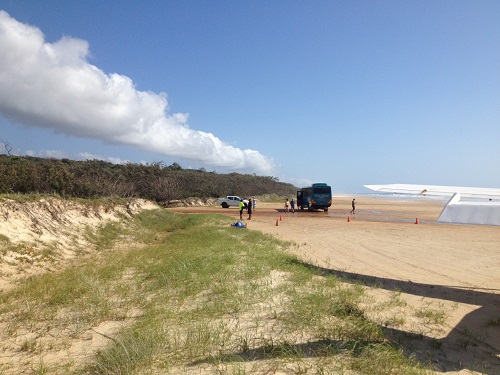 A warm (well somethimes hot) walk to Lake Wabby.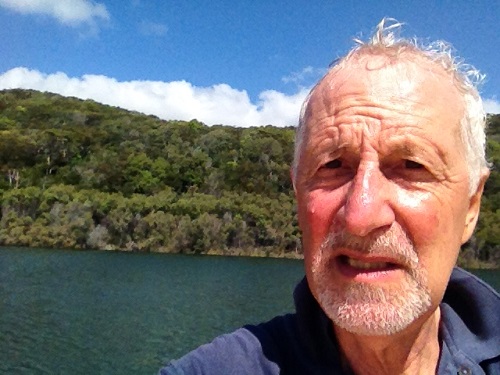 Catfish in the lake ready to eat the excess folicles of your body. Then very hot sand on the way down. There has to have been a lot of jumping people later in the day.
On departure we get to fly over Lake Wabby.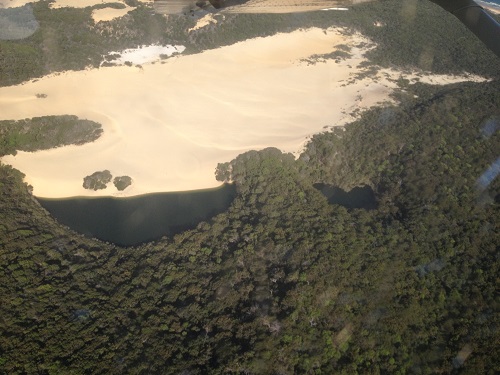 Brisbane has some wonderful buildings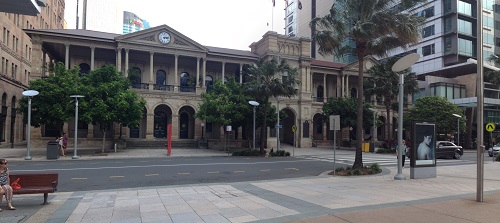 We get hit by a storm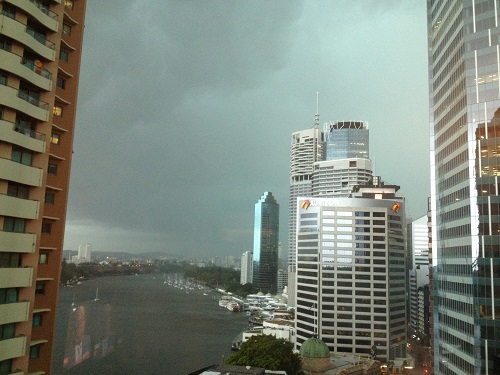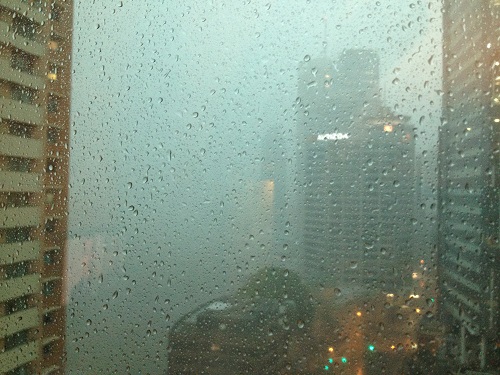 Then it's back to Sans Souci for a few days before leaving Australia.
Botany Bay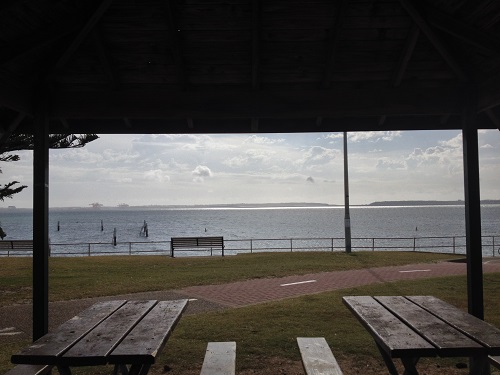 On the penultimate day on OZ this is what the city looks like at over 30 degrees. Parts of the country are experiencing 40 degrees and above: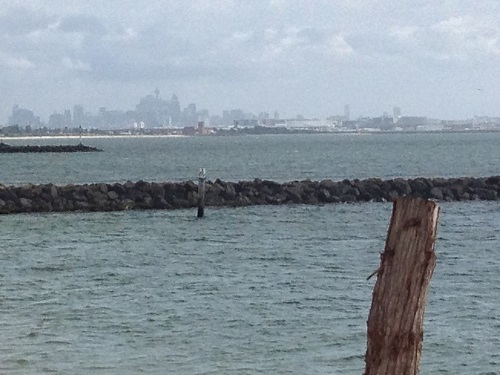 And on the 3-DEC, a final view of Sydney
In Honolulu it is firstly a visit to the ships in Pearl Harbour.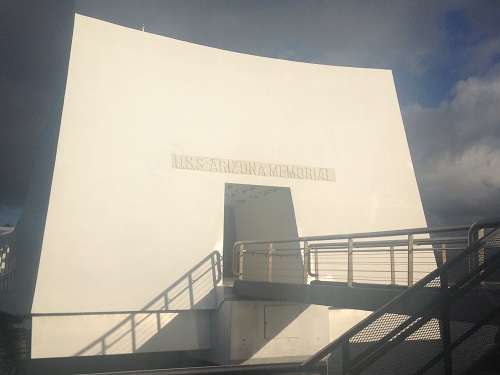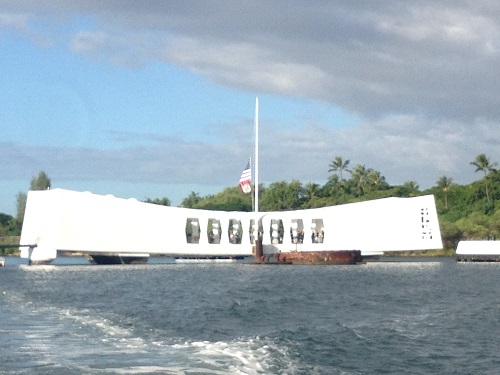 This was a dramatic demonstration of the transition from sea warfare based around Battleships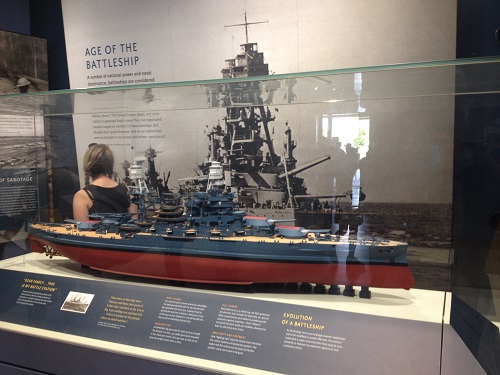 to a new era based on Air Power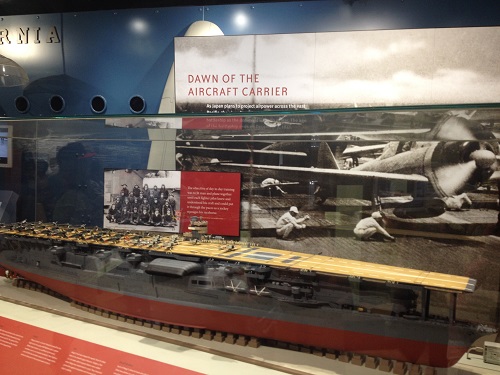 The USS Missouri, on which General MacArthur took the Japanese surrender which brought WWII to an end.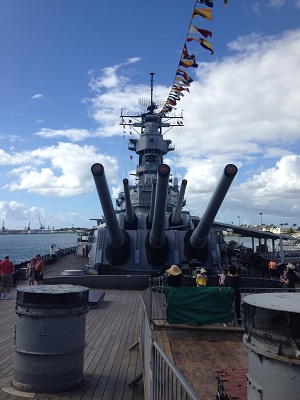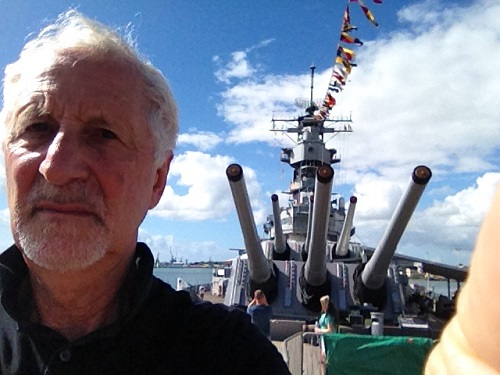 And then there is Waikiki Beach, not nearly as good as the ones I know in Portugal. Too many high-rise buildings and people of course.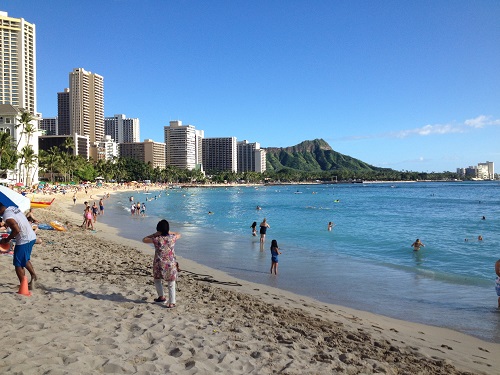 The following day it is off around the island by public transport - Buses 55 and 52. Nothing really to report. I was told to see two places on Waikiki, namely
The Pink Hotel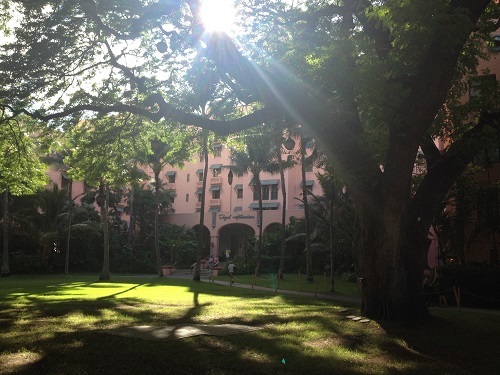 and Duke's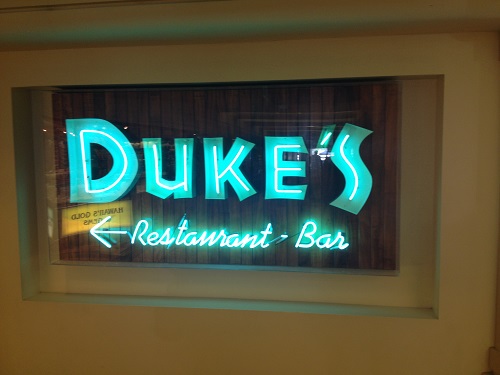 where I lingered for two Mai Tai's and a delicious (though not inexpensive) steak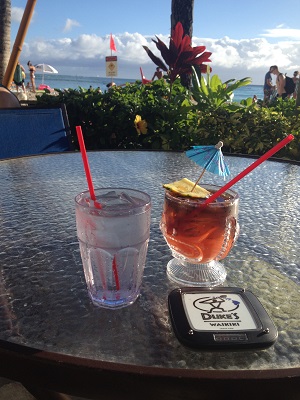 before the sun went down and every man Jack had to take a picture.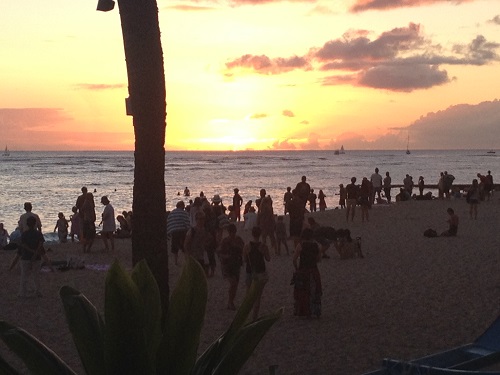 The following day it's a climb up Diamond Head inside the volcano, now not active having moved away from the hotspot. (Original meaning.)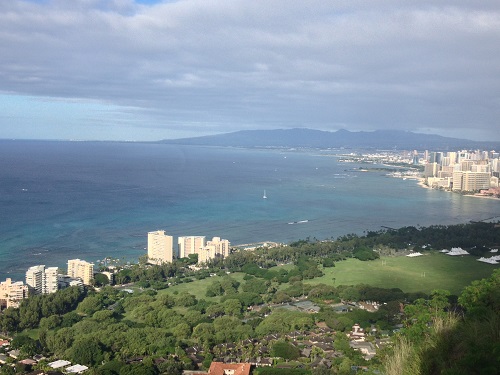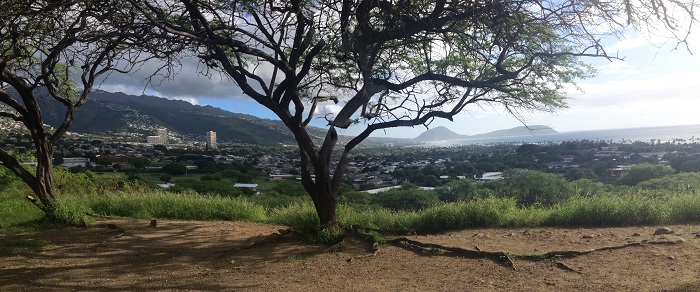 Back in town, following on from the family-friendly parade the previous evening (which I missed) we have classic US bikers passing for about an hour. Lots of banging, reving of engines and invisible particles. They seemed to enjoy showing off their wares. Not my cuppa.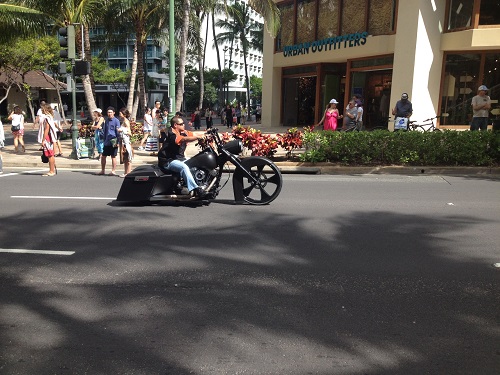 It included some ladies.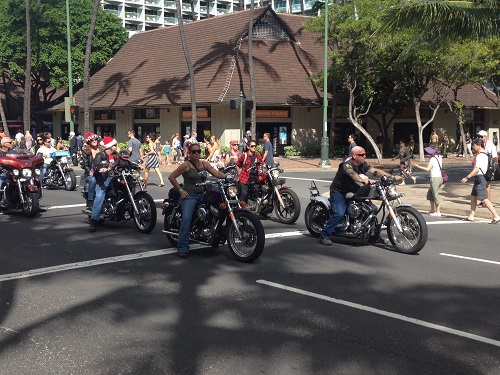 Some strange rides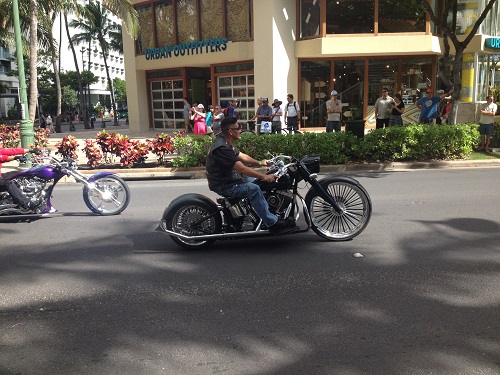 On the way back I saw this as a tribute to mankind's unkindness.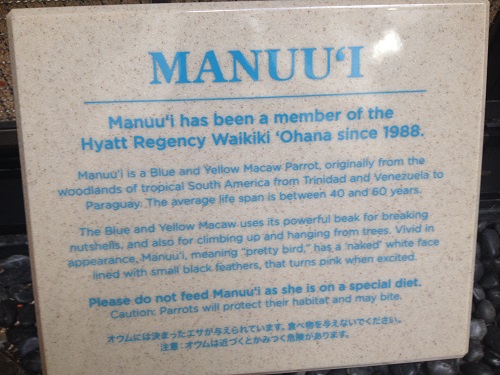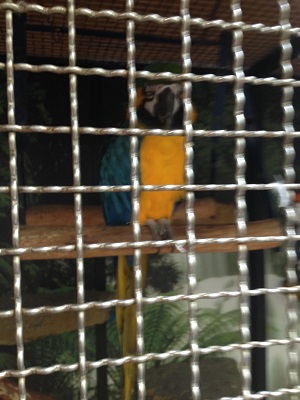 A member of the Hyatt clan - cagged for 40 to 60 years. Well done chaps!
Back then to L.A for a couple of nights. The lady on Hawaiian Airlines explaining where the exits are does it with a swing.
10 exits, 2 at the front, 6 in the middle and 2 at the back, on the right and the left.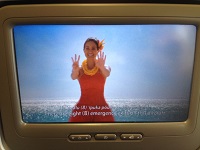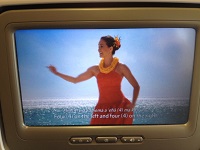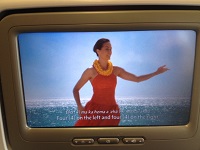 Then just before we land L.A. Downtown comes up.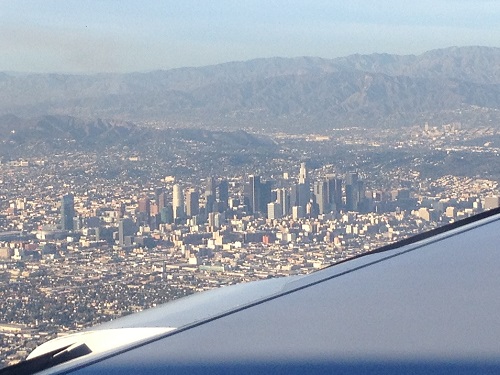 I go to Santa Monica to have lunch with a friend.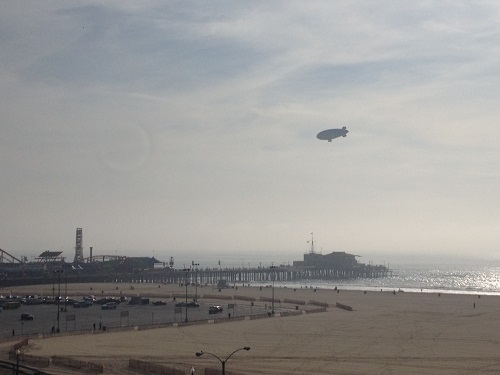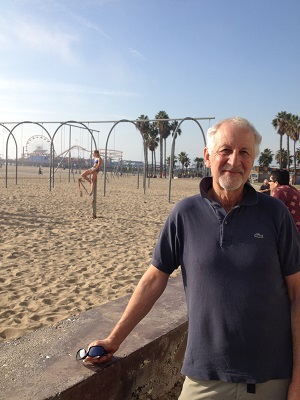 And of course being Califonia and with no salt on the roads some things endure.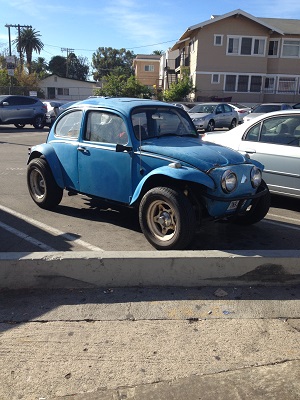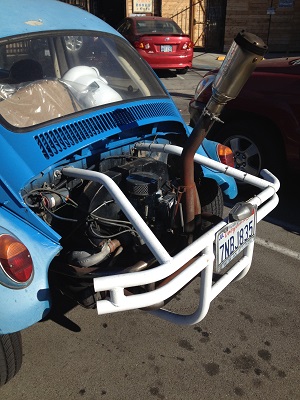 before taking 3 planes to Seattle, Iceland and London Heathrow.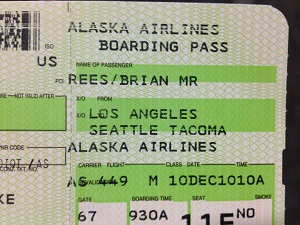 There is snow in Iceland - Brrr.
And it's Totnes again!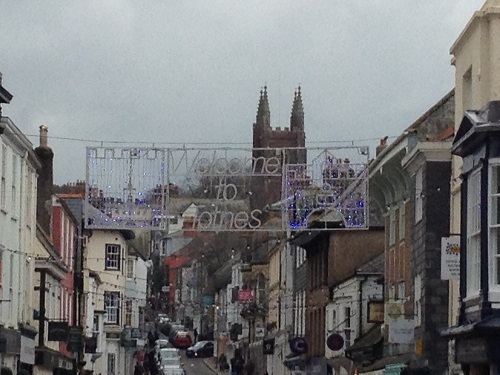 Devon showed its usual grey, cold and moist side. But, at night it looks none too bad and people come out in force to savour the culinary delights. haha.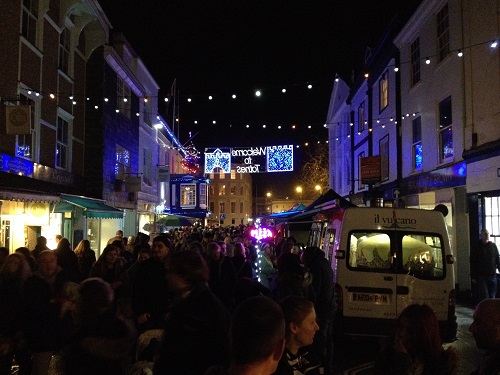 The Seven Stars even has live music.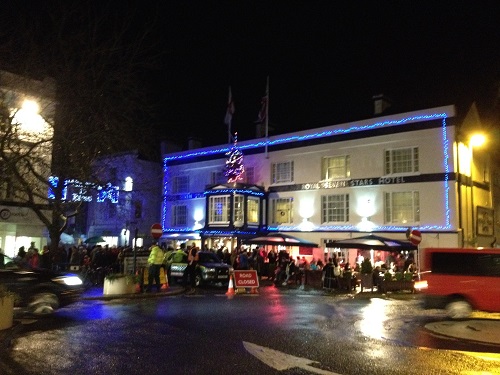 The last few days of the year I spend in bed with a cold which just knockeed me out.
Then there was this:
CLOSING 2015

One always has to know when a stage comes to an end. If we insist on staying longer than the necessary time, we lose the happiness and the meaning of the other stages we have to go through.
Closing cycles, shutting doors, ending chapters – whatever name we give it, what matters is to leave in the past the moments of life that have finished.
Did you lose your job? Has a loving relationship come to an end? Did you leave your parents' house? Gone to live abroad? Has a long-lasting friendship ended all of a sudden?
You can spend a long time wondering why this has happened.
You can tell yourself you won't take another step until you find out why certain things that were so important and so solid in your life have turned into dust, just like that.
But such an attitude will be awfully stressing for everyone involved: your parents, your husband or wife, your friends, your children, your sister.

Everyone is finishing chapters, turning over new leaves, getting on with life, and they will all feel bad seeing you at a standstill.
Things pass, and the best we can do is to let them really go away.
That is why it is so important (however painful it may be!) to destroy souvenirs, move, give lots of things away to orphanages, sell or donate the books you have at home.
Everything in this visible world is a manifestation of the invisible world, of what is going on in our hearts – and getting rid of certain memories also means making some room for other memories to take their place.
Let things go. Release them. Detach yourself from them.
Nobody plays this life with marked cards, so sometimes we win and sometimes we lose.
Do not expect anything in return, do not expect your efforts to be appreciated, your genius to be discovered, your love to be understood.
Stop turning on your emotional television to watch the same program over and over again, the one that shows how much you suffered from a certain loss: that is only poisoning you, nothing else.
Nothing is more dangerous than not accepting love relationships that are broken off, work that is promised but there is no starting date, decisions that are always put off waiting for the "ideal moment."
Before a new chapter is begun, the old one has to be finished: tell yourself that what has passed will never come back. Remember that there was a time when you could live without that thing or that person – nothing is irreplaceable, a habit is not a need.

This may sound so obvious, it may even be difficult, but it is very important.
Closing cycles. Not because of pride, incapacity or arrogance, but simply because that no longer fits your life.
Shut the door, change the record, clean the house, shake off the dust.
Stop being who you were, and change into who you are.
Paulo Coelho
---
© Copyright 2003, 2004, 2005, 2006, 2007, 2008, 2009, 2010, 2011, 2012, 2013, 2014, 2015, 2016, 2017 Brian Rees All rights reserved