---

Zoltan 2019
Countries visited: .fr, .and, .es, .pt, .de, .ch, .at, .hu, .sk, .li, .cz, .lu, .it, .si, .hr, .ba, .lu, .be, .eng, .scot, .wal, .nl, .dk, .se, .ax, .fi, .at, .sl, .hr, .rs, .ro, .bg, .gr
The New Year and we are still in Portugal.
Zoa really seems happy on the beach at Galé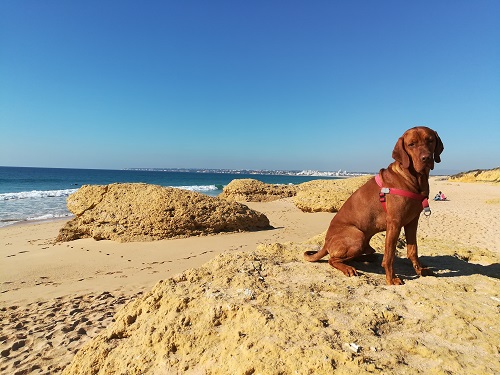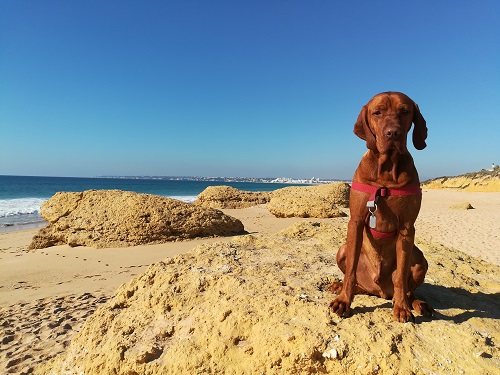 And wally attacks his wonderful owner, in spite of the said intelligent owner giving him fresh fried eggs most mornings....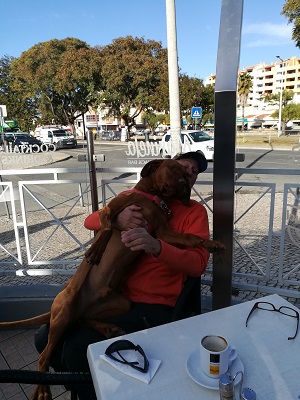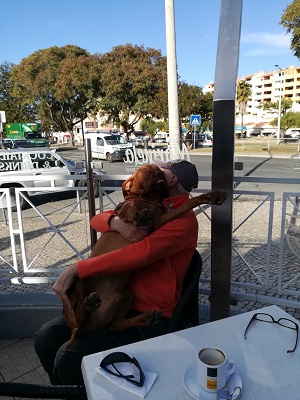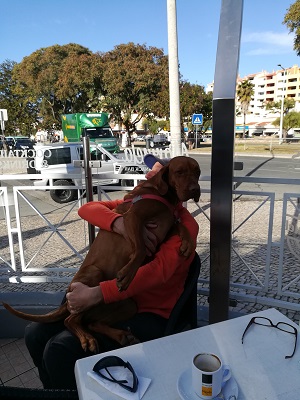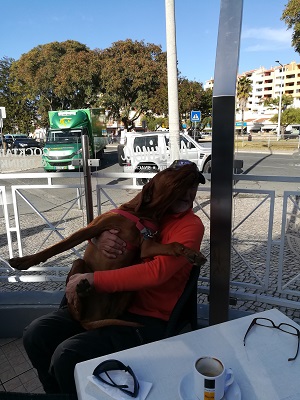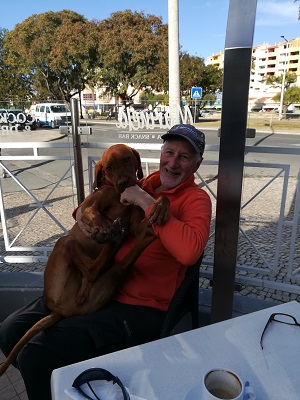 And in the evenings he gets to run with a couple of dogs including Sondian. With water donated by Victoria.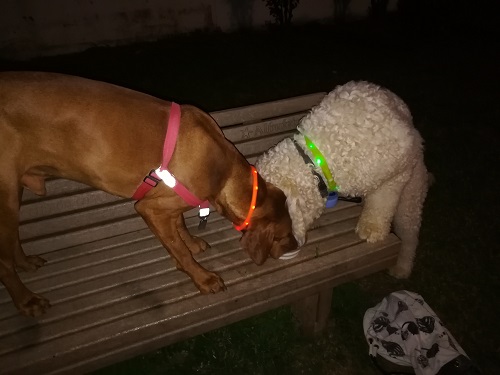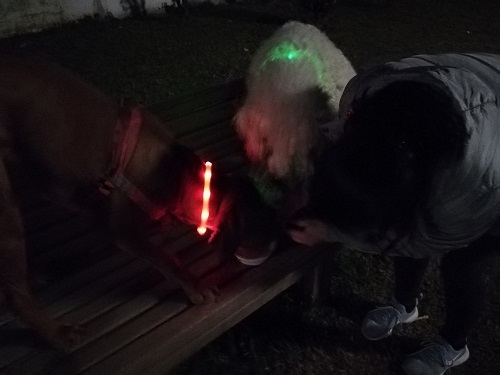 Then a few days to Sagres and up the west coast to Évora and Monsaraz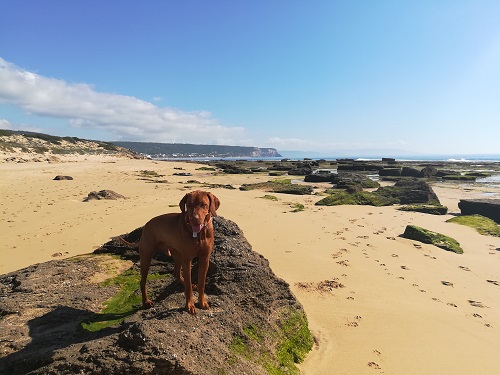 Then a couple of nights at Barbate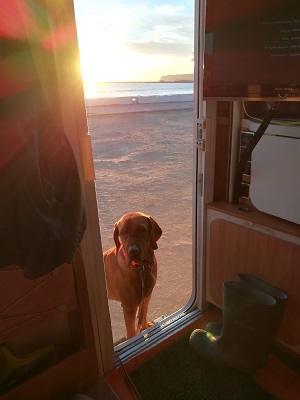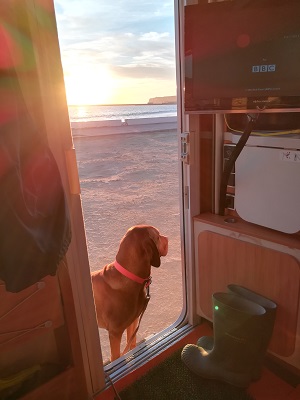 Tarifa with horse riders...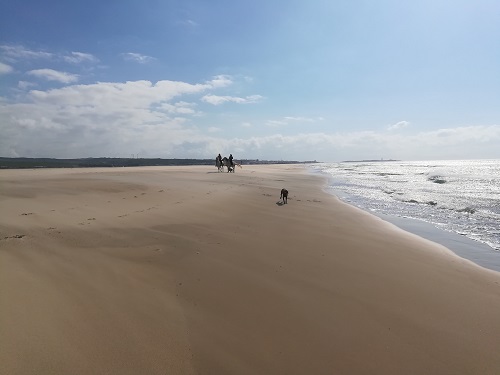 Snoozing after another beach run...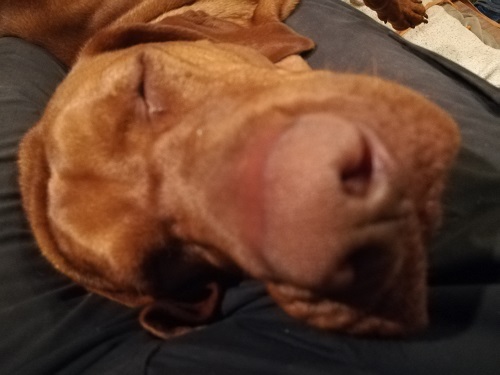 I want to drive.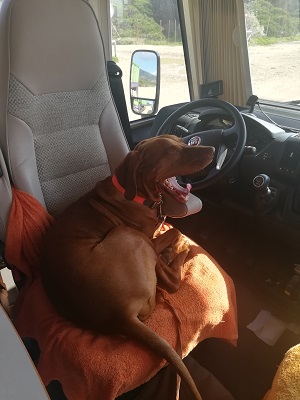 Then son Barney comes to visit with Asi...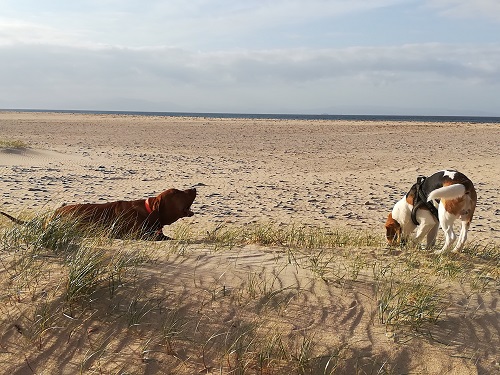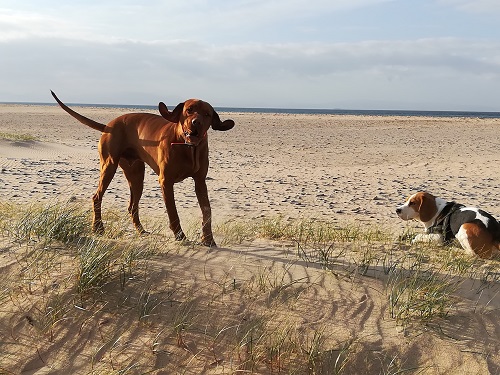 France
And here we are at the Pont du Gard
We go via a number of countries before arriving back in
England
And we walk on
the beach at Hayling Island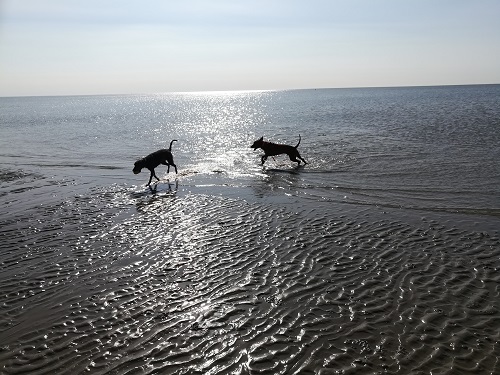 and the fields at Stokes Bay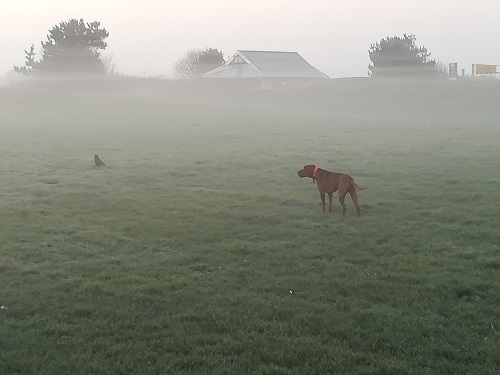 Then on to Dorset, Abbotsbury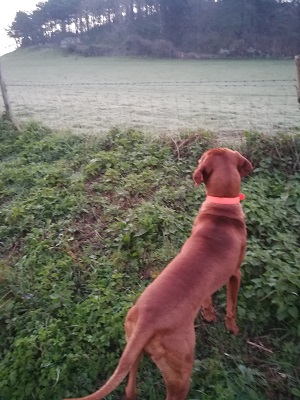 and Chesil Beach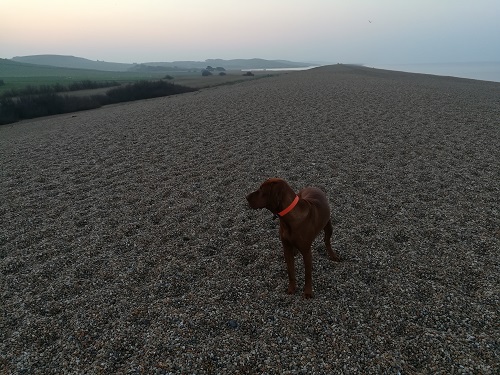 Then back to Totnes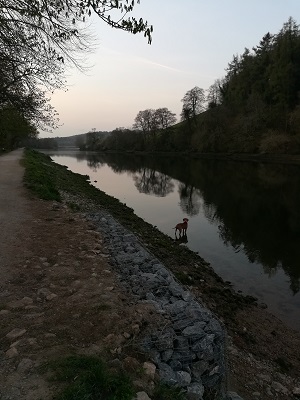 In May we head northwards into
Wales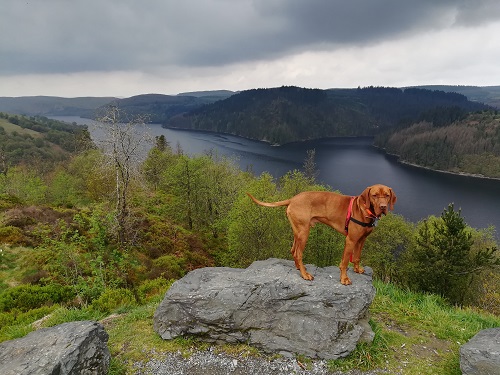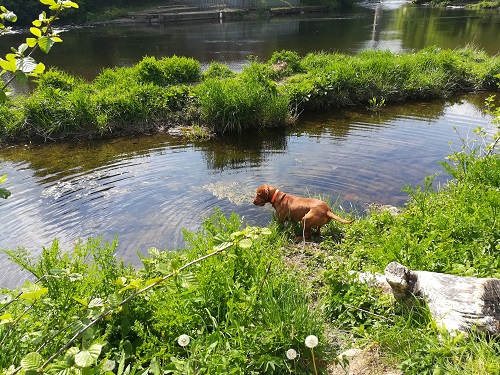 Then back home to Totnes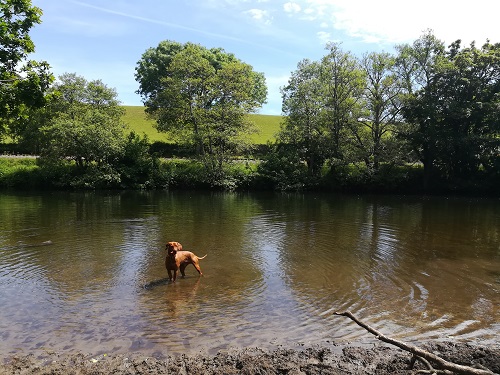 We head off again in July, this time for a couple of days in Cornwall. Where Zoa gets to take on his favourite activity.
And at home in Totnes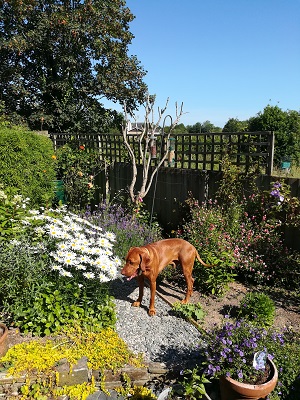 Then, it's off to Dunkirk and a long, long drive (Zoa copes by sleeping) through .fr, .be, .nl and into .de for the night.
The following day it's to the beach in Römö - .dk and other places before taking the ferry to Göteborg in .se and another long day to the east coast where the Baltic awaits, but no swimming, the Swedes don't like dogs off the lead.
We visit family in Sweden and Zoa meets the two animal members of the household,
and Lilly.
Then we head to .ax and 2 nights later into
Finland
Where we find a number of lovely, simple campsites. In Sysmä Zoa has a lady ridgeback to play with.
And later near Heinola he finds a long stick.
We play "spot the Vizsla"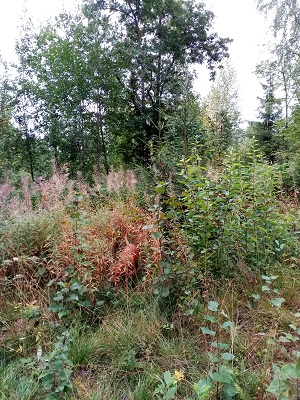 Then it's back to
Sweden
And a bit of a play.
Denmark
Where we stay beside a beach with lots of swallows (nests in the soft cliffs) and Zoa does his usual fishing trick before we head off to see a good friend at his farm and Zoa plays with Hördis.
Germany
A couple of romps in the Rhine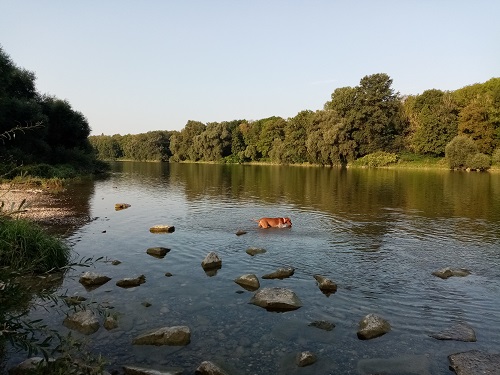 then on to
Switzerland
Liechtenstein
Austria
With a long drive in a a couple of tunnels, a splash in a river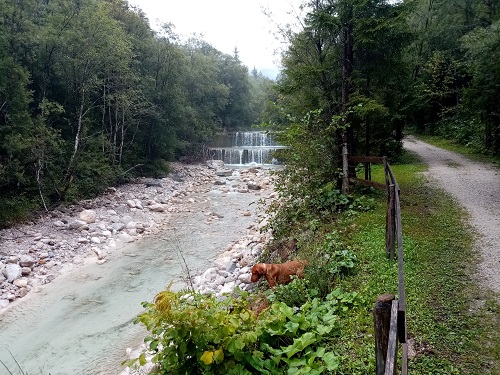 then on to
Slovania
where Zoa does get a lovely walk under willows in Ljubljana and run with another dog. Then into
Serbia
Just for one night, so a short walk in one of the city parks. Before heading to
Romania
Where there are lots of wild dogs beside the river. This big one was a great playmate.
Then into
Bulgaria
No walks here, bit of a disappointment. But the following day we drive to
Greece
Where Zoa gets to see the buffalo, sheep and some wild dogs.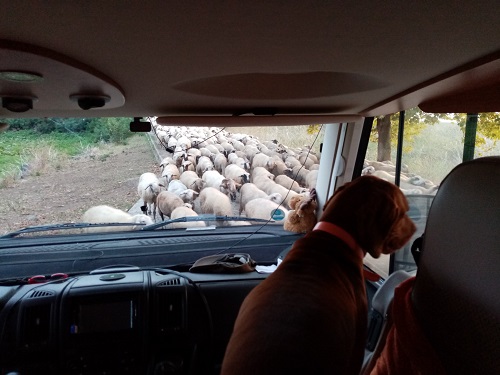 We stop at several beaches on the way down to the ferry to Crete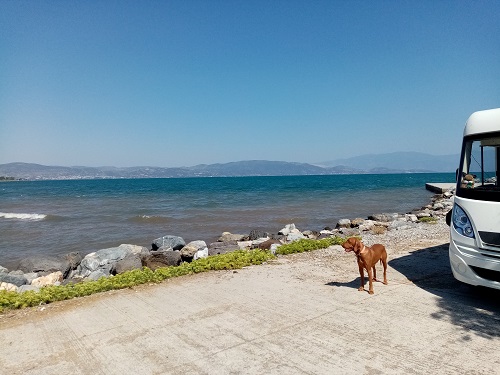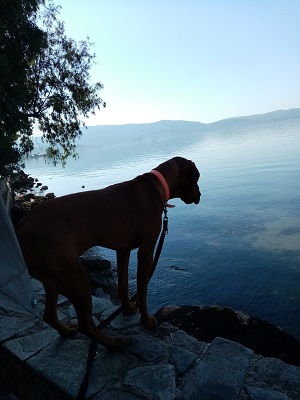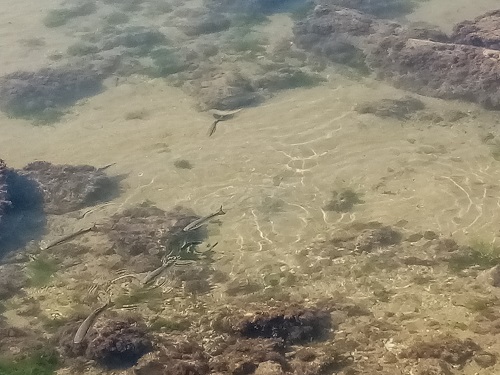 And on board we spend the time on the deck, a new experience for Zoa.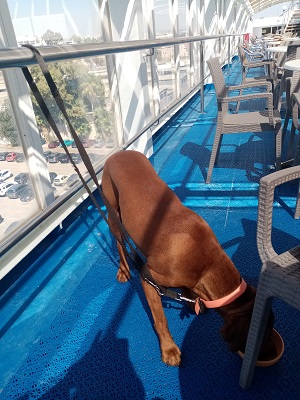 Then Crete and there is crystal clear water in Marathi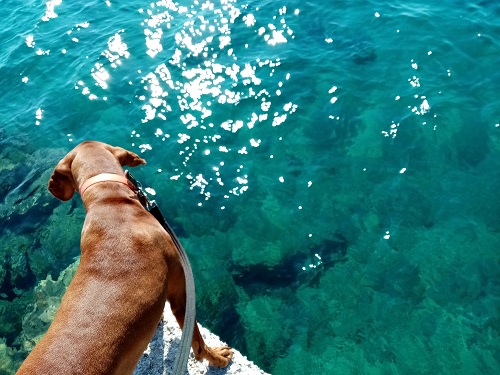 Before we settle down at Camping Elisabeth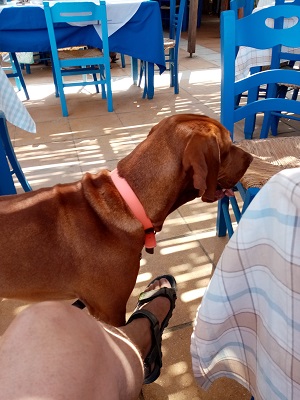 with lots of cats..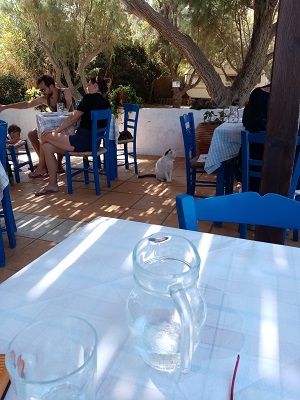 And the ocassional walk to the gorge behind the campsite.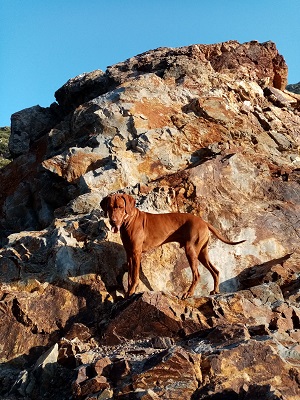 A visit to the Miri Gorge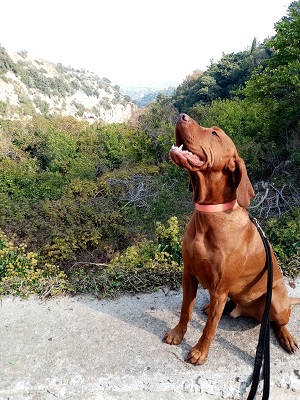 1-DEC and a couple of romps on the beach, with a stick and meet with other dogs.
And later on the walk down the Imbros Gorge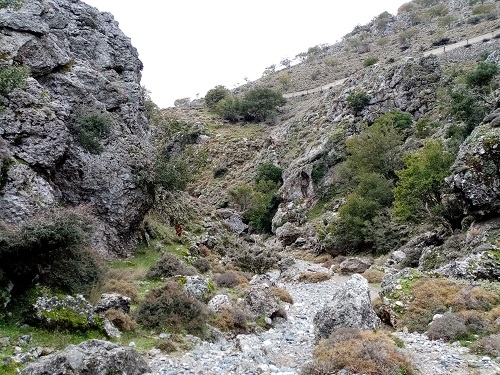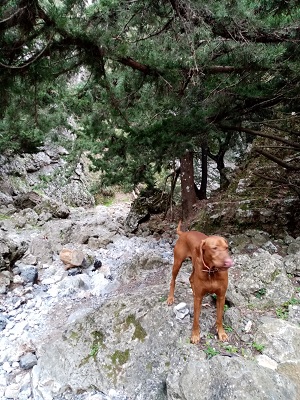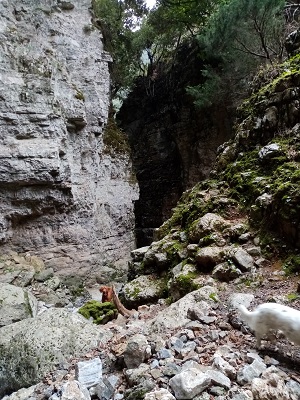 Zoa on the beach at Elafonisi.
© Copyright 2003, 2004, 2005, 2006, 2007, 2008, 2009, 2010, 2011, 2012, 2013, 2014, 2015, 2016, 2017, 2018, 2019, 2020 Brian Rees All rights reserved