---
2014
Countries/territories visited: .ch, .fr, .and, .es, .pt
25-SEP Enter Ruth, a Hymer Exsis-i 614. (It also happens to be my 65th birthday.)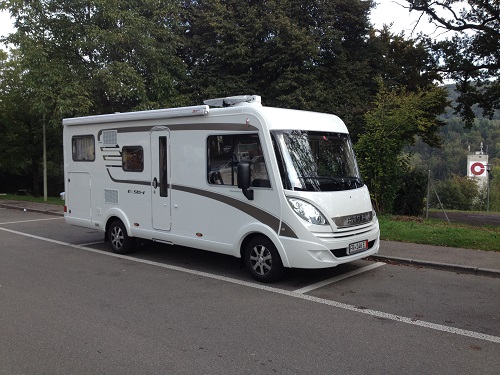 "Intreat me not to leave thee, or to return from following after thee: for whither thou goest, I will go; and where thou lodgest, I will lodge."
Haha, makes me smile that one. Like a snail carrying its home on its back.
She is a seriously great piece of Germany technology. Nice ride too.
We take her to Wil (St Gallen) for submission to the authorities for the correct roadworthiness documentation.
Meanwhile I get to go to the opening of the new Art University which is crowded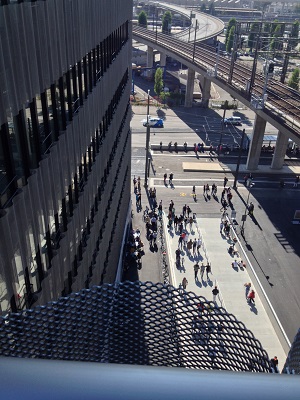 And they have this amazing organ music room.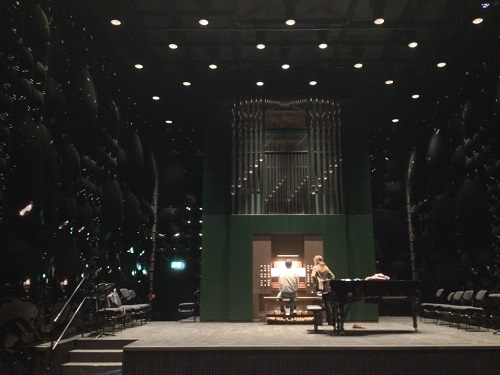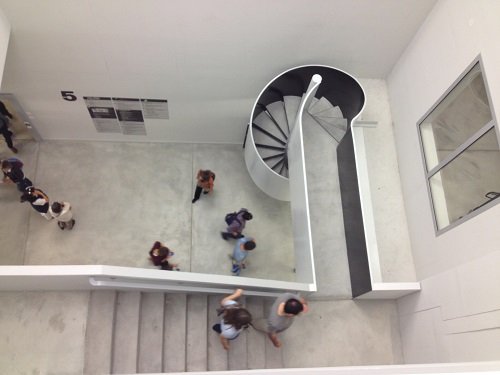 And the view from the rooftop:

At the same time the 10th Zurich Film Festival is on and I get to see several of the lesser-know productions, (see the film listings).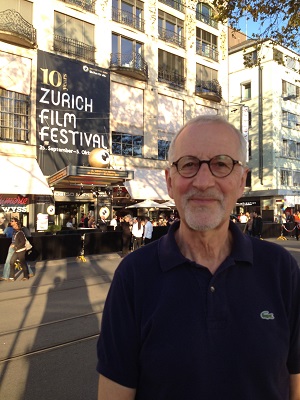 I also get to see old friends, which included cycling all around town on Brompton, getting new glasses (where did I leave the old pair?) eating too much, visiting old haunts and of course meeting my sons - of whom I am very proud.
Sunday breakfast at the "Fork & Bottle" (say this quickly with a slight Irish accent...) Yumm!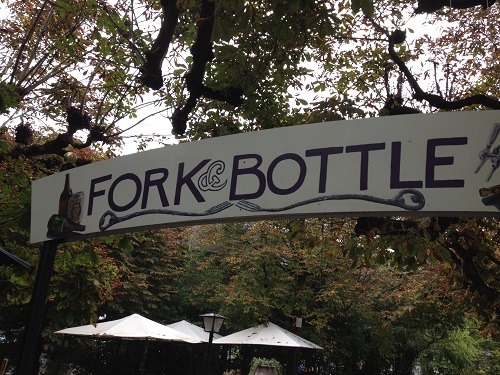 On the 5-OCT Ruth gets a couple of gas tanks and is filled with most of my worldly possessions. I meet my son in Baden and we drive at night to the Geneva area and sleep. The following morning we go to a shopping center for breakfast and meet one of my boss from DEC times. A good chat and a bit of an update is had.
I then continue to
France
Actually all the way over to near Poitier to stay with family for a couple of nights - and where Milosh seems as happy to see me as I am him.
We then head off to Mortagne-sur-Gironde for two nights by the marina.
| | | | | |
| --- | --- | --- | --- | --- |
| Mortagne-sur-Gironde Aire | | € 7.5 for place under the trees, with a view of the yachts and including electicity and water. | 45.47472 | 0. 79778 |
We then drive down to Blaye, but the ferry doesn't run very often in the off-season, so we drive via Bordeaux (well the perpheriqe) to Montalivet-les-Bains. This is definately off-season now, but a couple of kite and wind surfers are battling the waves. During WWII a British submarine landed a number of Commandoes (probably SBS to be more precise) on the beach here. HMS Tuna - yes, really, left them to hike to Bordeaux to put limmpet mines on a few ships.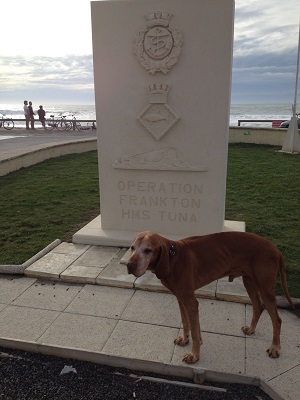 Then a front arrives, black and foreboding.

| | | | | |
| --- | --- | --- | --- | --- |
| Montalivet-les-Bains Aire | | € 7.5 for place under the trees, with a view of the yachts and including electicity and water. | 45.37611 | 1.15667 |
The coffee in the local shop is too strong, so time to move on. With a stop at Le Porge with an endless sandy beach and the crashing of breaking waves we go on to Andernos-les-Bains for lunch, yumm. Not the first ones of the year, but mighty good.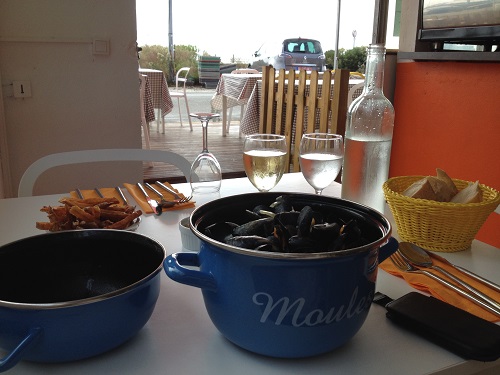 | | | | | |
| --- | --- | --- | --- | --- |
| Andernos-les-Bains Aire | | € 7.5 for place under the trees, with a view of the yachts and including electicity and water. | 44.74400 | 1.10823 |
OK, so there I was enjoying the sunshine when I notice this: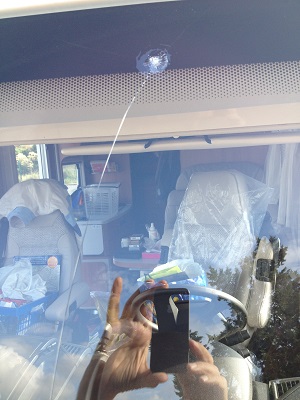 So I make a few phone calls and have to move from this spot to another for the night so as to be able to get to the Hymer dealer early in the morning.
| | | | | |
| --- | --- | --- | --- | --- |
| Ondres Aire | | €7 per night with elctricity, close to an impressive (and noisy) beach and with a friendly, mostly seafood restaurant. | 43.57611 | 1.48611 |
A quiet night after chatting to a Dutch couple and eating Tarte Au Pommes.
The next morning 10-SEP, off we go to have the order for a new windscreen done. Big bucks, but the insurance pays - later.
While in the area I have the oil and filter changed - to ensure a longer engine life. Done 2000 klicks already. Ruth is a serious bit of kit and sshe is a well-behaved drive. Next stop, the seaside because we have to hang around for 5 nights before the glass is delivered.
| | | | | |
| --- | --- | --- | --- | --- |
| Bord de Mer Campsite | | Very friendly staff, great views and clean facilities. A 30 minute walk to the town of St. Jean de Luz. | 43.40602 | 1.64287 |
Milosh and I walk into town.

A nce place this. Ruth can just be seen in this picture none too far from the cliffs.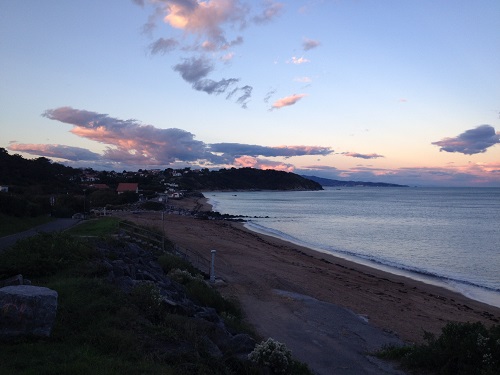 After a few nights we move back to Ondres to be close to the Hymer Dealer to have the windscreen replaced.
| | | | | |
| --- | --- | --- | --- | --- |
| Ondres Aire | | €7 per night with elctricity, close to an impressive (and noisy) beach and with a friendly, mostly seafood restaurant. | 43.57611 | 1.48611 |
It appears there were some other people here a few years ago. I recall building on sand is not a great idea.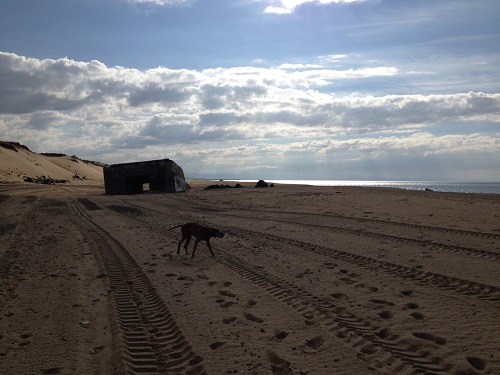 The weather can change.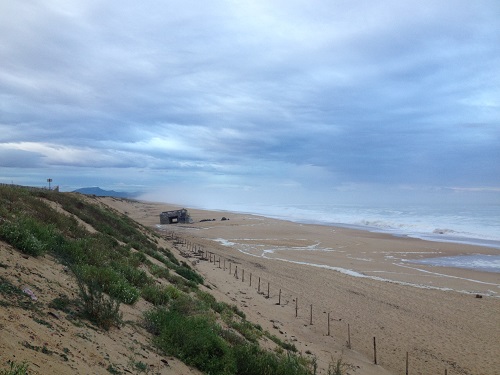 After having the windscreen replaced we head off in an easterly direction with shadows of the mountains on the right.
We spend the night in St-Girons
| | | | | |
| --- | --- | --- | --- | --- |
| St-Girons Aire | | Nothing there, but when one is tired... | 42.98865 | 1.13852 |
Then we travel on the following morning we climb up a small road (D618) which is pretty picturesque and one of the routes of the "Tour de France" based on the markings on the road and a number of hard-pressed thin men on bikes. to "Col de Port".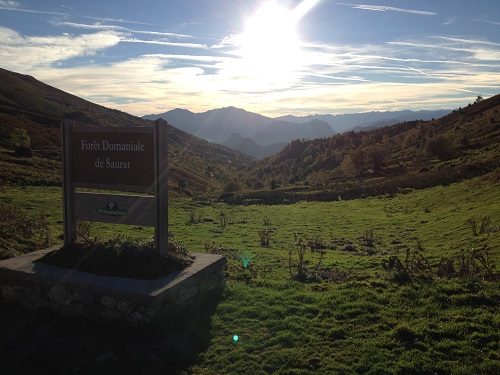 And then on to Andorra. WHat a mess this place is. The "Pirates of the Pyranees".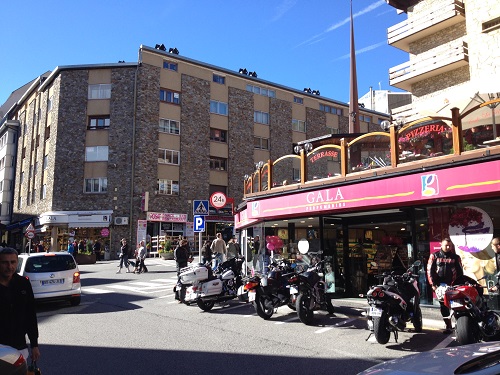 Down the valley we get to see this gem:

Then on to visit good friends in Molitg-des-Bains, for a warm welcome, supper and conversation.
| | | | | |
| --- | --- | --- | --- | --- |
| Molitg-des-Bains parking de Marie | | Very quiet. | 42.98865 | 1.13852 |
The sun calls and we have to try the beach, so we drive to Canet-En-Roussillon.
| | | | | |
| --- | --- | --- | --- | --- |
| Canet-En-Roussillon beachside | | Nice beach, but at the ned of a long, straight road, so a bit of noise. | 42.67175 | 3.03351 |
We need some shopping, so back to the main retail center in Perpignon and then to the beach again, this time in Marie le Mer.
| | | | | |
| --- | --- | --- | --- | --- |
| Saint-Marie Plage beachside | | We are not allowed in most of this village, just next to the carpark. | 42.729866 | 3.036019 |
But, bye, bye France as Spain calls.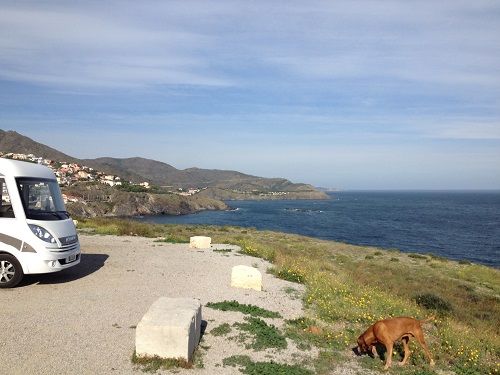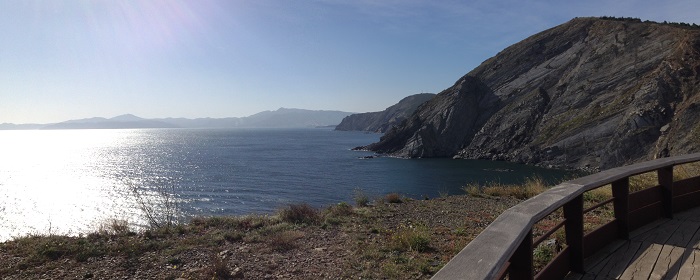 It seems to me the roads have improved a great deal.
We have lunch beside the beach in Llança, but the restaurent we stayed at for a few days some years ago no longer has Wifi, so we press on to the Roman ruins at Empuries.

What did the Romans ever do for us? What did they do for themselves - built a really grand village in a perfect spot. Isn't it amazing what can be achieved with slave power?
Then on to the campsite at Sant Pere Pescador, where we stayed some years ago.
| | | | | |
| --- | --- | --- | --- | --- |
| Aquarious Campsite | | Excellent facilities by the beach, quiet once the kids go to bed. | 42.17501 | 3.10834 |
The wind was really quite strong, so instead of 1 night, we stay two. Uneventful.
The long drive down to La Zadia where an old work-colleague lives takes a while. We take the overland route which is hot and dusty. A quiet night is spent in the street. The next day we take off to a local marina where we once spent the night.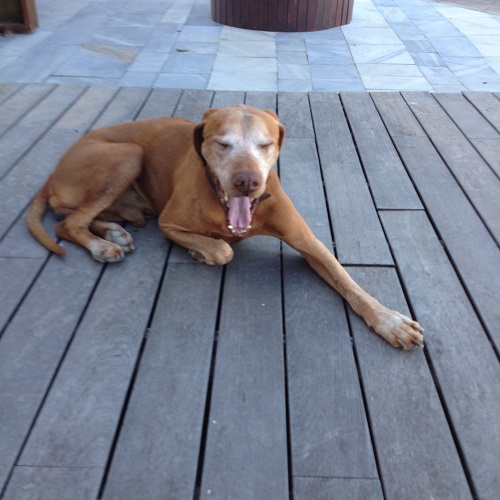 I admire the Gin Palaces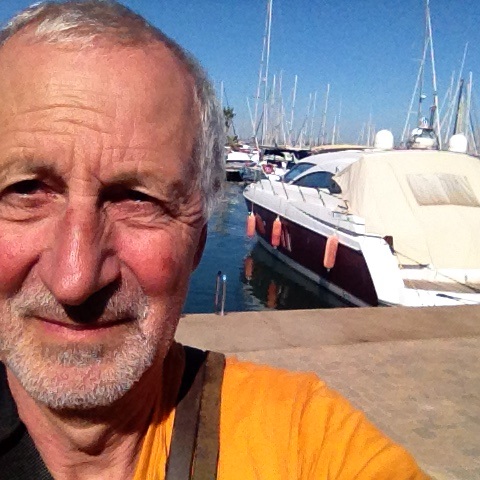 It is now not allowed. We sun and walk. In the evening we are treated to an Indian meal - yumm. After another quiet night we head on the back-road, the A-92N which is almost empty, down to Granada for some shopping and on to meet friends at the campsite on the beach at Miltos.
| | | | | |
| --- | --- | --- | --- | --- |
| Playa de Poniente Campsite | | Good facilities by the beach, a little dusty and next to a raod which is not quiet on Saturday. | 36.71812 | 3.54715 |
The days go by. Lots of walking on the beach. Not a lot of people around because it is after-season.
And then the coastal road - with its impressive viaducts - to one of our favourite campsites to meet old friends and stay a while, sun, swimming in the pool, maybe even some activities beyond the usual?
| | | | | |
| --- | --- | --- | --- | --- |
| Cabopino Campsite | | Excellent facilities at a reasonable price if you stay long enough. | 36.48989 | 4.74275 |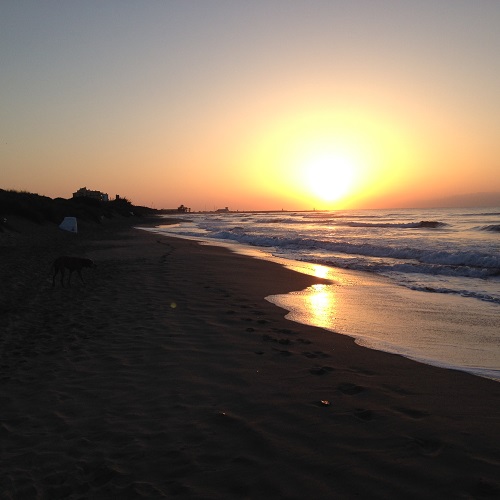 When the wind gets up the kite surfers come out.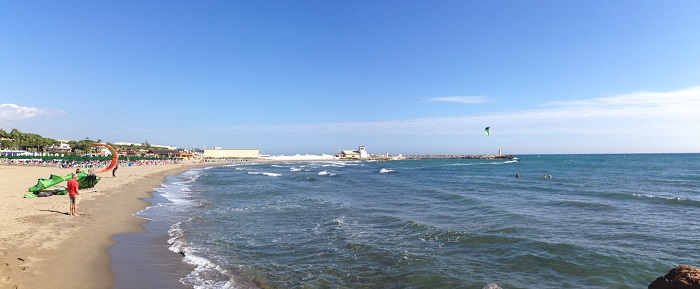 And at the marina we see a Range Rover - just a funny colour.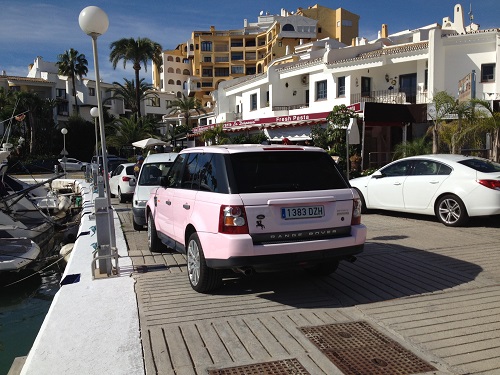 Family comes to visit and we take a trip to Ronda.

Then a storm comes from the West and gets us all soggy for a few days.
The beach is checked every morning, not just by the cleaning teams of the local administration, but some sandpipers.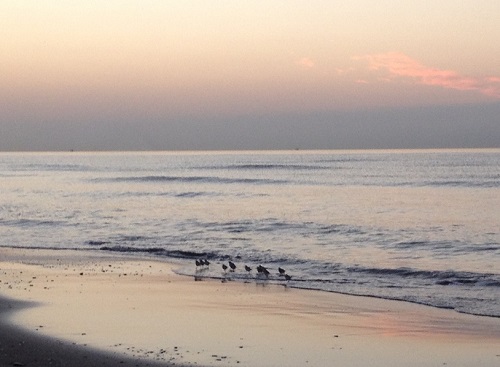 Breakfast becomes an almost regular thing at a local café, with Milosh getting the ends of the croissant, but with butter and jam - yumm!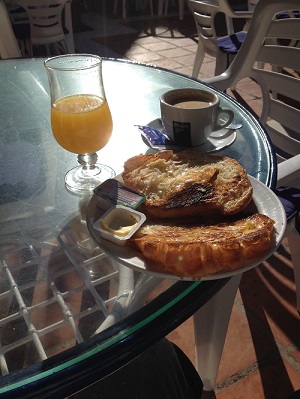 Crêpes - where have you been these last few years?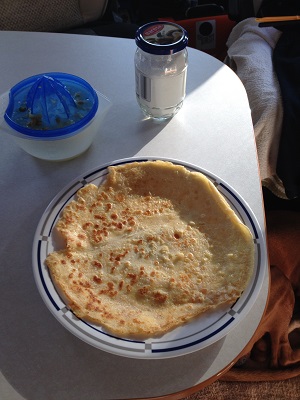 Walks on the beach with other dog-walkers and the ocassional breakfast, coffee and fresh orange juice - yumm!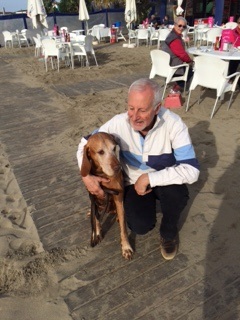 And then it will soon be xmas...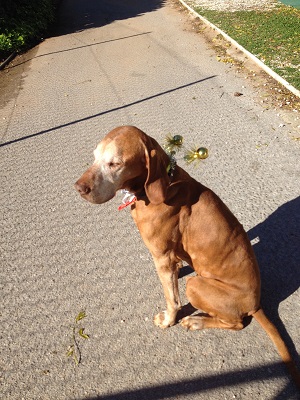 Before crossmas we head off West. As we leave Algecieras and head down from Tarifa we enter into the mist. The usually crowded beach parking is not even half full. Something to do with the lack of wind. It is very cool but we spend the night.
| | | | | |
| --- | --- | --- | --- | --- |
| Tarifa windsurfer Parking | | Scruffy, but a delightful beach | 36.06948 | 5.69099 |
The very next day (is that a song?) we head up to Cadiz and meet some fog which continues until Sevilla. Then it is westwards to have a look at the height of the Spanish solar industry.
It looks like something the Incas may have been proud of from a distance:

Then as you get closer all is revealed: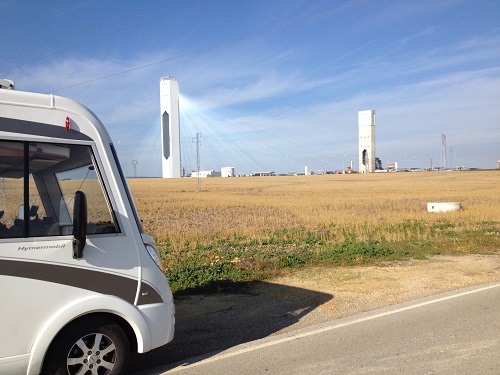 This is one variant of CSP (Concentrating Solar Power) - the one where mirrors reflect energy up to a boiler at the top of a tower. The mirrors move in tandem with the sun.
Then to the other (of 4) installations - this is the other variant of CSP - convex mirrors which heat a tube containing oil. The heat is then taken to a turbine/generator to produce energy. 50MW and no fuel costs.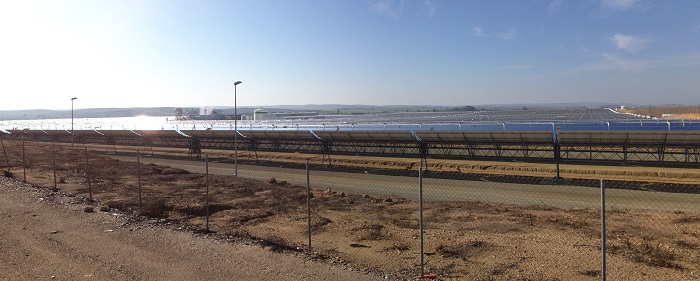 Portugal
We enter Portugal and buy a motorway access ticket at the border - thank you Mastercard - which makes it easy.
Then the back road to Pedras D'el Rei with a surprise.
| | | | | |
| --- | --- | --- | --- | --- |
| Pedras d'el Rei | | Nothing except lots of space and a few cats. | 37.09187 | 7.67750 |
The carpark has had a do-over - asphalt everywhere but still no charge.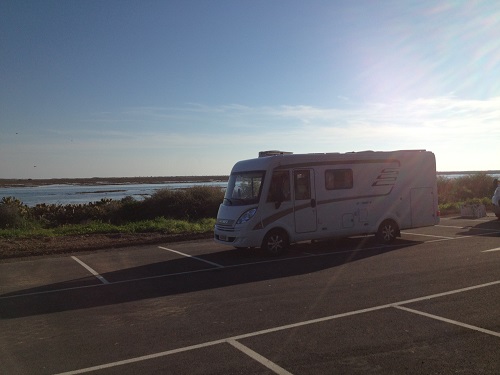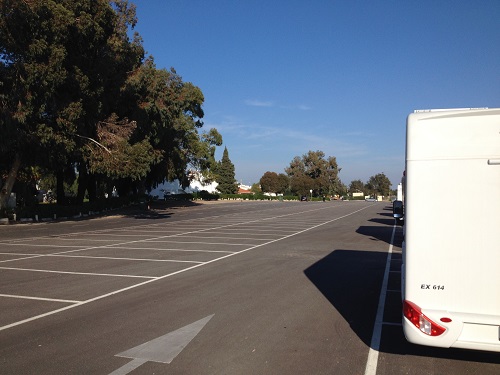 The next morning we do to one of our favourite places - where anchors come to rest.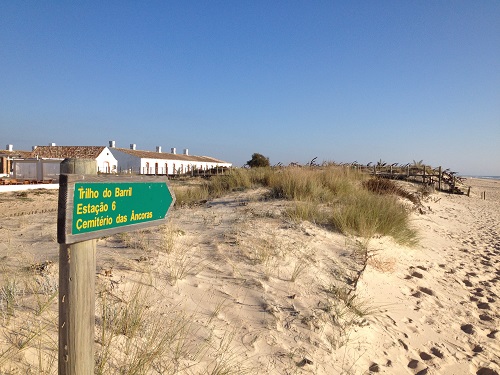 Just two nights later and we head off to Albufiera.
| | | | | |
| --- | --- | --- | --- | --- |
| Parque de Palmeria | | An old haunt, very basic facilities, (Wifi no longer works very well either) not far from the main drag and a decent walk to the beach and port - for exercise purposes. Adjacent to the Bus Station. | 37.09870 | 8.24245 |
And this time the pool next door is open (well not over xmas) so I decide to take the plunge. Wonder how long the good intentions will last?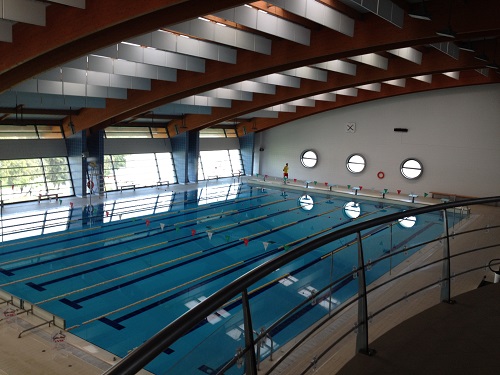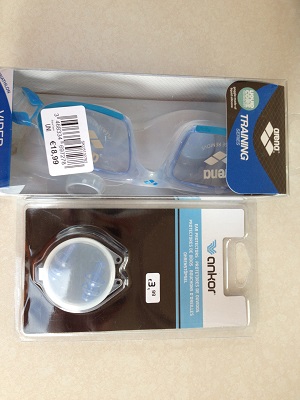 Xmas comes and passes with fresh seabass in a restaurant on the beach where some are attempting to make some money.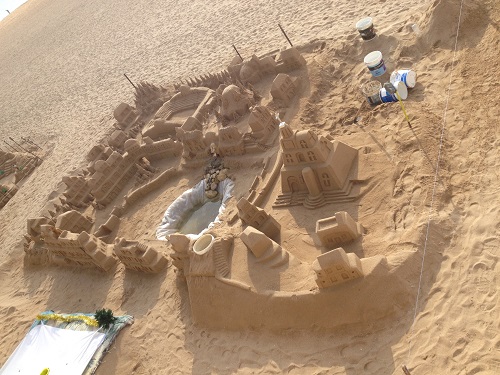 We sometimes get up before dawn and go for the morning constitutional.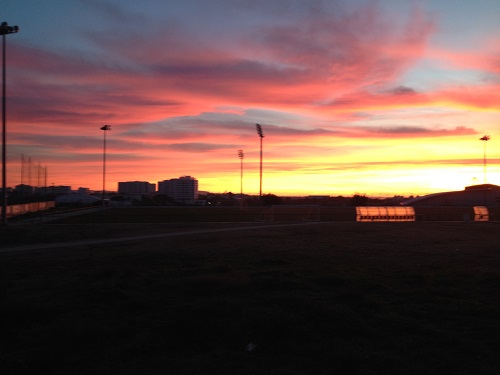 Passing a quite town center.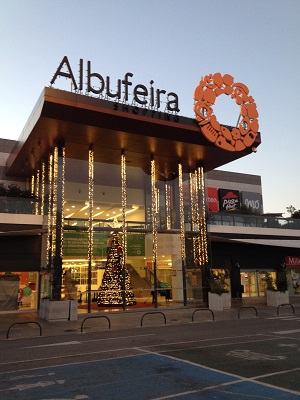 While the rest of the "happy campers" are still sound asleep.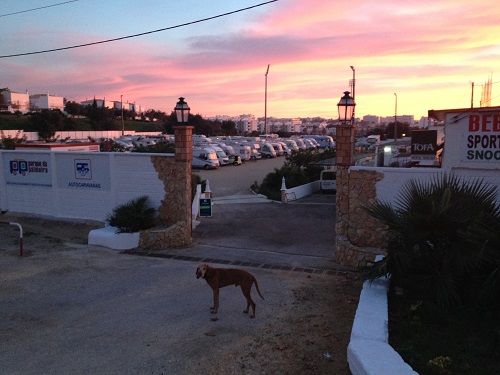 But the sun shines on the beach.

We need (well it turns out we don't) gas and take advise on where to go. We are told there is a new gas station to be found not far from the site at Estrada dos Brejos 317A. (37.108685, -8.231463.) A very fiendly man helps to fill up just one of Ruth's bottles, the other one still being full - from the initial load we did in Bern way back in October.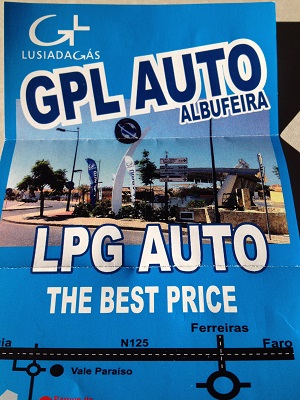 Because I signed up for 6 months of "The National" - in part to ensure I get a real Scottish view of the UK general election in May 2015 - I read the online version of the newspaper most days. They mention Thomas Muir, who was keen to see a wider democracy introduced to the UK following the French Revolution. Needless to say the elites were not keen, took him to court. His crime was sedition; the deed was distributing Thomas Paine's book The Rights of Man. He was sentenced to 14 years in prison. He was sent to Australia and escaped, finding his way to France where he died at the age of 33. This coming year is the 250th anniversary of his birth, so a group has got together to form "The Friends of Thomas Muir".
© Copyright 2003, 2004, 2005, 2006, 2007, 2008, 2009, 2010, 2011, 2012, 2013, 2014, 2015 Brian Rees All rights reserved