---
2006
Germany
The "Romantische Strasse". This is an official tourist route from Würzburg to Füssen. Designed as a route of the motorized tourist, it has been popular with bikers for many years.
We (me and a good friend) arrived from Switzerland by ICE with only one change in Mainz, found the hotel, took a walk and had a bite to eat.
Day 1 from Würzburg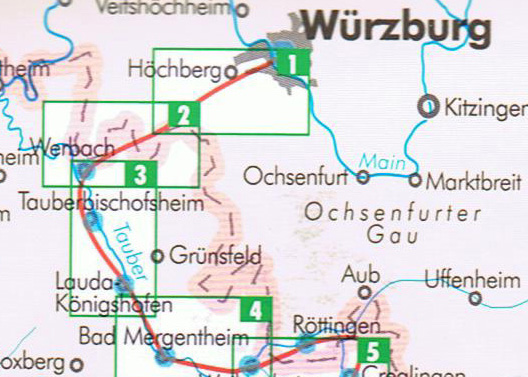 On the bridge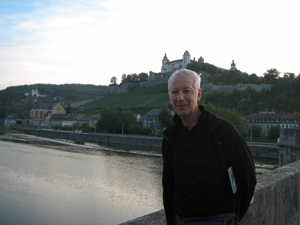 and a restful overnight stay we left Würzburg and headed off south.
The route goes up first and then flattens out to a plateau, then through some woods. We found a restaurant above the village called Webach. It was the local bowling association's local. A small dog came out to greet us, the food was good too.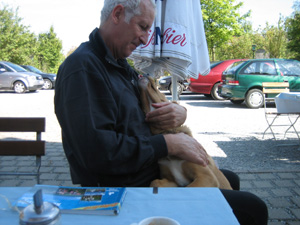 Then down into the valley with a slow flowing river - this is the Tauber, and on to Tauberbischofsheim and then Bad Mergentheim, where we spent the first night.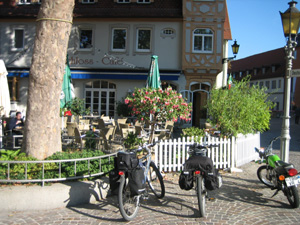 Wonderful weather the next morning..
On the way there are some strange fields. It turns out that people have been moving stones from the fields for many many years. The piles of stones now retain the heat of the day and create a micro climate conducive to growing vines and other produce...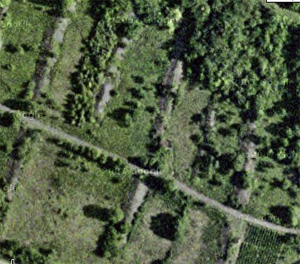 Followed by a long ride long the valley to Rothenburg ab der Tauber. Up the hill into this old town, spared by a US general from destruction in WWII.
And off the next morning. It was my birthday.

Then to Feuchtwangen, where we first had coffee and cake, then stayed at the Romantik Hotel.
The following morning off to Nördlingen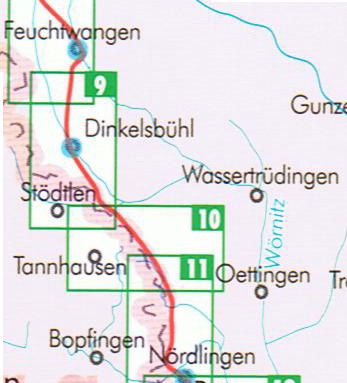 With an overnight at the Klösterle.
Next morning the train to Donauwörth, and the final ride to Augsburg and the last overnight before taking a long train journey back to Zurich.
About 250 klicks, a very nice trip.
© Copyright 2003, 2004, 2005, 2006, 2007, 2008, 2009, 2010, 2011, 2012, 2013, 2014, 2015 Brian Rees All rights reserved