---
2012
Countries/territories visited: .it, .ch, .de, .be, .fr, .eng, .scot, .wal, .es, .pt
Italy (Sicily)
We begin the new year in Santa Croce Camarina, at the Luminoso campsite at Punta Braccetto. As usual Milosh and I take a walk along the coast. A certain Mr. Soros on the TV talking about Popper's "Open Society". This is the man who bet against the UK government - i.e. the people and took billions of their money. We then relax in the sun and do nothing much.
From Time to time during the month I would leave Milosh with a fellow camper (well his wife) and go by bicycle to the shops, it isn't far but the wind sometimes makes the ride "interesting".
I re-initiated the family tradition of doing a puzzle at New Year, this time a Scottish castle - difficult with my eyes, but it does get finished.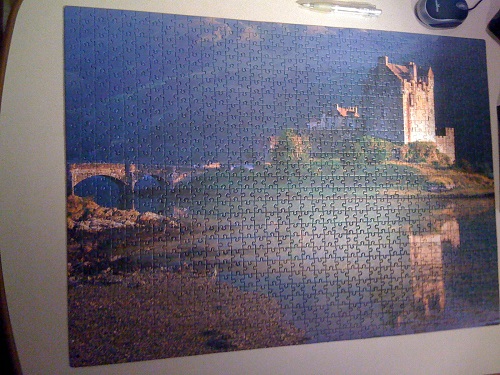 I watched a BBC programme about Sicily which was interesting because one of the presenters was a chef, the other an art historian. Made a tentative list of places and things to see before leaving the island.
The Italian cruise liner parks herself near an island on the west coast of Italy with some loss of life - sounds like a nightmare for some of the people on board. Why do people go on cruises?
Drove to Catania and spent a night at the Jonio campsite - not recommended at all, although the restaurant just along the road is OK - good fish.
| | | | | |
| --- | --- | --- | --- | --- |
| Camping Jonio | | Nice location if not windy, but otherwise well worth missing | N 37.53194 | E 15.12055 |
Then drove up the coast but decided to take in Etna. The higher we drove the more it was clear there was going to be snow. At the main parking there was a spectacular view but the lifts were not running - would have been too cold anyway. And then the clouds came in.

Went to the Eden campsite in Naxos for 2 nights. On the second day we walked all the way around the bay and up into Taomina - quite a good walk.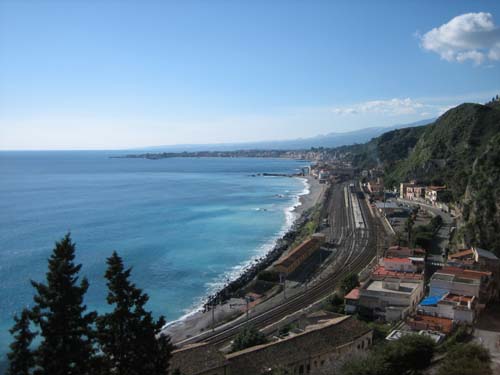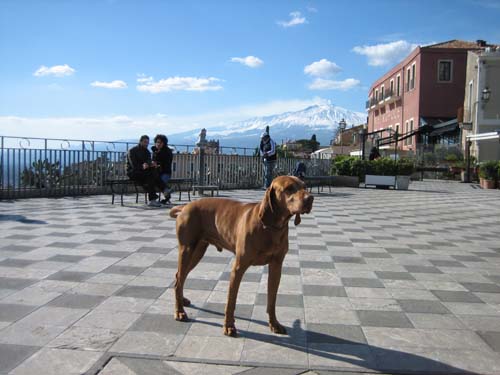 We then drove to Palermo to see the picture of the market as described in the BBC documentary series. Drove more of less straight to the museum at the Palazzo Chiaramonte, but could not find the picture having explored 3 floors. Went to the reception to ask if it was the right place and they said it was and the picture was in the building, but it was closed. When asked when it would open they said - February. Haha Italy!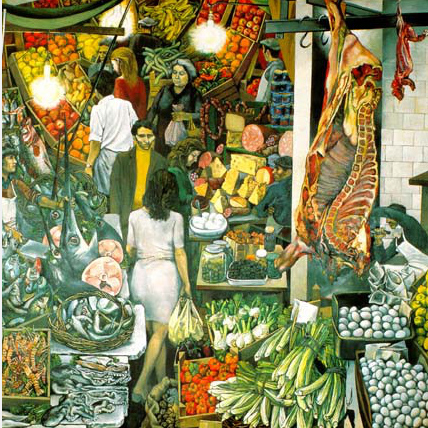 Drove off as it got dark while low on diesel. It then transpired that the fuel delivery men were on strike, so spent 4 days in a train station car park in the town of Partinico before finally getting a tank full. Haha - Italy.
| | | | | |
| --- | --- | --- | --- | --- |
| Partinico Train Station Carpark | | Barren. | 38.058846 | 13.109621 |
Drove straight back to the south coast for a rest. There was one good outcome though: the carpark at the train station had a marvelous trattoria called Mamma Rosa with great food, clean toilets and free Wifi!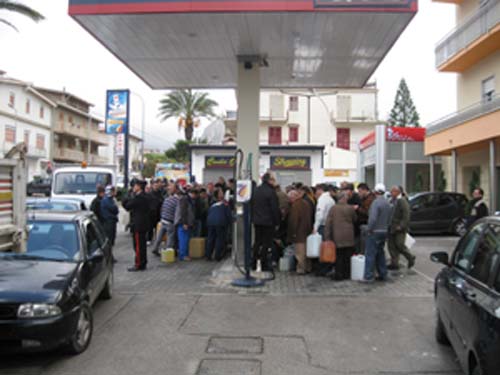 The campsite at Luminoso is more or less full so we setup shop in Bahia de Coralli where there are just one or two other vans. This site is more exposed but has good facilities which were in the process of being improved. It was also well-priced.
| | | | | |
| --- | --- | --- | --- | --- |
| Camping Baia de Coralli | | Lovely location, sometimes windy. Being updated. Very friendly English-speaking receptionist. | N 36° 48' 59,9" | E 14° 28' 09,1" |
During the stay until the middle of February undertook several bike trips with a fellow camper to the shops in Marina de Ragusa.
Oh and one Italian driver had a few problems: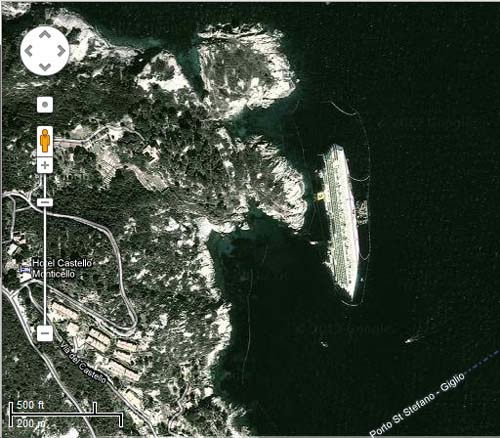 A friend came from Switzerland for a few days. He was booked into an hotel in Naxos, so we camped back on the eden site. We did day trips to Noto and the south east coast and Syracusa, and also up to the north coast via a mountain pass. The hire car also managed to provide some "entertainment" with a flat tyre one morning. Was glad this was not picked up by Maria.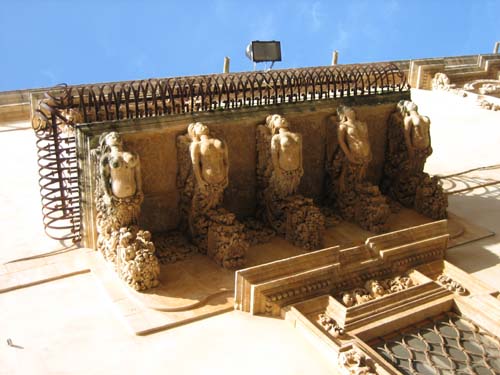 Italy
Towards the end of the month the ferry ticket was about to expire to we head up to Messina and cross over. The motorway was being "adjusted" so we had to drive 40 klicks along the coast road - how did people manage? We drive through the night and end up north of Salerno on the road through the hills towards Roma.
| | | | | |
| --- | --- | --- | --- | --- |
| Ceccano Rest Area | | Functional stay with a good café for morning coffee. | N 41 34 5 | E 13 19 36 |
Sabaudia is a well-appointed town on the coastal road established in the 1930's as part of a swamp-clearing project funded by the state under Mussolini. We stop again in Osita and then drive around Roma to Bracciano, back to the same lake for another overnight stay, (this time in a strong wind) but this time we are alone.
Next morning we go to the wonderful Aircraft Museum with some superb, sleek, supermarine, Schneider Trophy challengers. (Thanks to Alan for pointing us to this!)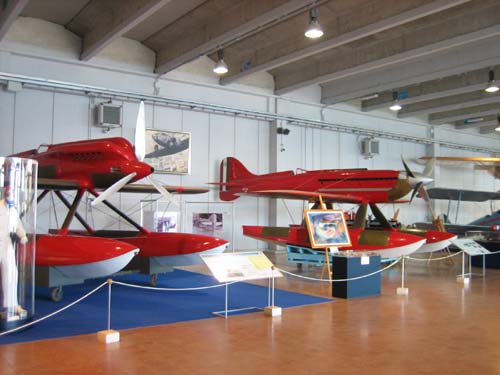 We continue up the coast to spend the night at Marina di Cecina at an official campsite. In the morning see we could have saved ourselves the bother, we could have parked beside the harbour.
On the way north we spend an hour or so at the world famous leaner.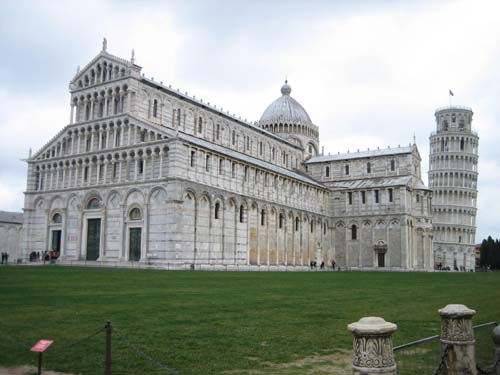 Lunch is "Risotto di Mare" in Viareggio - yumm! We take the motorway up towards Palermo and find a carpark to spend the night at Salsomaggiore Terme next to the railway station. This spa town has seen better days.
| | | | | |
| --- | --- | --- | --- | --- |
| Salsomaggiore Terme Rest Area | | Next to the railway station Via Antonio Gramsci, Salsomaggiore Terme, Emilia-Romagna | | |
Next morning up early before the traffic builds up. We have coffee in Iseo, beside the lake - wonderful then head to Varese and up a B road into Ponte Tresa, have lunch and then drive into Switzerland.
Switzerland
We stay overnight at Campsite Riarena which is OK if a bit soggy.
| | | | | |
| --- | --- | --- | --- | --- |
| Campsite Riarena | | Fairly basic, but country surroundings, good for dog walks. Bus into Locarno. | N 46° 10'11" | E 8° 54'51" |
The following morning we walk to Tenero and take a bus to Locarno, eat and do some shopping. We then spend a few days with friends in Porto Ronko - all very nice with good food and pleasant conversation and a bonus trip to the market in Cannobio.
Next stop is Weisslingen - our "home" base where we spend a couple of good days in spite of the cold and inclement weather. We have rather good pizza in a nearby restaurant.
We then move onto Zurich and spend almost two weeks with a good friend which means we can catch up with many friends and family while Maria gets a service as does Milosh at the vet and I contribute to humanity by attending the Alzheimer's clinical trial at the University hospital.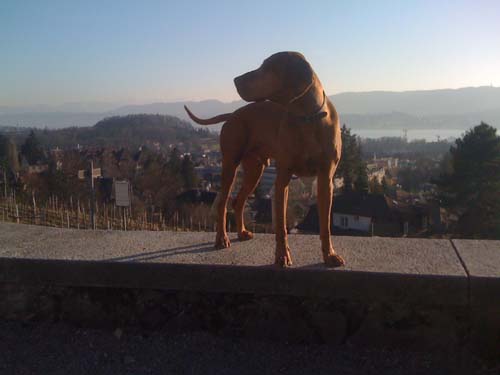 Germany
Off we go again via the motorway towards Tübingen and head for the Rhein and the overnight stop at Laufenburg. We arrive as it gets dark and have no change to put in the parking meter.
| | | | | |
| --- | --- | --- | --- | --- |
| Laufenburg Rest Area | | Lovely location right by a park and the river. Note there is also a ferry across the river, but this is NOT large enough for caravans or camper vans. However your GPS system will probably take you to the wrong side of the river! | N 49° 27 58 | E 8° 36 53 |
We are woken at 07:00 by a man asking for money for the pitch, he helpfully has change.
Note: This site has been moved to a new location nearby.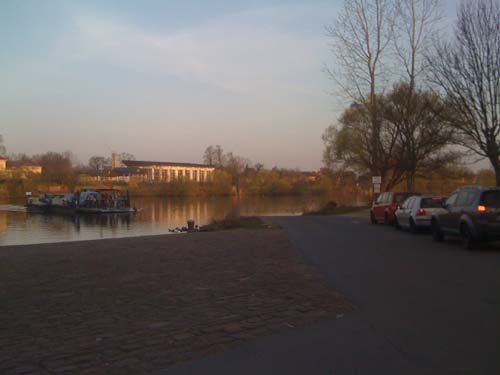 Belgium
Next day we drive past Kaiserslauten and through Saarbruecken ending up in Brussels during the rush hour, but we manage to extract ourselves to the ring road and head for the coast, past Oestend and then Brugge ending up on a site next to the harbour in Zeebrugge Bad.
| | | | | |
| --- | --- | --- | --- | --- |
| Bad Zeebrugge Rest Area | | Fairly basic, but country surroundings, good for dog walks. Bus into Locarno. | N 51° 19.560 | E 3° 11.076 |
France
After a walk on a lovely sandy beach we head down the coast - there seems to be a tramline all the way down - this must be a popular place when the weather allows it - and end up in Gravelines. This small hamlet has a walled town, an amazing beach with beach yachts racing up and down, oh and a nuclear power station right on the beach too.
| | | | | |
| --- | --- | --- | --- | --- |
| Gravelines Rest Area | | Hard standing and good for dog walks. | N 50° 59.327 | E 2° 07.363 |
We take advantage of the beach and see another place where camper vans are parked on the opposite side of the water, at Grand Port-Philippe so we decide to go there instead.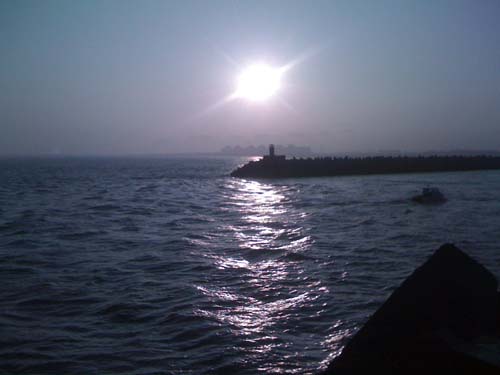 | | | | | |
| --- | --- | --- | --- | --- |
| Grand Port-Philippe Rest Area | | Just a carpark with a long walk out along the breakwater for dogs. | N 51° 00.083 | E 2° 06.531 |
Belgium
We then spend several days in the area discovering some of the WWI sites and taking long walks in the dunes in part because Milosh has to have his "treatment" in order to be able to cross into the UK. (The rules have been changed.This now only involves tick treatment and has to be between 24 hours and 5 days as one boards the ferry.)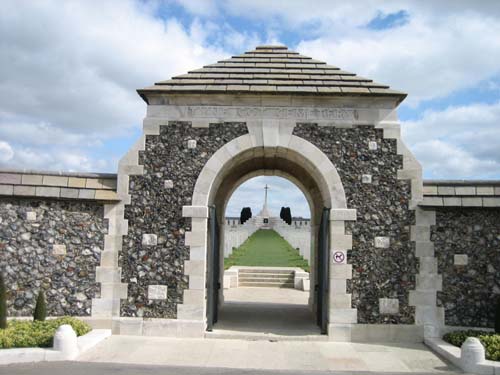 The sadness weighs very heavy.
France
We move to the municipal campsite on the French side of the border with Belgium.
| | | | | |
| --- | --- | --- | --- | --- |
| Bray Dunes Campsite | | A few traveling pitches, but mostly statics. Right next to a wonderful beach and the dunes. | N 51° 04.746 | E 2° 31.319 |
England
We cross the channel early one morning and head to stay with family near Gosport (good food and conversation again) then on to Totnes where we stay for three weeks. (More good food and conversation.)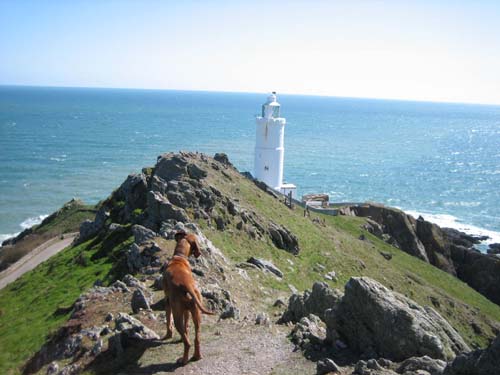 Start Point - a very special place.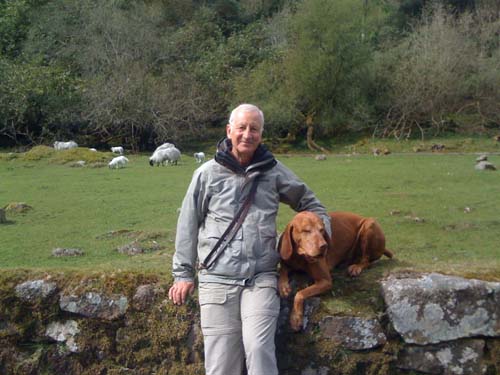 Dartmoor.
We then leave for North Devon - Morthoe to be precise.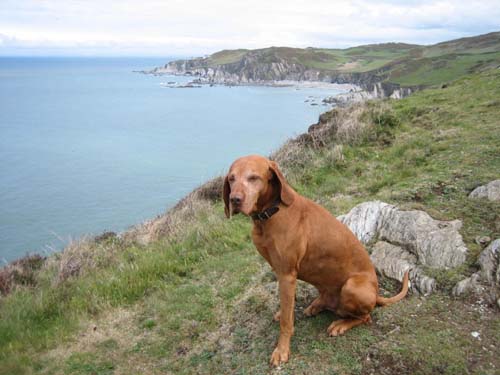 | | | | | |
| --- | --- | --- | --- | --- |
| North Morte Farm Camping and Caravanning Site | | Very well looked-after site on a number of hills right on the rugged coast. | N 51° 11.413 | W 4° 11.986 |
Wonderful beaches and walks along the cliff tops.
Then on to Bristol with the moisture level going up dramatically.
| | | | | |
| --- | --- | --- | --- | --- |
| Baltic Wharf Caravan Club Campsite | | Very well located and very friendly people. | N 51° 26.789 | W 2° 36.904 |
Do not miss the SS Great Britain - another great project by Isambard Kingdom Brunel.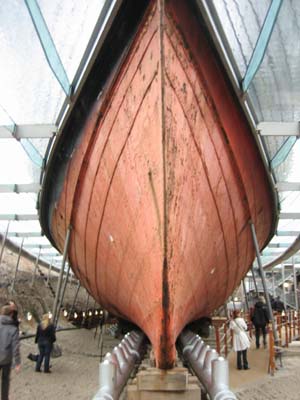 Then on to Wells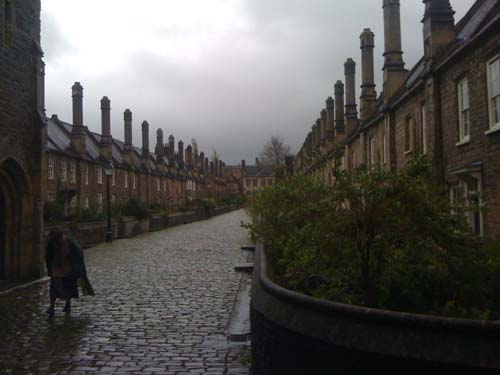 There is a special feature of this lane next to Wells Cathedral.
Then we drive to visit friends in Bath where we get to see the American Museum which is well worthwhile. Good food and conversation again.
We leave after several days and travel via Lacock, Marklesham (where we meet up with camper friends for lunch) and Avebury (for the stones, an NT site) to Marlborough, finally ending up at the Forestry Commission campsite for the night.
| | | | | |
| --- | --- | --- | --- | --- |
| Postern Hill Camping and Caravanning Site | | Large soggy site without showers next to a vast forest, great for dogs. | N 51° 24.735 | W 1° 43.064 |
The following day we have lunch with a friend and head off to Oxford where we have reserved at the campsite nearest the town.
| | | | | |
| --- | --- | --- | --- | --- |
| Oxford Redbridge Camping and Caravanning Site | | Very convenient site right next to a Park & Ride for quick transport to the city | N 51.73238 | W 1.25234 |
We do some shopping one day, meet friends one of the others and also walk along the Thames - there is even a little sunshine.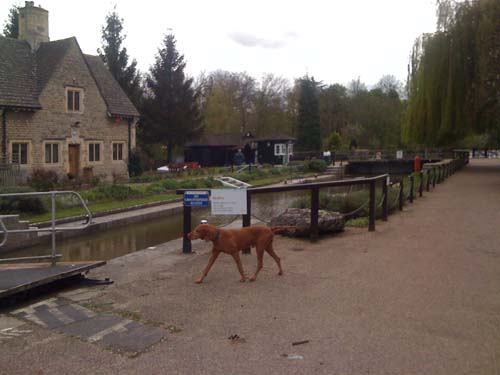 Next stop is Hertford (via Aylesbry, Tring, Hemel Hempstead and St. Albans) to visit old friends. The days are taken up with great conversation, food and walks along the banks for the local canal. The weather is not unkind and the newspaper shop has something to read every day in spite of the Bank Holiday, something which didn't used to happen when I was a paperboy. And another thing - I see in the window of a white goods shop a Roberts Internet radio - unfortunately I can't resist, so a few minutes later and a little less well off I walk away with one of these: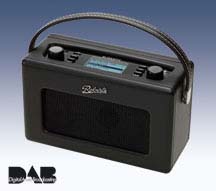 We leave and drive to Bletchley Park to visit the museum, but they have a big sign to say no dogs - except guide dogs and because there is nowhere else to park and the rain is streaming down we have little choice but to bugger off. Garmin takes us to a muddy field south of Cambridge so we decide to go to the Imperial War Museum at Duxford. It has changed a great deal since the last visit with a huge US hangar full of amazing hardware.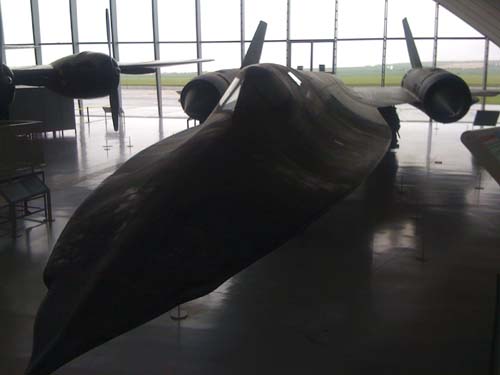 To round-off the day we drive to a Camping and Caravanning Club site in Suffolk.
| | | | | |
| --- | --- | --- | --- | --- |
| Polstead Caravan Club Campsite | | Very well-appointed site with friendly people. Was a little soggy on the day we visited, but had one last hard standing pitch. | N 52.02520 | W 0.89444 |
The morning walk was to the local village of Polstead Heath where we caught a glimpse of this little gem: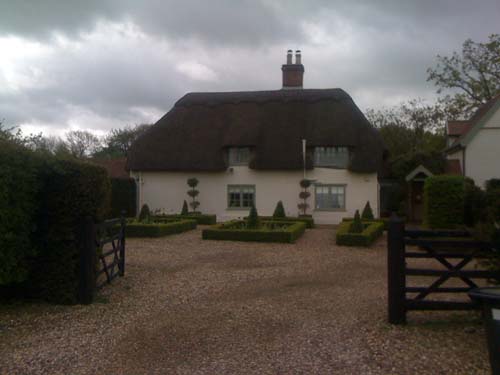 The fields on the other hand were covered mostly in Oil Seed Rape which IMHO smells dreadful.
Seeing the campsite had no room for another soggy night we moved on and eventually landed up in Burnham-on-Crouch. I don't really know why, but the carpark by the once-opened caravan park was most suitable when the evening visitors with their "tuned" exhausts had finally had enough.
| | | | | |
| --- | --- | --- | --- | --- |
| Burnham-on-Crouch Rest Area | | Quiet location behind a dyke not far from the marina. There used to be a campsite here, but it has been closed for a few years. | N 51.62697 | W 0. 80894 |
Brilliant sunshine greeted us the following morning for a walk and meeting with two huge dogs (48 kilos a piece) who turned out to be a friendly as the owner as is much the case. We head off northwards and end up in Great Yarmouth having visited Kessingland and found it to be small.
| | | | | |
| --- | --- | --- | --- | --- |
| Great Yarmouth (Racecourse) Caravan Club Campsite | | Spacious green site with excellent facilities. Close to a long sandy beach backed by rolling dunes with a view of the majestic wind turbines of | N 52.62999 | W 1.73475 |
The beach here is lovely with endless sand and dunes, all framed by some majestic wind turbines c/o E-On, Scroby Sands, thank you.
We walked into the town which has some very pretty beach side houses and a dreadful "main drag" full of shops selling dreadful tat. The "Waterwold" on the beachfront is a delight I am amazed it has survived. The fellows in the E-On booth are also very pleasant and the café next door sells real (strong) tea. See if you can manage to avoid their Cream Tea!
A renewed experience was being on the top of a double decker bus trying to work out which exit it was going to take at a roundabout. I'd forgotten what a pleasure this is and the superb road holding - why did it not tip over going around corners?
The weather is not special, but the walks are.
We head down to meet friends in Hinton.
| | | | | |
| --- | --- | --- | --- | --- |
| Hinton Campsite | | Mostly statics. Nothing for miles around. Very expensive if you don't know a resident. Very green but in need of significant investment. | 052.28995 | 001.15359 |
A wonderful walk in the morning along the country lane with deer in the fields.
Up the coast again and through Great Yarmouth and around the coast. Nothing very special although the carpark on the top of the cliffs at Cromer is a delight. The lavender farm at Heacham is a let-down.
| | | | | |
| --- | --- | --- | --- | --- |
| Sandringham Camping and Caravanning Site | | A beautiful site above (and beyond) the Caravan Club site. Masses of room and many rabbits. Set in wonderful woods laced with ferns. | N 52.81528 | E 0.49715 |
Walked all through the grounds - probably not allowed - certainly not with a wild dog. Started "the project".
| | | | | |
| --- | --- | --- | --- | --- |
| Mabelthorpe Camping and Caravanning Site | | A wide site with OK facilities, a little too far from the beach when the weather is inclement. | N 53.33029 | E 0.24823 |
We then head up the coast to take a look at the Humber Bridge.

And end up just south of Bridlington with its wonderful, clean sandy beach. We stay a few days to take in the local cliffs and stay three nights at:
| | | | | |
| --- | --- | --- | --- | --- |
| South Cliff Campsite | | A municipal site with mostly statics. The touring area does not allow dogs! Close to the Park & Ride for walks (and a free bus/train included in the parking charge) to Bridlington. | N 54.06510 | E 0.21007 |
The cliffs are a delight and the beach is backed by grass and dunes with masses of rabbits to make Milosh feel good.

Before we head off again I have my back cracked and get a very good consultation form Paul the Chiropractor in the delightful village of Nafferton with brilliant sunshine as a step lightly along the main street. Decide to look for a beach side parking and eventually find:
| | | | | |
| --- | --- | --- | --- | --- |
| Seaside Caravan Park Ulrome | | A beautiful location but a scruffy site being slowly eroded by the sea. (Some plots are in the process of going.) | N 53.99872 | E 0.21028 |
The encroachment of the North Sea is shown by a picture in the reception. If you fancy a visit, do it soon.
The following morning we drive to Filey which is an old-fashioned Victorian seaside resort, then to Scarborough which was simply too big, so we end up in South Ayton for lunch at Walker's where we sit on the terrace with a wonderful crab salad and free, unlimited Wifi. Later we head down to Boroughbridge at the Camping and Caravaning Club campsite.
| | | | | |
| --- | --- | --- | --- | --- |
| Roecliffe Camping and Caravanning Site | | Green site next to the river Ure with a couple of good walks. | N 54.09069 | E 1.41327 |
The days are full with a visit to Knaresborough, the first time for more than 50 years.

And great walks in the local countryside in brilliant sunshine.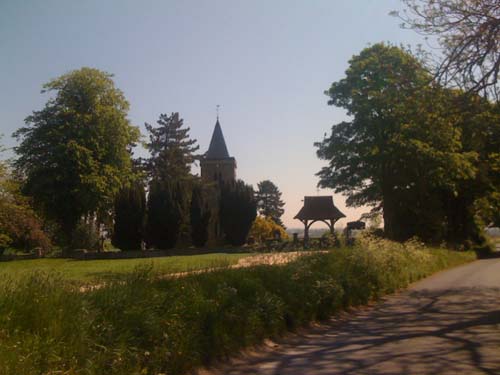 We then move on to Wetherby and Boston Spa for a walk along the river Wharf past where I used to live a long time ago. For access to York for a few days we find space at a rudimentary campsite at Grange Farm Acomb.
| | | | | |
| --- | --- | --- | --- | --- |
| Acomb Camping and Caravanning Club Certified Site | | Green site but facilities not at all special. In a green area near to a council estate. Number 1 bus not too far away for a quick trip into the city. | N 53.94969 | W 1.14354 |
Get to see the National Railway Museum which has some top-rate exhibits but in general is a disappointment.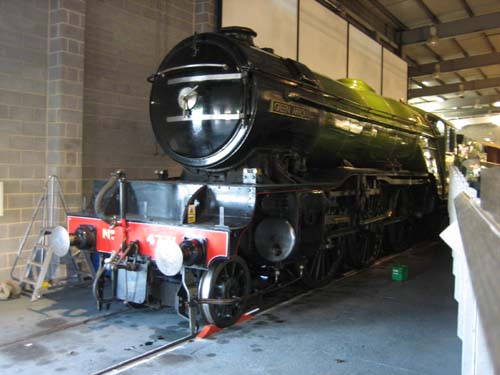 Drove up to have a coffee back in Walter's in West Ayton and the on to Whitby to see the Abbey known for its "Goth" meetings. The whole coast is dramatic. We see the abbey in Whitby.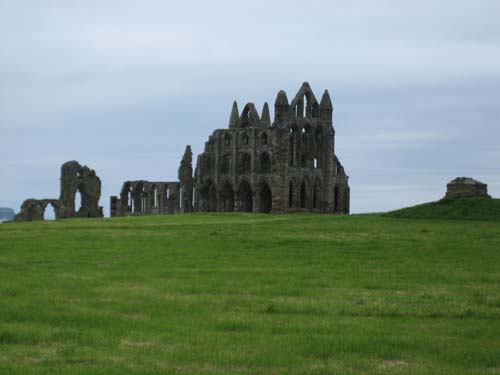 Enjoyed some shopping in Saltburn-by-the-Sea where there is a well-designed railway station. Stopped for a walk with Milosh then drove around to the north of the North Yorkshire Park to Northallerton and found a quiet place to spend the night.
| | | | | |
| --- | --- | --- | --- | --- |
| Northallerton Rest Area | | This is just a place to park at the weekend in a quiet industrial area. (Apart that is from the frequent trains dashing by.) | N 54.35021 | W 1.45166 |
Left and drove to Darlington to the "Head of Steam" railway museum which was interesting but less than fascinating.
We then drive to Durham hoping to be able to visit the cathedral, but access is too difficult for a camper van. We arrive at the campsite which is OK, but expensive for the quality of the facilities.
| | | | | |
| --- | --- | --- | --- | --- |
| Strawberry Hill Farm Campsite | | On the side of a hill with sub-standard facilities, expensive and subject to road noise. They also charge for electricity. | N 54.35021 | W 1.45166 |
We go for several long walks to and around the local village once we have found the bridle path to get us there. One of the public footpaths has not been maintained and we are berated by a man in a field saying his (lady) boss would be very unhappy about us walking in her field.
We leave after the Diamond Jubilee celebrations which we don't get to see because the site is below the horizon of the Astra satellites and spend a quiet day back in Northallerton where we also spend the night.
The following day we drive to Kimberly Caravans with the hope they can fix Maria's side door which seems to have been attacked again. We need some new parts which the company order from Germany with a 28 day delivery time. I promise to call back on the way down from Scotland. We go to the campsite at Hartwhistle and walk along the river with Milosh between showers.

| | | | | |
| --- | --- | --- | --- | --- |
| Hartwhistle Camping and Caravanning | | Remote site situated by a quiet river with very good facilities and friendly staff. Soggy and a long, long way from the wall. | N 54.95317 | W 2.49307 |
We walk along the road to a the Featherstone bridge.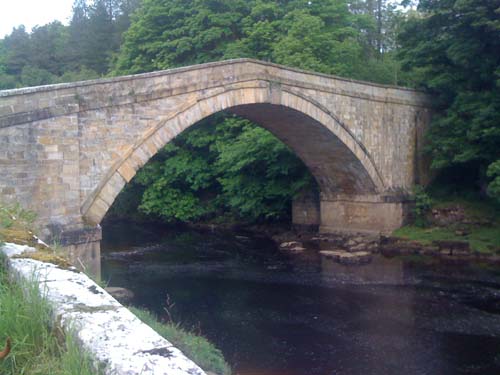 Then into the town for a glimpse of a railway station built in the 1860s.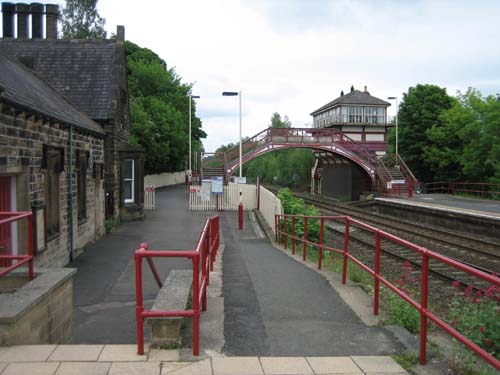 Then back along the river.

The weather gets wet again, so we do some of the website and reading.
When we leave we drive along the B6318 which has many side roads to car parks on Hadrian's Wall, but we decide not to hang around because the weather is poor and we have to come back later.
The weather is not great so we hardly stop (just for coffee and an aborted attempt at getting so Wifi access) even at the mystical Bunstanburgh Castle. We cross over the bridge at Berwick-Upon-Tweed.
Scotland
We drive all the way to Edinburgh and settle down at the campsite.
| | | | | |
| --- | --- | --- | --- | --- |
| Edinburgh Caravan Club site | | Very clean and very friendly staff. Excellent facilities. | N 57.79789 | W 5.66566 |
The same evening we take a walk on the seafront which is terrific.

There is a wonderful bridge near Edinburgh. It seems this one was built to last. The road bridge put up in the 1960s has to be replaced because it costs too much to maintain.

I fancy the local Museum in Kirkcaldy, but it is closed for renovation. I remember having a poor cup of coffee in the town a few years before. Take (mostly) the coast road to St. Andrew's for a view of the hallowed turf then on to Dundee and up the coast road to Montrose looking for a campsite, but the cost of prohibitive so we drive on and into a small village where there is a sign to "The Beach".
| | | | | |
| --- | --- | --- | --- | --- |
| Inverbervie Rest Area | | Great view, quiet and a lovely dog walk along the coast | N 56.84196 | W 2.27538 |
The village has a number of local shops. At the bakers we buy the best bread we have had so far in the UK.
Up the coast is Aberdeen which has a very picturesque town center but we press on along the coast to Cruden Bay where we have a drink.
| | | | | |
| --- | --- | --- | --- | --- |
| Crudon Bay Rest Area | | Quite and welcoming. Some local shops and pubs. | N 57.41152 | W 1.84502 |
On to Fraserburgh and then to a petite village on the seashore which figured in the film "Local Hero" - Pennan.

Then on to Gamrie Bay and have an ice cream and get a paper in Portsoy and later Nairn. We miss Findhorn and take a look and walk at Nairn before driving around Inverness and to the carpark at Cromerty.
| | | | | |
| --- | --- | --- | --- | --- |
| Cromarty Rest Area | | Wide, flat grass area with view of the sound. Many dogs and friendly people. | N 57.68273 | W 4.03412 |

Milosh has a long "social meet" in the morning, we even visit the local shop for a newspaper and then go back to Inverness for provisions. Up the coast we stop for lunch at Galspie with free Wifi. We visit the Rest Area at Helmsdale, the harbour at Latheran then drive through Wick and to John 'o Groats where the wind is strong. On the approach it is a wasteland, much like the top of Norway. There has been a brush fire and it is black.

The night is spent at Dunnet Head with a bit of wind.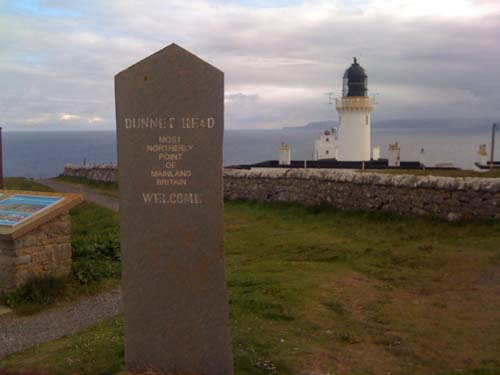 | | | | | |
| --- | --- | --- | --- | --- |
| Dunnet Head Rest Area | | Nobody here but some wind | N 58.670411 | E -3.376604 |
Amazing view of the Orkneys. This is the place to wake up in the morning.
The trip across the top of Scotland starts with a visit to Thurso where I get a newspaper and we walk around the town. There is a good place to park by the sea.
John Lennon used to spend his holidays in Durness and to the East of the hamlet is an amazing beach, pure white sand, surrounded by verdant grass hills, a fresh water stream and all overseen by cotton-wool clouds and azure skies.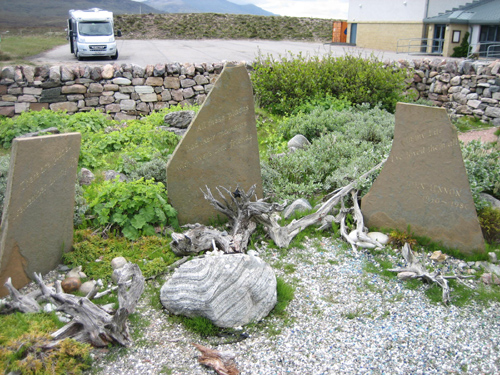 The Lennon memorial mentions the song "In my Life" which is supposed to be about this area.
To make the scene even more perfect a lady came along while I was having a cuppa, walked to the beach, removed all items of clothing and frolicked in the waves - total freedom.
The landscape on the way down the coast is stunning until we get to Ullapool which is not interesting. We have food in Aultbea and then drive through Poolewe to the other side of the bay to Inverasdale where we park on the slipway.
| | | | | |
| --- | --- | --- | --- | --- |
| Inverasdale Slipway | | Great view and quiet | N 57.79789 | W 5.66566 |
We meet a local who says there is a better site a little further up the coast with dunes, but I am too tired to change location. During the night I get out to see a thin line of golden sunlight appearing over the horizon underneath dark gray clouds accompanied by the gentle lapping of the water on the slipway. Magic!
Then along the coast stopping at a café in Gairloch where they serve terrific crab sandwiches. The on past Loch Maree and then up and over Glen Torridon for a stunning panorama.

And then to the top of a hill and Glenshieldaig

We drive through Kyle of Lochalsh and over the bridge for a short rest. We then drive back to the town and along the loch to see a view of Eilean Donan Castle

As the evening progresses we visit the famous lock gates at Banavie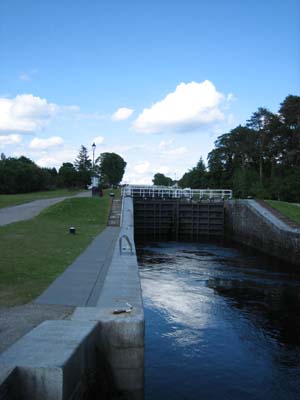 and then drive towards Maillaig stopping to admire the railway bridge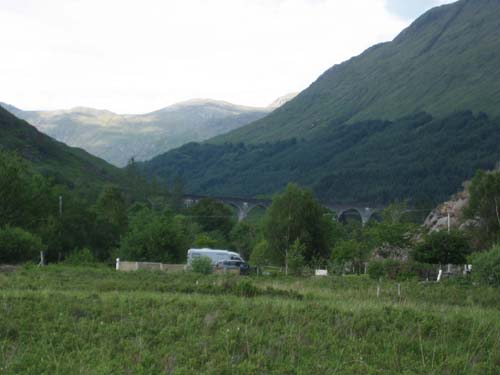 and the memorial at Glenfinnian

The Guardian also has a picture of this, but taken further back to include the railway viaduct as featured in Harry Potter.
http://www.guardian.co.uk/world/picture/2012/may/03/1
Up the coast is an area of white sandy beaches where we find a place to stay overnight.
| | | | | |
| --- | --- | --- | --- | --- |
| Taigel Rest Area | | Gorgeous white sand and toilet facilities. Somewhat sheltered from the wind too. | N 56.96163 | W 5.82563 |
We then make the short drive to Maillaig which isn't worth it. Back to Fort William which seems to be very Camper-unfriendly so we make our way down the coast as the weather worsens all the way down to Oban where we spend a few days walking in the Forestry Commission area.
| | | | | |
| --- | --- | --- | --- | --- |
| Oban Camping & Caravanning Club site | | Good facilities in a walled area with great walks in the woods. | 56.96163 | -5.82563 |
After the midges we head south towards the town of Oban and have an ice cream.

This is a bustling community in part because of the ferry. The route takes us further south to Kintyre which turns out to be less than interesting driving so we head for Loch Lommand and the picturesque village of Luss where we overnight in the carpark after a tasty slice of gigot and mash washed down with a half a liter of Bonnie N' Bitter.
| | | | | |
| --- | --- | --- | --- | --- |
| Luss Rest Area | | Quiet beside the loch | 56.103455 | -4.638968 |
Next it's off towards Glasgow along the Clyde. The Tall Ships Museum in the center of the city is good for a coffee. Then on along the Clyde south to Irvine and an overnight stay on the beach carpark with a terrific sunset and warm morning rays too.
| | | | | |
| --- | --- | --- | --- | --- |
| Irvine Rest Area | | With the sound of the water all night. | 55.604851 | -4.694297 |

We then spend several days with good friends in Prestwick, good conversation, walks and food.
The day we leave starts off sunny and we don't see any rain although it remains mostly overcast. Down the coast we pop into Culzean Castle where a group of French school kids are being boisterous.

We then stop in Stranraer and go on to Portpatrick which is well-recommended. We walk around the village noting the bravery of the Life boatmen and spend a quiet night in the carpark after noshing the local strawberries.
| | | | | |
| --- | --- | --- | --- | --- |
| Portpatrick Rest Area | | With the sound of the water all night. | 54.84023 | 5.11789 |

The sun comes up early and so do we with a discussion with a local under the cliffs and Milosh gets a Scots Pie - yumm. We leave and have a coffee in Wigtown - the Hay-on-Wye of the North.
Dunfiries around the coast has a simple local museum but the Camera Obscura is not on the agenda.
England
We head to Gretna Green for a coffee and a kip, then on to Keswick where the campsite we have chosen is closed due to flooding, so we head to Windermere where the campsite is in lovely rolling hills with white spots and so off the beaten track that there is no traffic noise. It rains and I hug a cold.
| | | | | |
| --- | --- | --- | --- | --- |
| Windermere Camping & Caravanning Club Site | | Spacious site with excellent facilities. Good dog walk and undulating fields with white spots. | 54.3605 | 2.8033 |
One of the site's occupants is a charming pheasant which has a marked limp, but Milosh is mostly interested in the many rabbits which populate the well-kept meadows.
After 3 nights we drive through Kendal and go to the "Best Motorway Stop" in the UK at Tebay on the M6. The rain is enormous, basically an extended cloud burst. Hi Ho! Get in some shopping in Penrith - bloody huge Sainsbury's. The in the 66 and then the 6259 followed by the delightful 684 down into Hawes. The Dales are mystical - don't know if the Winter here would be an entirely +ve experience. We drive though the town - lots of lovely small shops - isn't it wonderful that Tescos and Sainsbury's isn't here - and arrive at the site with a sparkling Maria.
Still hugging a cold we settle down and watch Nadal loose to the Czech Republic - nice!
| | | | | |
| --- | --- | --- | --- | --- |
| Caravan Club Site Hawes | | All mod-cons just a short walk from the delightful village. Under rolling (very green) hills. | 54.30781 | 2.18912 |
The next day we do the usual and then head into the village for coffee and free Wifi at Herriot's where of course I am not tempted by the home-baked cakes. Nice friendly people too - Milosh was allowed inside in spite of being a bit soggy.
I get on the phone to negotiate with the caravan service company in Darlington who have failed to order the parts to fix the door. I try and calm down about this 4 week delay in ordering the part.
Seems a good thing to do is to "Head for the Hills" - taking in a small section of the Pennine Way. So there is a view... and Milosh chases the rabbits for nearly 2 hours - I hope he doesn't snore too much during the night.

They also train Collies here.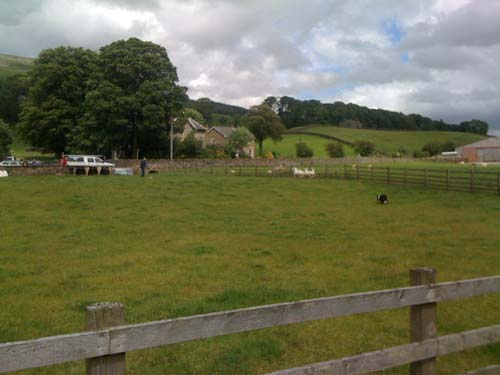 And some won't go near water unless they have a lot of encouragement.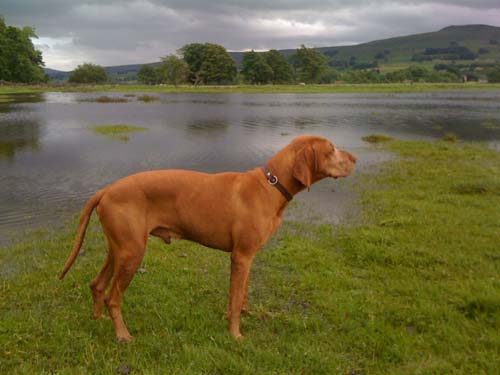 The village is a delight with real shops. We walk again, this time for a bit longer up from Bainbridge to Semerwater

and over the top back down to Gayle and Hawes. By the time we get back I am knackered.

But another body isn't, in spite of chasing rabbits again.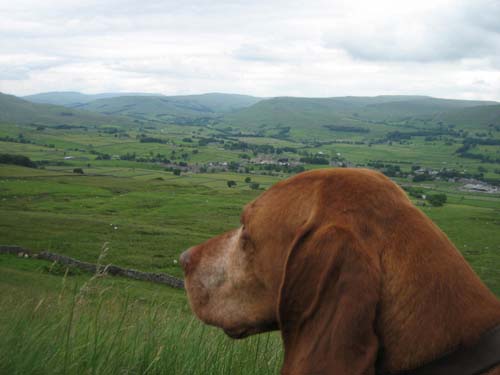 And don't miss going to "The White Hart" pub, nice people and good food and excellent coffee.
We leave and drive on the road towards Settle and on the way we get to see this beauty:

This is the Ribblehead Viaduct which was constructed under very hard circumstances by soldiers returning from the Crimea war. It was one of the last major projects for the Yorkshire railways, completed in 1875.
As it happens it gets featured in the Guardian pictures website.. (Note the climber.)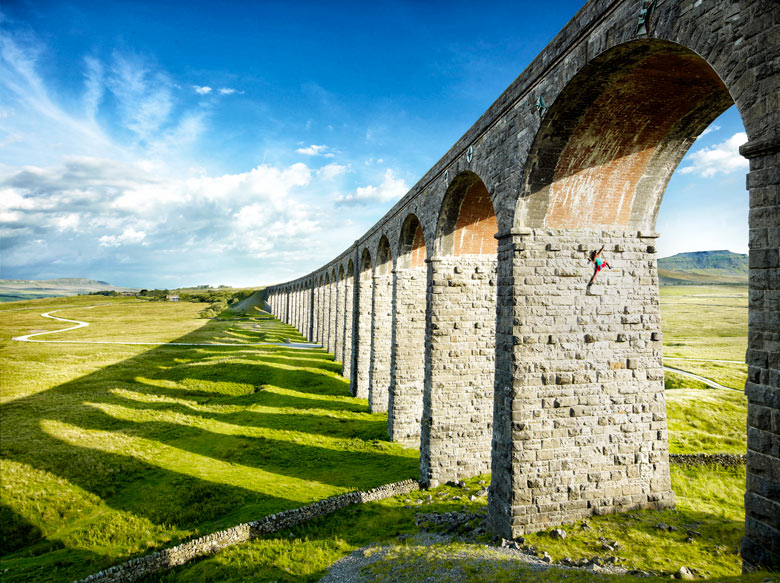 http://www.guardian.co.uk/world/picture/2012/jul/05/1
We did however, (I realized later,) miss a monument built to the memory of the people who lost their lives building the viaduct - The Chapel Le Dale.
http://www.visitcumbria.com/carlset/chapel-le-dale-st-leonards-church.htm
We drive on to Settle and then towards Leeds and end up back in Northallerton for the night where a storm seems to have "stuck it" to the satellite dish. (I try a lot of things to correct it, but then contact Oyster UK who try their best. I eventually do a 'factory reset' and it works again.)
| | | | | |
| --- | --- | --- | --- | --- |
| Northallerton Rest Area | | This is just a place to park at the weekend in a quiet industrial area. (Apart that is from the frequent trains dashing by.) | N 54.35021 | W 1.45166 |
Next morning we head to the Caravan repair company, but they have screwed up the order for the part required for Maria's door, so we arrange for it to be sent to Devon when it arrives. We drive on to Wetherby and then to the racecourse in York for a dash around, meeting several dogs until the rain arrives (again). Then on through Stamford Bridge, Driffield and Hornsea for a walk beside a rough sea until the mist comes in (wham) so we drive to East Yorkshire Caravans and park ready to ask them to help with a couple of things in the morning.
| | | | | |
| --- | --- | --- | --- | --- |
| East Yorkshire Caravans | | Quiet in an industrial estate. | 54.06512 | 0.24446 |
We get a new security system fitted - nice job, and the right colour too - then drive to Bridlington for supper.
Next stop down to Chatsworth - the pile in so many movies - and where the rain stops.
Nice campsite
| | | | | |
| --- | --- | --- | --- | --- |
| Chatsworth Caravan Club site | | On the estate itself, just 10 minutes from the house. Next to the river and quiet. One-way system in and out. | 53.23655 | 1.61754 |
Next morning we head off to the house and gardens. What a delightful place and well run.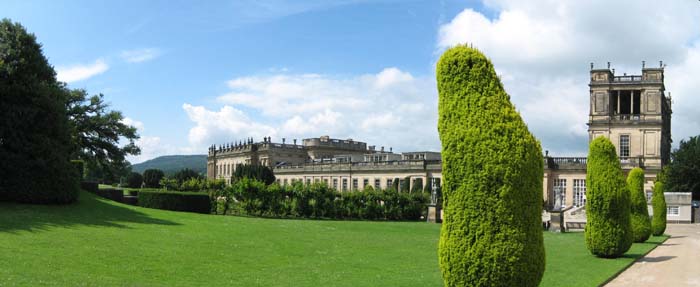 We have coffee and walk around the gardens.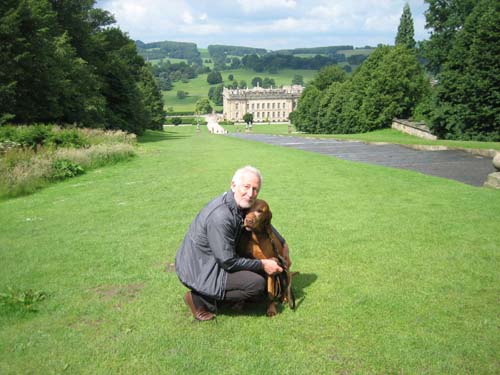 The garden.

And we met some really nice people, a lovely family from Ireland, A couple from England, a journalist and his wife from Norway and Frances the Sociology student from York University who wants to emigrate to Canada.
Then there was the tennis. "Britain expects" so to speak. Of course I win either way. Roger Federer is simply too strong for Andy Murray.
Wales
In a gray morning we leave and drive through drizzle across the Peak District and to Buxton, Newcastle-Under-Lyme and a number of villages to LLangollen where we should have looked at the viaduct but the rain was too heavy. Then on to Betws-y-Coed to Bangor and the beach carpark at Beaumaris.
| | | | | |
| --- | --- | --- | --- | --- |
| Beaumaris Carpark | | Quiet. Costs £1 per night and £ 2.5 per day. No facilities. | 53.26363 | 4.08718 |

The following morning we head around the coast to the long beach at Llanfachraeth where two ferries are just leaving, destination Ireland.

In Holyhead we have another walk and something to eat. And Milosh plays "We are in Copenhagen today".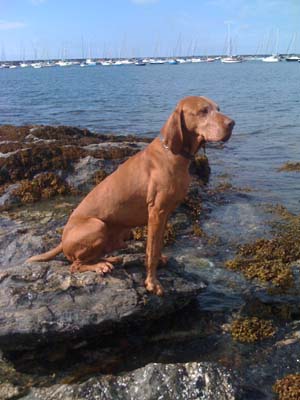 We also meet a man in a camper van who spent some time in Copenhagen and thinks it the most dirty city he has ever been in. (I think we was wearing the wrong glasses, I have always found Copenhagen to be a beautiful, well looked-after city.) In the evening the local kids arrive to make a lot of noise, drop their KFC packages overboard together with their ciggy ends. We drive back to Beaumaris to rest.
The next morning we leave and have a look around Caernarfun as it wakes up and we get a coffee and access to poor Wifi.

The weather is not doing what it should so we drive on down the LLeyn Peninsular and find a place to wear out my legs.

And the other way...

Then we cover the rest of the peninsular as the sun comes out. We eventually find the next campsite.
| | | | | |
| --- | --- | --- | --- | --- |
| LLanystumdwy Camping & Caravanning site | | Nice, small site with great facilities and friendly people. | 52.92110 | 4.27892 |
And, here in Wales we get some of those life-giving rays. And favourite dog sits in the radiance with favourite flower.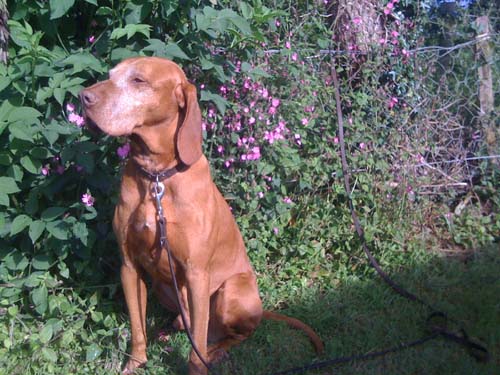 In between showers and some serious rainfall we get to walk along the beach.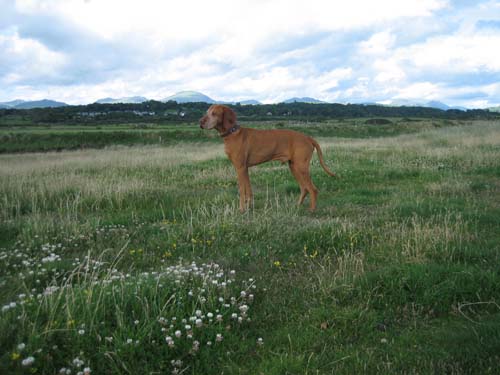 the river.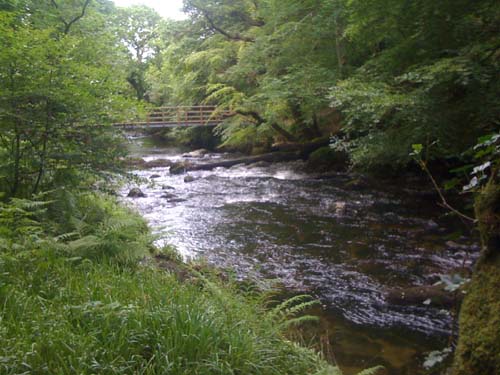 And the beach again, this time with some cows - which Milosh chooses to avoid - put politely that is.
Oh and Lloyd George was born here.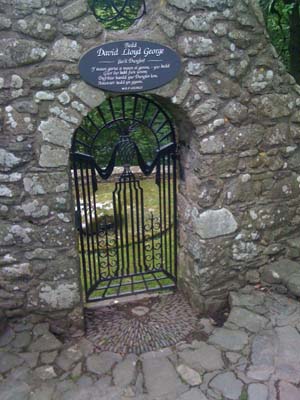 After a few days we drive on to Harlech which has the most amazing beach

and of course a well-known castle.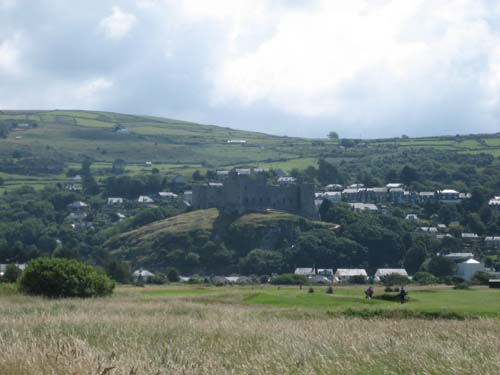 We press on to Aberystwyth for an ice cream on the Promenade.

After this we go to the opposite side of the harbour for a long walk and it also seems to be a good place to sleep overnight.
| | | | | |
| --- | --- | --- | --- | --- |
| Aberrystwyth Harbour Carpark | | A rough carpark which seems to be closed to Caravans, but not Camper Vans. Great walk beside the river with a view of a monument to Wellington. | 52.40550 | 4.08962 |
Next morning we get a newspaper (as we do most days) and head down to Cardigan (which is a long way to the south of the campsite we are booked into) and around the town, but we see a sign to Poppit Sands which sounds like a good option, so we drive there and discover friendly people in the café and a great sandy beach.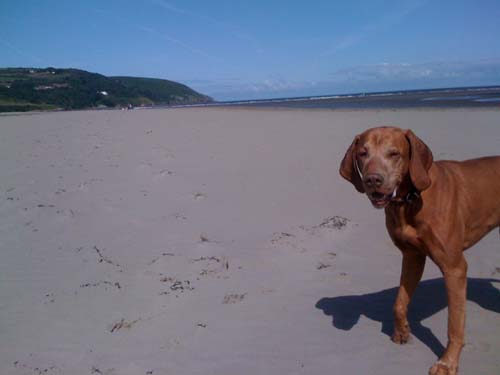 After a couple of hours lazing on the beach and a great chat with a young man selling support for the RNLI we slog it back up to the campsite where we are greeted by friendly faces and a very green site.
| | | | | |
| --- | --- | --- | --- | --- |
| Cardigan Bay Camping & Caravanning site | | Nice, small site with good facilities and friendly people. Really well-kept. | 52.18393 | 4.36515 |
We escape rain the first full day and even the second day there is little evidence of moisture, not that it is sunny. We make an outing to New Quay and walk along the beach

oh and have "Fish & Chips" while being watched very closely by a few large seagulls.
And then we have a superb day which started with brilliant sunshine, so we take the bus again into New Quay and decide we might risk a coastal walk to Aberayron. The beach at New Quay looks a little different bathed in sun.

We then have a discussion with a man whose job it is to plan, implement and look after the footpaths. They are removing all the stiles in the county - just as well we tried some walks around the campsite and found it impossible to traverse some of the stiles.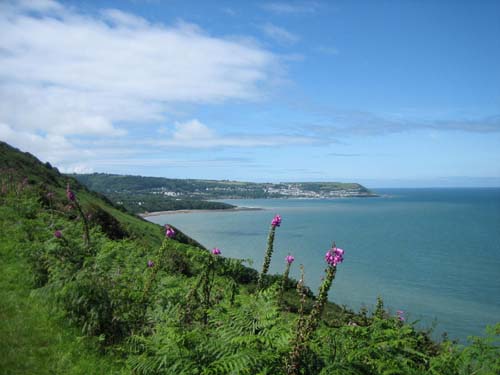 We then discuss with some Dutch people on holiday in the UK and as we continue we turn a corner to see Aberayron.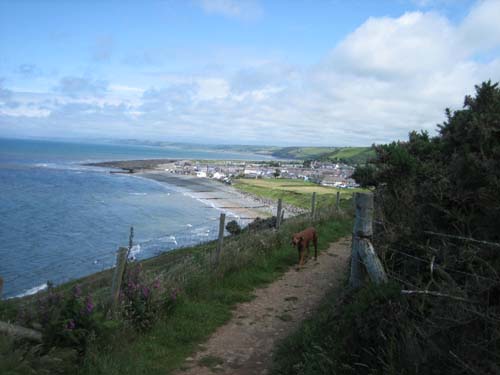 And they are filming in Aberayron.

A delightful village. With a great fish shop - fresh - so I buy some dressed crab, cod and Scottish salmon.
Then we board the bus back to Cross Inn and the campsite - and no rain.
The onward journey takes us through Fishguard and on to shopping (and discounted diesel - something to be seriously considered) in Haverfordwest and then back up the coast until we find this gem:

The beach at Newgale.
Next on through St. David's to the campsite.
| | | | | |
| --- | --- | --- | --- | --- |
| St. David's Camping & Caravanning site | | Grassy, small site with basic, but clean facilities and friendly people. | 52.18393 | 4.36515 |
We spend a few days walking along the coast. First from Porthgain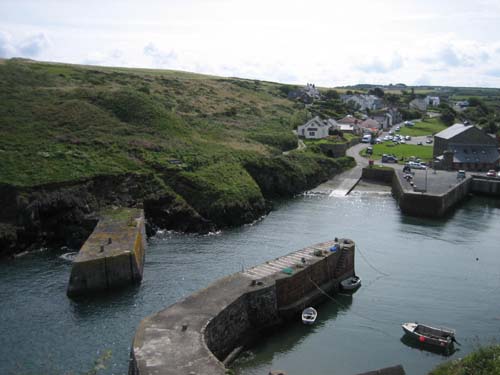 to Aberreiddy and the Blue Lagoon.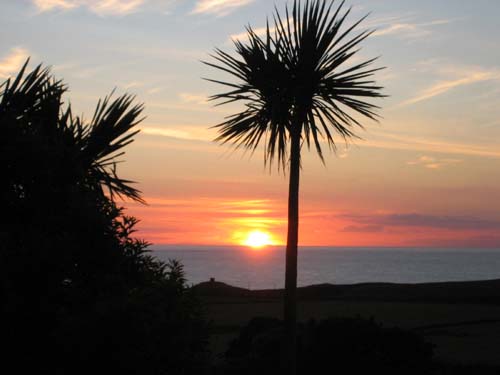 We then walk from Whitesands to Abereiddy.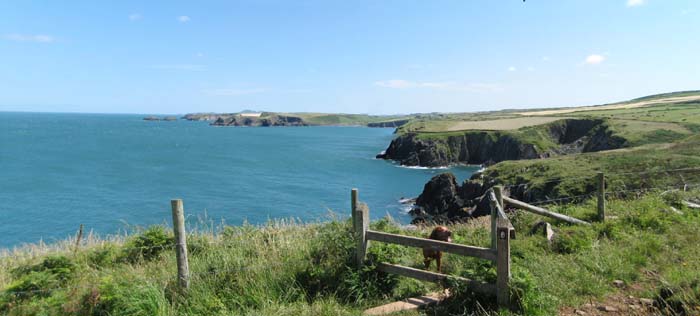 And then we walk from Porthclais Harbour to St. Justinian. With a view of the Island of Ramsay. Where we talk to a couple of dolphin watchers who say they will not appear until "the race" (A strong tidal-based current that can be seen in the picture below) has passed in a couple of hours.

It seems there is a plan (great!) to submerge turbines in the sea between the island and the mainland to generate clean energy. The power of this body of water is amazing.
We leave to the East, stopping at Newgale Beach for a walk where the tide is an and there is no sand anymore. Then to Haverfordwest, Pembroke and Tenby. No stopping then until we get to a Forestry Commission campsite in The Forest of Dean.
| | | | | |
| --- | --- | --- | --- | --- |
| Bracelands Camping & Caravanning site | | A large, grassy site surrounded by forest. A delight, but no Wifi or newspapers. | 52.18393 | 4.36515 |
We enjoy the sunshine, the walks in the forest and down to the river.
We spend two days in the forest which is a delight if somewhat hilly. The campsite is a joy with many families because it is such a safe site.
England
We then move on (well slowly on the M5 which is having some attention paid to it) down to Bristol and then via some scary back roads (why do I do this) to Cheddar and up the gorge to find the campsite
| | | | | |
| --- | --- | --- | --- | --- |
| Cheddar Camping & Caravanning site | | Grassy, small site with basic, but clean facilities and friendly people. | 52.18393 | 4.36515 |
Some rain again and a leisurely walk in the fields trying to avoid the nettles - so silly to go walking in shorts after so much rain. The styles are a challenge for Milosh but he rises to the occasion.
We then drive to Devon to stay with family for a number of weeks. This includes a trip to Weymouth
and a visit to Exmouth as well as a charming dinner at a house at Beesands which has still not fallen into the sea.
We then go to Zurich to arrange a few administration issues. On the Sunday this includes a walk from Rafz and down to the Rhein.
Back in the Devon we pickup Maria from the local FIAT dealer who has done a great job of getting a needed part out of the FIAT logistics system - luckily just inside the guarantee period. Then we head to my cousin's place where we get to enjoy good company and HMS Warrior, HMS Victory and "The Mary Rose" in Portsmouth as well as great crab sandwiches.

Oh and some lovely morning walks along the seashore with a views of the Isle of Wight.
France
We take the ferry from Dover to Dunkirk (seems we do this all the time now) and head for Gravelines which turns out to be full so we go to Grand Port Philippe where the parking has been marked out - one slot is available, and it's still free.
The next morning we walk the length of the quay before heading off to Wizernes and the German V1 launch project. (50.70531 2.24102)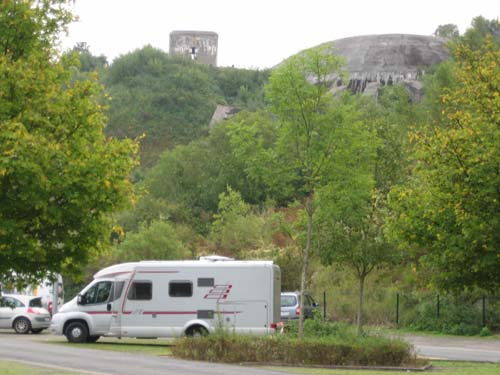 And then Azincourt (It is not Agincourt) where we found the site of the battle.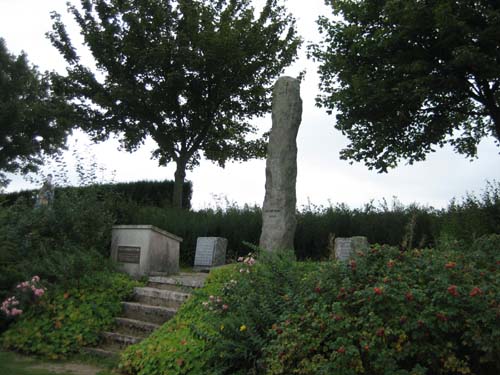 This part of France has the most wonderful roads (wide enough for two big cars and two cycle lanes too) and expansive fields interspersed with lines of trees. Then on the motorway and cross over the "Normandy Bridge"
Then we drive around to Honfleur. Not the most delightful tourist trap, and the camper van park is huge. The water in the port stinks of diesel. Also some wonderful architect has put up a series of new wooden houses - and they not only face away from the view - just look onto each other - but they also have roofs which are as high as the living space (two floors worth) and thereby blocking the view of houses behind.
| | | | | |
| --- | --- | --- | --- | --- |
| Honfleur Rest Area | | OK, at least it is close to the town. € 10 per night. | 49.25.150 | 0.14.586 |
After a quiet night we head around to the coast to Trouville sur Mer but the coast is not spectacular. We go all the way around to Cabourg and then Ouistreham where we have a coffee and get some internet access. Then to the supermarket in Caen for food, diesel and gas before heading back to the coast and a car park above the cliffs at Arromanches.
| | | | | |
| --- | --- | --- | --- | --- |
| Arromanches Rest Area | | Lovely location, no facilities, € 5 per night | 49.20.347 | 0.36.914 |
Great view of the Mulberrys from the D-Day invasion.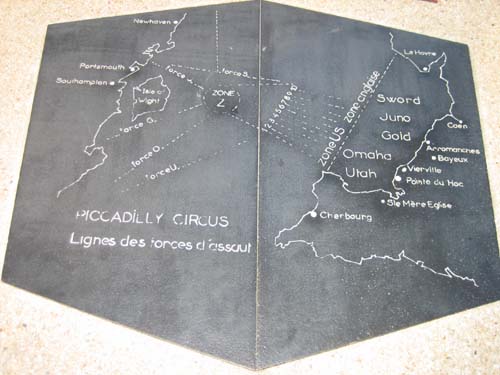 We drive to the American cemetery and I take some photos.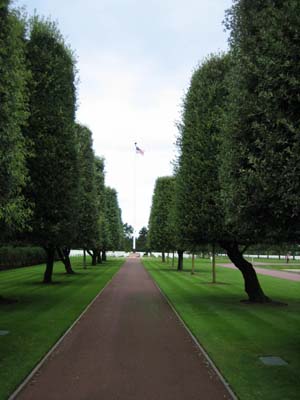 Then on the coast road to the neck of the country, then up to Balfleur for a walk on the beach under the lighthouse I saw on the TV programme many months ago.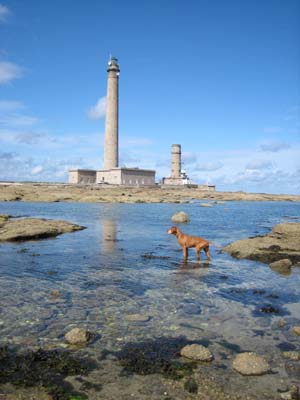 We then head to Cherbourg where I eventually find the Auchan and find a great deal on a Nespresso machine – Red! We then drive to the point at "Cap de la Hague" where we take one of the last places in the special Camper Van parking. Milosh and I go down towards the coast. It quickly gets cold.
| | | | | |
| --- | --- | --- | --- | --- |
| Cap de la Hague Rest Area | | Rough, dust location, no facilities but dramatic scenery. | 49.42.858 | 1.56.096 |

We head off and take a long drive to Grandville which is a waste of time. Then to St. Malo which is also a failure so we head to St Cast le Guildo where we park and walk along the sea front.
| | | | | |
| --- | --- | --- | --- | --- |
| St. Cast Rest Area | | Quiet close to the sandy beach. | 48.37.738 | 2.15.219 |
Up early in the morning and there aren't many people about. We walk along the seafront again but have no luck in finding a café aux lait and a croissant - boo hoo. So we head off towards Paipol which is a tourist trap (it seems to be a place where a lot of sailors relax and swap sea stories) with a host of restaurants. We get a "steak/frites" while Maria enjoys free parking. The off to a rather delightful village - Pontrieux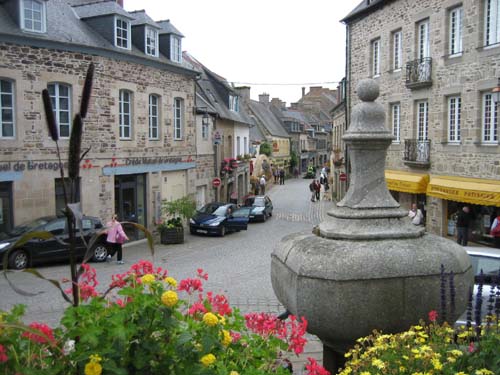 But the traffic seems to overwhelming the joint.
We wash Maria (thus ensuring we will get rain at some stage during the next 24 hours) and head for Ile Grande.
| | | | | |
| --- | --- | --- | --- | --- |
| Ile Grande Municipal Campsite | | Right on the beach by a large bay, sand dunes and some wind. | 48.47.869 | 3.35.142 |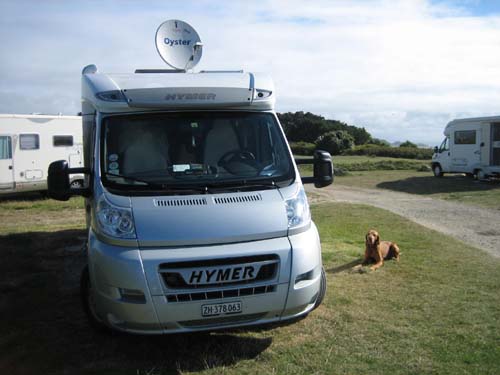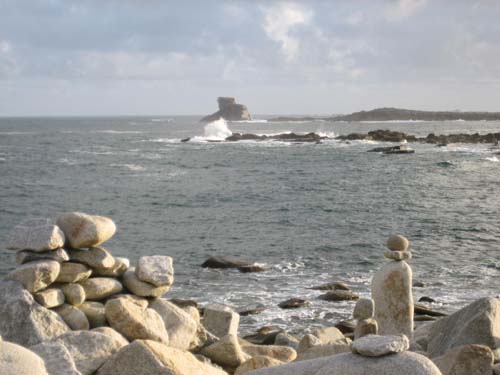 The next day we continue west and have a coffee and walk on the sand at St. Efflam.

These Brittany beaches are very pretty, but I don't think the landscape is as interesting as Cornwall. After Morlaix (a pretty town) we head to Rascoff (or as the locals say Rosco) but there isn't much to see so on to the lighthouse at Le Conquet.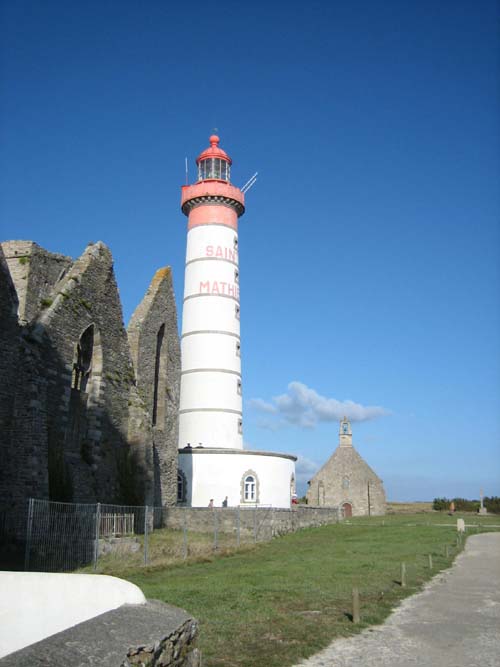 There is also a monument to all the dead French sailors - well done methinks.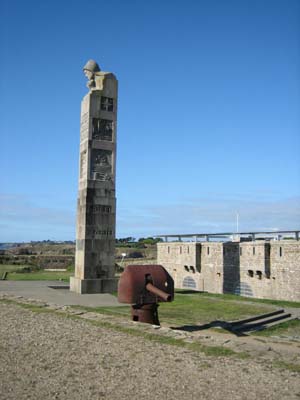 In Brittany there are also a large number of churches with "holes" in the spires. I stopped and asked one of the locals - it is to allow the wind to blow through - Duh!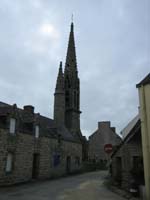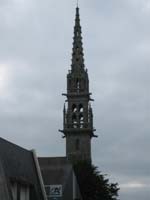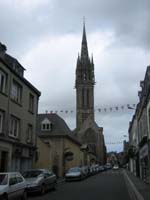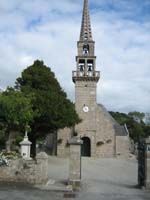 We drive around Brest - another big, messy city and over a new bridge to the south and as the sun goes down we find a place to overnight in the nature park on the peninsular of Crozon.
| | | | | |
| --- | --- | --- | --- | --- |
| Crozon National Park Rest Area | | Right on the bay. | 48.258184 | 4.554983 |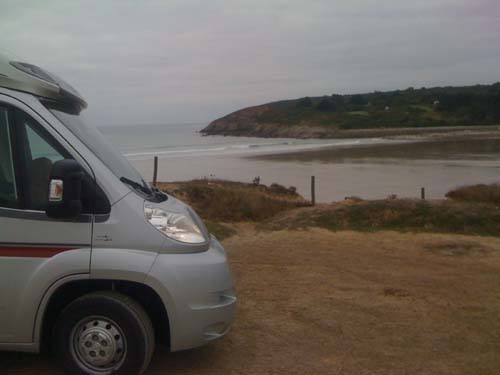 In the morning we drive into Camaret-sur-mer for a coffee and photos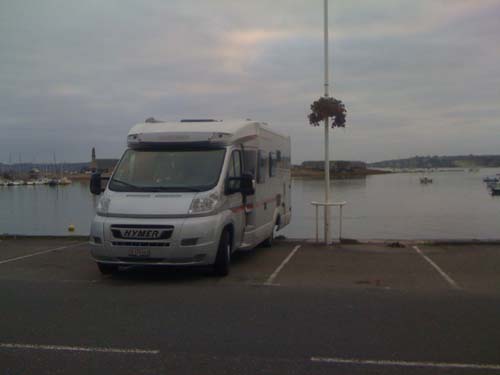 before heading to Douarnenez
There are lots of people winding their way to an island in the mouth of the river/port because it is Sunday and low tide – maybe some special event. There are a number of old boats as part of the Marine Museum.
Then on to the picturesque village of Locronon for some pictures and a sweet coffee. (Crumble).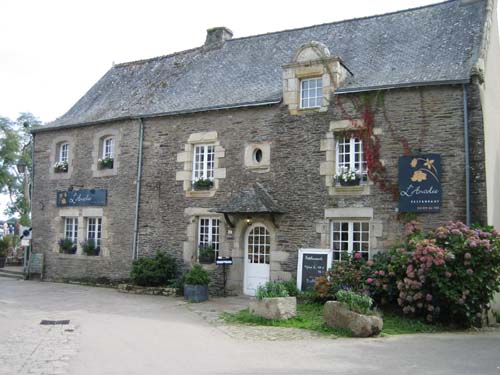 The roads are a delight, almost no traffic and just wide enough. Next stop is the pretty Rochefort-en-Terre which is a real tourist trap - for a photo of Milosh by the well.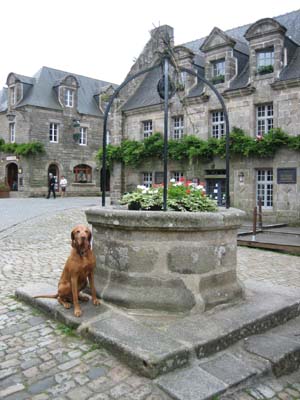 After a wait for some sailing boats at Barrage D'Arzal we go via some crappy roads to St. Marc where the sun sets on some cliffs next to the FKK beach.
| | | | | |
| --- | --- | --- | --- | --- |
| St. Marc Rest Area | | Across the road is a bay | 47.14.218 | 2.18.032 |
We go more or less directly to St. Naizaire, past the old port where a huge ferry awaits. We cross over the Loire at on the impressive bridge- I remember it from the time we took it by bike,
and also the old transporter just next door ....

at Echillias
We had a great lunch - fish of course looking at what Maria had just achieved and then continued on southwards. On the way we stop to take a look at the oyster catchers on the coast near Beauvoir-sur-Mer - Port du Bec. We walk and take photos – the wind is quite fresh. Then meander down the coast – there are far too many people on the planet and as with the previous day, far too many Parisians having holiday homes at the mouth of the Loire.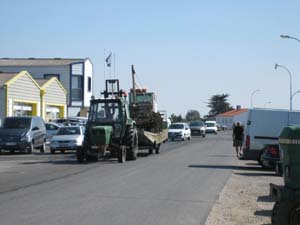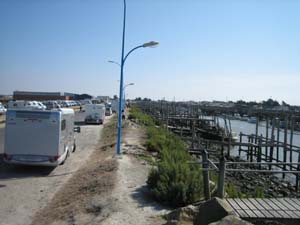 Eventually get to Le Tranche-sur-Mer and park at the port – not allowed, but it is after the season.
| | | | | |
| --- | --- | --- | --- | --- |
| Le Tranche-sur-Mer Port | | Next to the carpark reserved for people who fish or do water-sports. | 46.20.694 | 1.25.852 |
We drive around the coast through an unending mass of small holiday encampments. We do find a coffee and croissant in one small place, nice landlady – and free Wifi. We get to La Rochelle and drive around to Royan.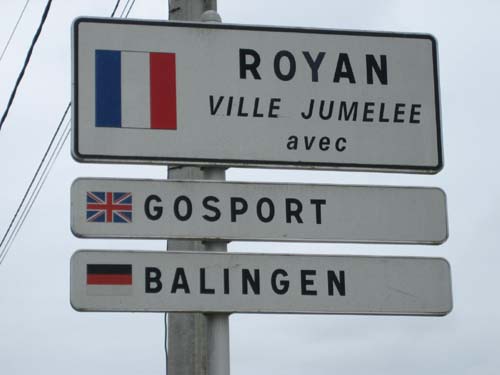 After a coffee we get the ferry and some honking from a pushy driver (French). We then get positioned inside the ferry to be the first vehicle off - haha! There are some raindrops on the crossing. We then head to Hourtin to take photos, (12 years ago was our stopping place on a bike ride after the longest leg 115 klicks) then a long drive to Pamorama de Pyla.
| | | | | |
| --- | --- | --- | --- | --- |
| Panorama di Pyla Campsite | | In a wonderfully wooded area at the southern end of the dunes. Great facilities | 48.47.869 | 3.35.142 |
We spend a week on this site climbing the dunes, swimming and sunbathing on the beach.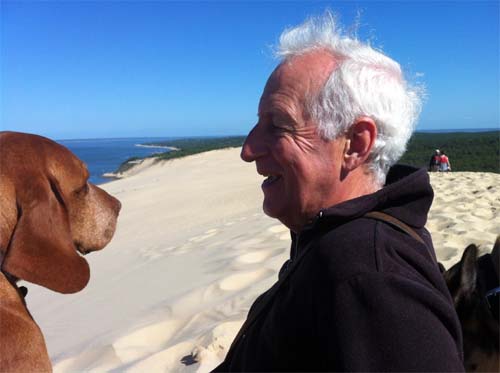 Also took the bus (€1 each way) to Arcachon which is a tourist trap, but nice, with a lovely new market and all the known-names shops - watch out for the drag on the plastic. (Especially the oyster bar in the market!)
We leave and end up in Lourdes driving along Roman roads and some charming back roads through field after field of corn, but didn't see the Kelloggs factory! In the town we walk around in the dark. Milosh is still not feeling well, so sleep comes only sporadically.
In the morning we walk down the town and are simply amazed by the commerce, street after street. This is inflation-proof, non-cyclic big business of the most enduring kind.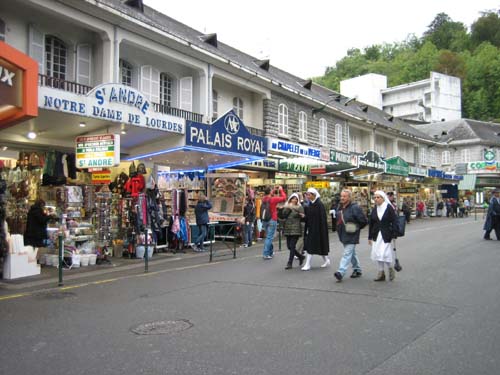 And a snap at € 3300!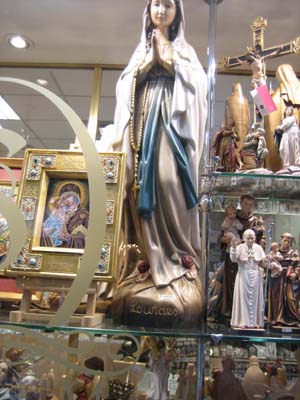 The visitor figures for Lourdes is about 80'000 per annum. This has been going on for about 120 years, so that would be about 10 million people. The figures they use for "miracles" is 66, but they do say that maybe up to 2000 have occured because many are not reported. (Really?). The numbers for spontaneous remission vary from 1 per 100'000 (0.001%) and 22% for small breast tumours. If we are generous and take 0.005% as an average figure, this would indicate a number for Lourdes of 50 people. How's it going with those miracles?
We then head for the coast with some sunshine to accompany us en route. We end up driving through Bayonne and just behind the beach at Anglet Plage where there is a special rest area for camper vans.
| | | | | |
| --- | --- | --- | --- | --- |
| Anglet Plage Rest Area | | Right adjacent to the mouth of the river. | 43.31.606 | 1.31.031 |
After a morning coffee at a sleepy dive right on the beach we drive along the coast into Biaritz and on to St. Jean de Luc, but the roads are still too crowded, so we head for Hendaye, but while we can drive alongside the beach (lots of surfers) there isn't any space for Maria, so we head off to Spain.
Spain
San Sebastien is as I recall - an impressive city with some beautiful buildings, but again, nowhere to even stop so onwards via the coast road. This turns out to be a very pleasant drive along a winding road interspersed with lovely beaches and incredibly ugly towns. Who was given permission to erect all the blocks of flats and who built them in such a way that they mostly look ready to fall down? I do wonder what it must be like to live in such a place - again, there are far too many people on the planet. The road winds through countryside looking much like the high hill in Switzerland, indeed the houses too look similar to those found in the Swiss mountains.
We eventually get to Bilbao and visit the Guggenheim which is spectacular.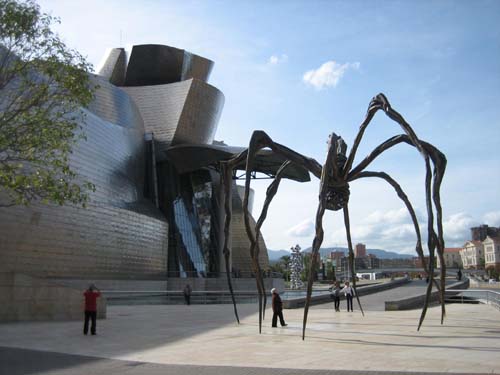 There is a wonderful exhibition of works by Hockney which he did on an iPad. I look for a book because taking photos is not allowed, but there isn't one. The huge tree images are a delight.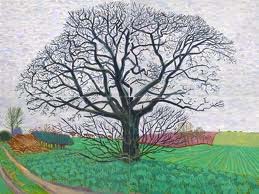 Such a shame, his images of his native Yorkshire are a wonder, it feels as if one is sitting in the fields and hedgerows.
| | | | | |
| --- | --- | --- | --- | --- |
| Cabarceno Nature Park Rest Area | | Beautiful setting and so quiet. | 43.366778 | 3.821178 |
We then drive down to Santander looking for an internet dongle - no luck, so it has to be MackieD's but the bandwidth is crap. Will have to try later.
On the way we see the local corn-drying houses: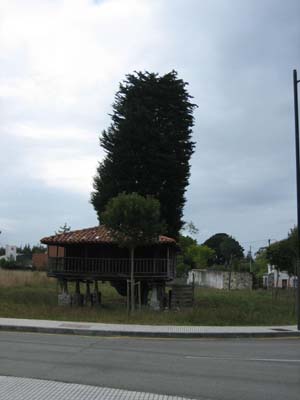 Does Mrs Simpson come to mind?
The North Coast of Spain is hemmed-in by huge hills (or mountains if they prefer) which ensure moisture from the northerly winds is retained, at least it seems this way at the moment (late September), so we drive on and on.
The government used to have a lot of EU funds judging by the road works - a complete new motorway to replace the National road (634) - so the journey is a mess. I recall one of the original reasons the land was accessed by rail (pieces of which we can see from the road, single track, non-electric) was to bring out minerals.
We end up on a brand new motorway sweeping its way through dominating trees and end up in the "canyons" of La Coruna. This confirms my belief that there are simply too many humans on this planet - ghastly!
We find a Rest area and spend a quiet night.
| | | | | |
| --- | --- | --- | --- | --- |
| La Coruna Rest Area | | Small port, west of the city - sloping | 43.22.318 | 8.26.690 |
In the morning we walk down to the small beach and two girl scouts are appropriating sand from the beach (?) after which we set off to get fuel and a coffee and croissant for me together with free Wifi. I finally get to do all the downloads. (Rachel Maddow is getting to be a wheeze as Romney's campaign seems to be on the verge of collapse and the only thing that might save him are the debates - which start next week - yippee!
So we go more or less directly to the Point at Fisterra.
| | | | | |
| --- | --- | --- | --- | --- |
| Fisterra Point Rest Area | | Beautiful and windswept | 42.53.168 | 9.16.306 |

We leave in the afternoon and head towards Santiago de Compestello. This is such a big town that we leave and head down the coast. Finding it difficult to find a place to sleep we drive around to various locations but have no luck, so we drive to Tui and spend the night there.
| | | | | |
| --- | --- | --- | --- | --- |
| Tui Rest Area | | Functional, but surprisingly quiet | 42.02.610 | 8.38.786 |
In the morning we leave and cross over almost immediately to
Portugal
We spend time on the beach at Afife - great. Then on to Esposende with a lot of people walking by the river.
| | | | | |
| --- | --- | --- | --- | --- |
| Esposende Rest Area | | Beautiful and windswept | 41.31.691 | 8.46.866 |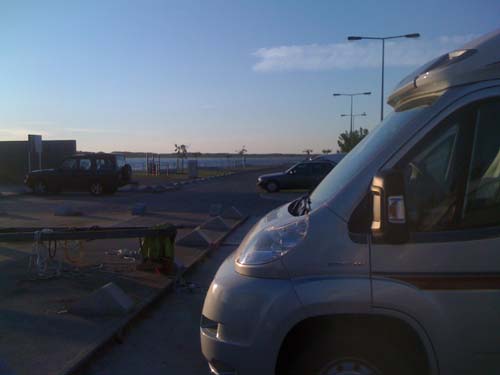 We walk around the village for an hour or so in the morning looking for a coffee and croissant (which we find) and free Wifi (which we don't although it is supposed to exist) before heading off southwards. We have a "Discussion" with an attendant at a service station about putting gas into Maria's two fixed tanks, but he eventually says it is ok. I wonder if this is to do with V.A.T? Then on down the coast on one of those delightful Portuguese cobble roads to the Orbitur campsite by the coast. Then we do not a lot all day long.
| | | | | |
| --- | --- | --- | --- | --- |
| Rio Alto (Orbitur) Campsite | | Great location, adjacent to a long, sandy beach. Reception staff a little abrupt. | 41.27.795 | 8.46.423 |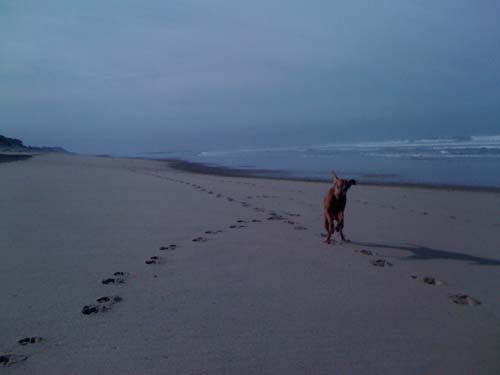 We leave down the coast and spend a couple of hours doing nothing in Vila do Conde (which BTW also has a huge overnight rest area by the port) and then do some shopping off the motorway not far from Porto. This includes a dongle for 3G from Vodafone.
We then head down to the next Orbitur campsite (the idea is to test out the main ones) at Angereis.
| | | | | |
| --- | --- | --- | --- | --- |
| Angereis (Orbitur) campsite | | Very friendly reception lady. Excellent, free Wifi near the main building. | N 41.16.058 | W 8.43.200 |
Lovely beach, though the water does look dangerous. And the pretty fisherman cottages on the seafront.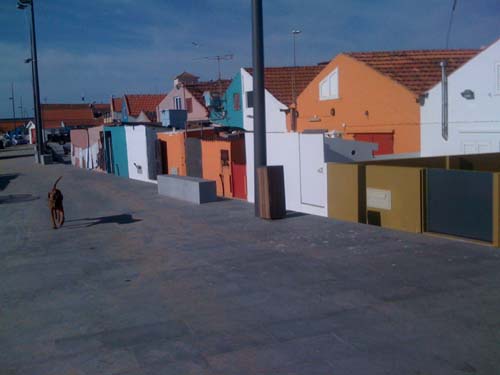 Friends came to visit to the same campsite and we went to a marvelous fish restaurant on the shore.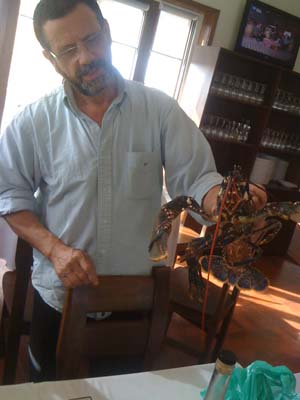 We didn't have lobster, but Dorado - yumm!
The weather is not brilliant because of a low pressure system sitting to the west, so we decide to move a little further south. Over the spectacular bridge at Porto and then down a long, straight road to Pedrogao.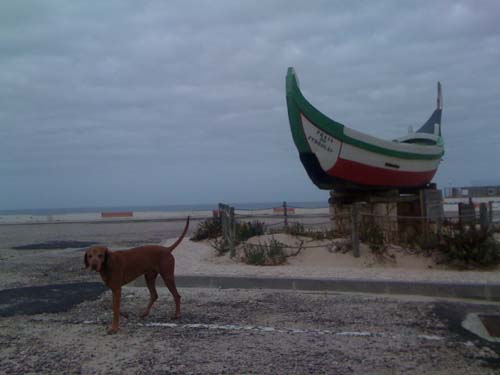 With some waves on the long, sandy beach.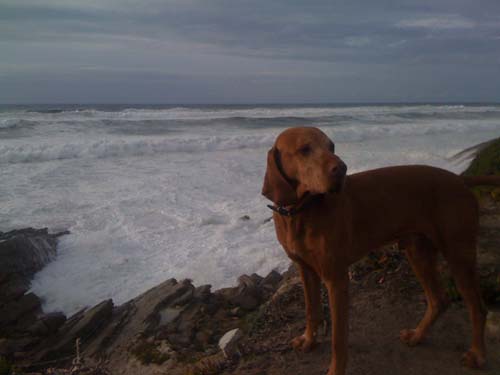 | | | | | |
| --- | --- | --- | --- | --- |
| Pedrogao Rest Area | | Beautiful spot, just a couple of vans, right next to a long beach and a public WC. Exposed - rough, great! | 39.54.968 | 8.57.197 |
The rain is on and off, so we decide to head on south to see if there are more rays there.
We drive through San Pedro de Moel because it is not very inviting in gray. Then follow the coastal road all the way down to the estuary and lagoon at Gronho where we park at the port.
| | | | | |
| --- | --- | --- | --- | --- |
| Gronho Port Rest Area | | Scruffy, but on the water. Hope there isn't a repeat of the Lisbon earthquake and Tsunami of 1755. | 39 25.708 | 9 13.322 |
The lagoon is tidal and a nature reserve.

And the beach isn't to crappy either. Amazing Atlantic rollers.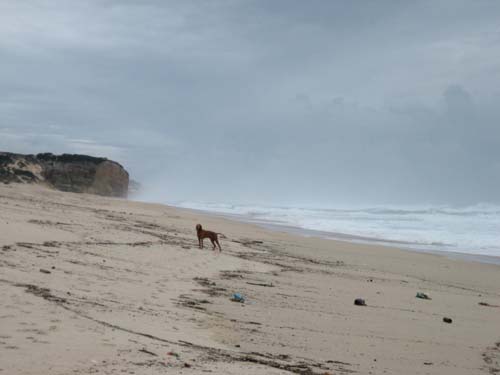 We then take the road south to Perniche, but although "surf's up" there aren't any obvious places to park overnight, so we go south and then back to Obidos.
This is a quaint little walled village going back to Roman times with a Moorish wall and castle. It is known as the "Village of Queens".

The local rest area is close to the town alongside a ruined aqueduct. If I were living in the Middle Ages, this south-facing village would have been a good place to live methinks.
| | | | | |
| --- | --- | --- | --- | --- |
| Obidos Rest Area | | Adequate. Quiet with a facility to dump grey water. | 39 21.364 | 9 09.418 |
The skies open up and then the sun returns.
A few days later we head off back north. More or less a straight line to San Pedro de Moel.
| | | | | |
| --- | --- | --- | --- | --- |
| Sao Pedro de Moel (Orbitur) campsite | | Very friendly staff, beautiful site with large trees. Free Wifi near the main building. | N 39.757872 | W 9.026127 |
The crashing of the Atlantic on the coast is very restful.
Then after the rains back to Pedrogao:

Mostly warm and sunny.
Then back to Angeiras for almost 2 weeks, during which we take a trip up the Duoro River Valley.

And get to meet my son Dustin at the Cinanima 12 (International Animated Film Festival) in Espinho.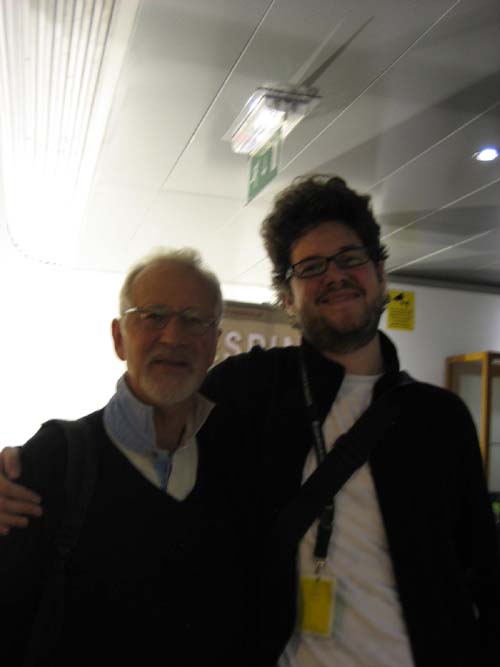 And good food in front of the beach: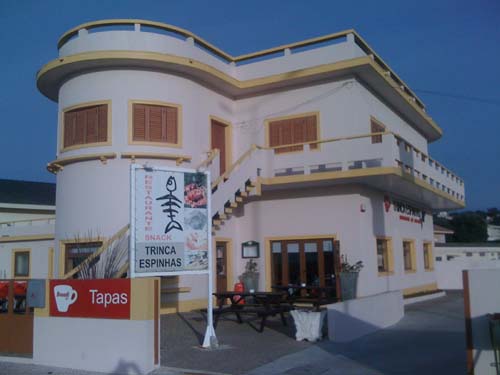 I also have a bad back which gets "cracked" again. Seems age is doing me in. And a visit to the local cinema to see "Skyfall". Not very impressed from the time the DB5 comes back on the scene.
Then off southwards first to Pedrogao Beach for the night.
Then the following day, through the rain, to Monseraz.
| | | | | |
| --- | --- | --- | --- | --- |
| Monseraz Rest Area | | Very quiet, magnificent view below the town walls. A bit chilly because it is exposed. | 38.44272 | 7.37979 |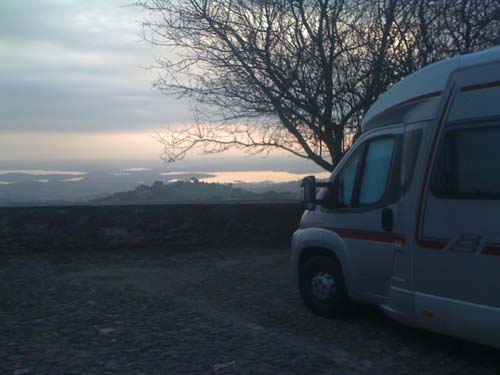 Lovely morning and a walk through the walled town which is empty, not even church bells. Then lunch with a friend.
Later we head off to Almograve, but there is now a sign to prohibit overnight camping. So we head on down to Carrajateira where, in the dark we find the rest area not far from the beach.
| | | | | |
| --- | --- | --- | --- | --- |
| Carrajateira Rest Area | | Just out of the village. Rough, exposed and beautiful. Rubbish bins. | 37.19273 | 8.90227 |
The following morning we go for an early morning stroll.

And stop at a windfarm to test the noise - a hissing sound and the whirr of the generator.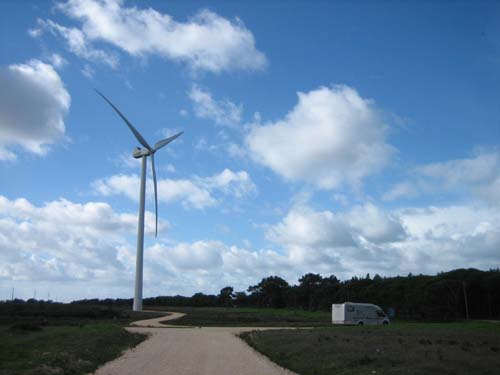 Then to Cape St. Vincent.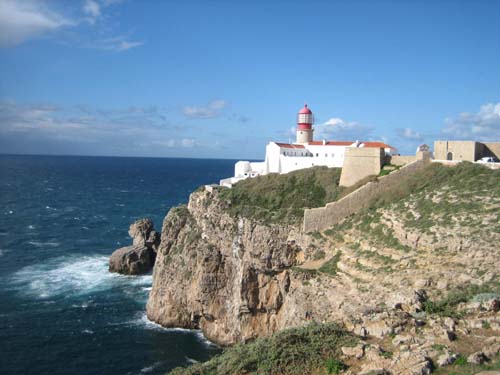 Then on to Sagres for lunch in Maria and walks near the castles. A lot of wind, not cold but uncomfortable.
| | | | | |
| --- | --- | --- | --- | --- |
| Sages Rest Area | | Scruffy dirt area, but sheltered from the winds on the coast. | 37.00706 | 8.93985 |
Then on to the Orbitur at Luz
| | | | | |
| --- | --- | --- | --- | --- |
| Luz Orbitur Camp Site | | Good site, good facilities and Wifi close to the reception. A distance from the beach, and no real path to it. | 37.009987 | 8.71791 |
We walk to the beach but don't walk back in the fields - apparently there is a wild pack of dogs which recently has torn a Dachshund to bits!

Then on to Lagos which is not so interesting. We end up in Silves, where there was recently a tornado. Opps... seems as if a few camper vans were taken apart.
The Norwegians were told - "It is an act of god, not covered by your insurance".

The Brits were told - "Call back in a few days we will let you know."

The Swedes were sent a new van.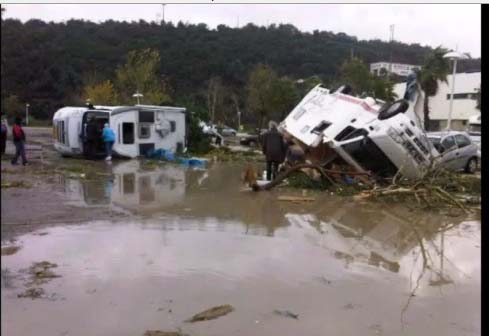 | | | | | |
| --- | --- | --- | --- | --- |
| Silves Rest Area | | Large, well kept area just outside the town. Wifi in the sports center. | 37.18489 | 8.44481 |
We rest in the sun for a few days and enjoy the town where there are not just sights to see but also good food to be had.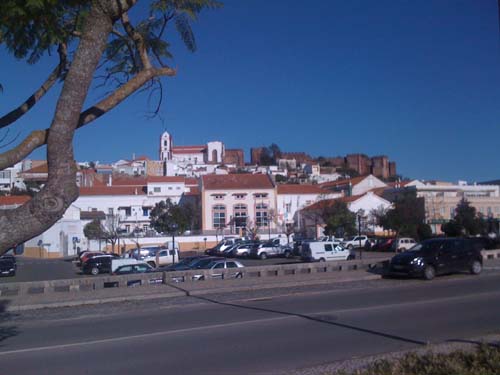 Then we leave and spend 4 nights at the Orbitur in Quarteira.
| | | | | |
| --- | --- | --- | --- | --- |
| Quarteira Orbitur Campsite | | Good facilities including lovely hot showers. Free Wifi in the bar. | 37 04 04.3 | 8 05 03.8 |
Walks on the beach, through the town and some fish on Sunday too..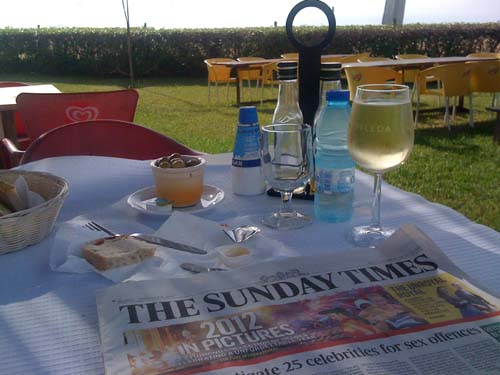 We then leave and go to wash Maria. A Swede comes along and asks if we know where the football park in Albufeira is. No is the answer, but we help him find the place - we drive him there based on the map in the brochure. This is a nice rest area, close to the town and half the price of the "normal" campsite.
| | | | | |
| --- | --- | --- | --- | --- |
| parque da palmeira Rest Area | | The old football field. The proceeds go to the local club. Only € 7 per night which includes electricity and free Wifi. | 37.09883 | 8.24311 |
---
© Copyright 2003, 2004, 2005, 2006, 2007, 2008, 2009, 2010, 2011, 2012, 2013, 2014 Brian Rees All rights reserved