---
2010
Countries/territories visited: .ch, .de, .fr, .eng, .es, .gib
Switzerland
29-JUL Enter Maria - a brand new Hymer T614CL, fully equipped with all the gear (sans TV) and room for Milosh and bike - in the garage. Milosh and I travel to Offenburg and inspect the goods. After a short test drive it takes about 1 minute for us to decide she is a good home for us for a while.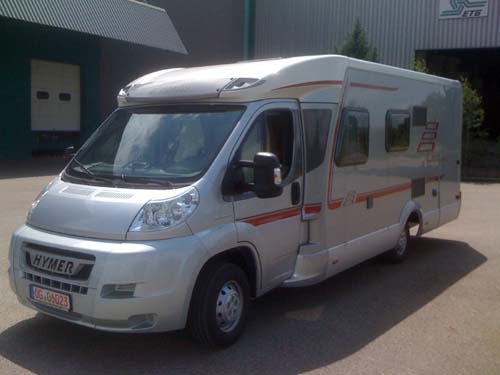 10-AUG The two of us take the train to Basel to meet Maria at the Customs Area on the German side of the motorway. After 45 minutes of instruction (most of which went somewhat over my head) we take command of Maria and head off. A rather good feeling.
To try out Maria we took a couple of trips, one to Wildhaus which also involved a walk down from Chaserugg to Iltios and then for a walk along the Reusse from Far to Bremgarten.
We leave Switzerland at the end of September via Basel.
Germany
The first leg was to Basel, then a brief stay beside the Rhein Canal and then across country via Kaiserlauten.
| | | | | |
| --- | --- | --- | --- | --- |
| Camping Clausensee | | Good facilities, clean, hot showers, but cold in September, damp too. Great walks in woods and villages. | N 49°16'32 | E 7°42'41'' |
After a few (cold) nights at the campsite with some good walks up and down the local hills we head off towards France on the 2-OCT-2010.
France
A long journey, in part because "garmin" was programmed to take the shortest route, not the best idea...
| | | | | |
| --- | --- | --- | --- | --- |
| Camping La Chaumiere | | Really off the beaten track in agricultural land. The boss (Guy) is a bit strange, not entirely friendly. | | |
We spend several days in the area, in part because Milosh has to make a visit to the Vet to get the treatment and documents required to enter the UK. They were "efficient" but not very talkative: http://vet-clin-hautpont-stomer.com/
The UK
Arrive late in the afternoon on the 4-OCT-2010 and drive in the dark towards a campsite which is closed, so we stay in the parking area in front of the site. This is the place where the first "bump" happens to Maria (bottom right at the back - just a squeeze as I reverse) as we wake up very early (lorries passing close by) and head off along the coast, driving past Bodiam Castle, stopping in Brighton for a walk on the beach and on to my cousin's place in Stubbington.
Maria is parked outside their house.
We spend a very pleasant time walking, eating and discussing not much and everything with them.
Then on to Swanage with Garmin creating another "surprise" as we drove along and signs started to appear on the road with the word "Ferry". I suppose I should have been paying more attention.
Anyway, the Caravan Club site was open and the lady on the reception very friendly, so we found a pitch and settled down. Not bad.
| | | | | |
| --- | --- | --- | --- | --- |
| | | Friendly people, nice place, well looked-after, hot showers. | 50.61667 | -2.02223 |
The next leg was to Dorcheser and Charmouth to visit my mother. We had lunch in a local pub which was not as good as the last time we ate there.
We then spent a night at another Caravan Club site because I wanted to see Charmouth. It turned out to be a rather uninteresting town, but the beach was good for a walk.
Charmouth Camping, Monkton Wyld Farm

Scotts Lane, Nr Charmouth DT6 6DB,

Well layed-out place, well looked-after. We parked at the top with (almost) a view. The next morning I savoured the hot showers but as with many sites the showers are poorly designed.
Then down into Devon and via Woodbury Common and Exmouth - for a walk on the beach.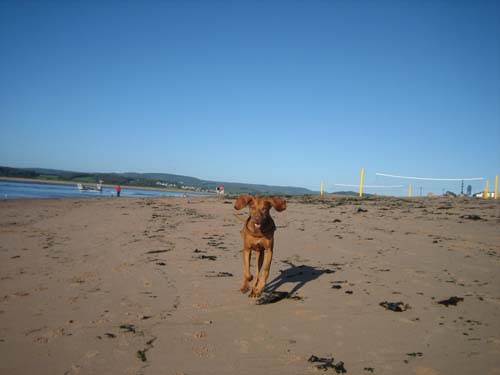 The last leg was to Totnes and my sister's place.
We get to go on Dartmoor on one of those truly wonderful, glorious Devon days.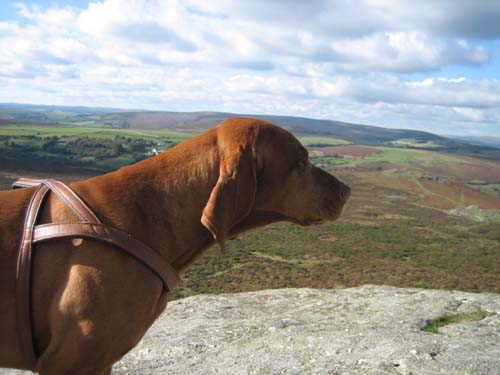 And there are morning jogs alongside the river Dart.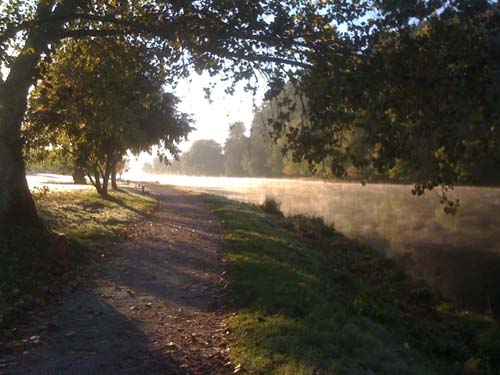 Off we go on the 2-NOV-2010 back to Exmouth for lunch with an old friend and then on to to a Caravan Club site near Wareham.
Caravan Club, Hunter's Moon,

Bere Rd, Coldharbour, Wareham, Dorset BH20 7PA

Friendly, well-kept site with hot showers. Some noise during the night because of the military firing on targets at sea.
On the 3-NOV-2010 we walk around the town, get a coffee and Wifi access before setting off for Hampshire - for another night with my cousin and his wife in Stubbington.
We drive up the M3 and around the M25 to Hertford to stay with a life-long friend and her family in Hertford.
On the 8-NOV-2010 we drive to a very drab Dover and go off to the jolly continent.
France
The weather was not too bright as we headed down the coast road to Etretat and parked at the municipal Aire. Maria actually gets "washed" three times.
| | | | | |
| --- | --- | --- | --- | --- |
| Municipale Campsite in Etretat, Rue Guy Monpassant 90. | | Basic site with facilities which are not free. | | |
The next morning we walk into the village and explore the cliffs which are great, no wonder Monet was inspired.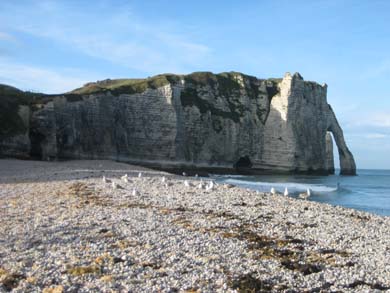 9-NOV-2010 we drive back up the coast to "inspect" some of the towns (Yport and Fercamp) which are not special, apart that is from the swimmers in "La Manche" - too cold for my likes. We then head into and then back down towards Le Havre and up the Seine to Givency where Monet's garden is already closed of course. As it gets dark we head to a campsite which turns out to be difficult to find.
| | | | | |
| --- | --- | --- | --- | --- |
| | | To be avoided, especially when wet. It has the facilities but gets waterlogged and the access is a nightmare. | | |
On the 9-NOV-2010, because the weather is not so good, we head cross country and hit the main drag south taking us through Orléan and onto the motoway stop on the A71 at Etang de la Tranche. The restaurant has Wifi and we settle down for the night under the lights near to the door of the restaurant. Not too much noise during the night.
10-NOV-2010 - a long drive down in inclement weather to Montignac where we stay by the river overnight.
The following morning we have a coffee in one of the local cafés and head off to see the caves at Lascaux which are most interesting.
Then a wonderful drive through Salat to Puy L'Eveque to see the house my sister used to own down by the water. Drove on through Montauban looking for an Orange shop to renew the Wireless dongle, but no joy.
Found a little own (Corbarieu) with sports field. Walked Milosh then tried to sleep – too much "traffic", so left about 22:00 and drove south on A62 NS a61. Stopped at motorway service station to sleep. Aire de Port Laura Gais - near Montferrand, on the Canal du Midi, beautiful place. A church on prominent hills.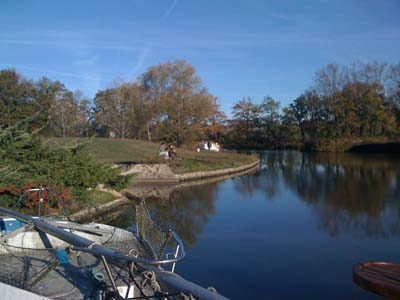 12-NOV-2010 had a coffee at the motorway restaurant - good and hot with a croissant - yumm! On to Carcasonne to fill and wash Maria then to Narbonne Plage for a walk along the beach and lunch in a bistro.
Spain
Drove into Spain where are these roadside "clubs" for the truck drivers. In the dark found the campsite in Capmany run by a Dutch man, all a bit soggy.
Camping Les Pedres de Capmany,

C/ El Ventador, S/N, 17750 Capmany

Soggy, not friendly, not cheap.
13-NOV-2010 On the way to Figures visited the Steiners at Mecanet de Cabrenys who were very friendly. (Not so many bends in the road now that the road improvements have been done.)
On the way to Barcelona decided to head for the beach and found a long stretch at Malgrat de Mar, decided to stay the night as there were other camper vans parked there too. Flew the kite - a virgin flight. Much hissing during the night from the Boeringer chemical plant.
14-NOV-2010 Found a shopping center but no Wireless dongle, drove around Barcelona having heard some bad stories of tyres being slashed, anyway I don't like towns and even less so cities. Walked Milosh on the beach at Creixell, but decided not to stay the night. Drove through the night via Valencia to Alicante and parked in a residential area at 03:00 for a sleep.
15-NOV-2010 Up for a walk and coffee with Milosh then drove first north and then south looking for a campsite. Found one at Santa Pola which seemed to be crowded, but really it turns out the pitches are simply small. Scrapped Maria along the side against some low-hanging branches, but no damage.
| | | | | |
| --- | --- | --- | --- | --- |
| | | Crowded with an arch at the entrance - was missing the letters "Arbeit Macht Frei" I thought. Washing machine poor, coffee good. SHowers hot. | N 38°12'3" | W 0°34'13" |
Met Peter and we went for lunch - so nice to see him again.
18-NOV-2010 drove to La Zenia to meet a friend who used to work at Honeywell. We go for lunch - good fish - and spend the night in her guest roomwhich is a great deal warmer than the campsite.
19-NOV-2010 up very early for a walk along the beach with the sun appearing . superb.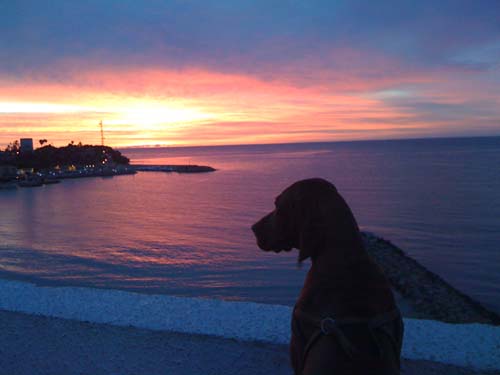 Maria seems to have a problem but drive past a FIAT service station and ask them to take a look. Seems a part needs replacing, said I would come back. Drive on to the Los Gallardos campsite and settle down taking Milosh for a good walk first.
| | | | | |
| --- | --- | --- | --- | --- |
| | | Wierd access and very dusty. Showers hot. | | |
Went to find a place to get provisions but was side-tracked and ended up on the coast road to Carboneros, a significant but beautiful detour.
20-NOV-2010 off to the beach for great coffee and croissant and a long walk for Milosh. Back for a full moon and lorries on the nearby motorway.
21-NOV-2010 bike ride in the hills with Milosh and get a wireless dongle from the Vodafone shop in Mojácar which is a sort of artist community, or at least it was, now there are many Brits. (Artist in a way?)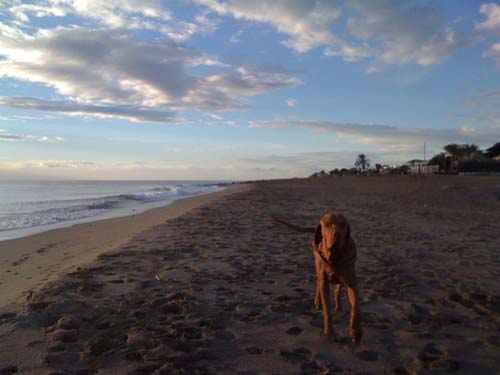 We stayed for some time, mostly because the garage didn't order the part when they said they would, but this meant we did some bike riding and spent time on the beach. We also met Phil and Cole who do their washing in an old cooler, much in the same way that John Steinbeck describes, (travels with Charley,) hot water from the showers, clothes and some detergent, all gets shaken up as one bumps along the road.
We were invited to dinner by Margaret and Malcolm after we had helped her to setup skype, very friendly and good foof too. The site is full of Brits who play bowls on a special bowls surface. It is supposed to be green, but the grass is yellow and there is much dust - as there is all over the campsite.
1-DEC-2010 Leave towards the south, drive through Almaria where there are a lot of plastic tents growing vegetables and fruit. Arrive at Torrox and find the way to the campsite on the Hill.
| | | | | |
| --- | --- | --- | --- | --- |
| | | A good place to stay off-season. The owner has the dryer on a short fuse so don't forget lots of coins. | N 36º29'19.47" | W 4º44'34.83" |
2-DEC-2010 We walk down the riverbed to the sea. To the left are a large number of blocks of flats, so we go left and discover a restaurant, oh and a man from Lituania who does not look like he did a degree in minung, attempting to dig out a cave to live in - in shale?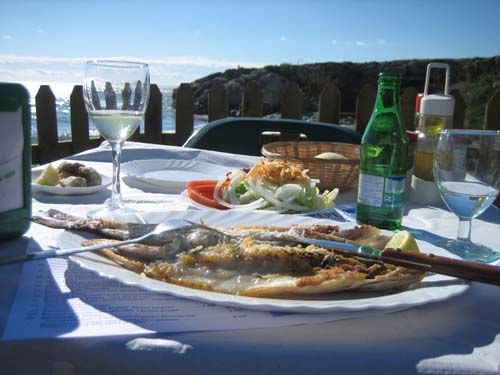 5-DEC-2010 We drive through Malaga to the airport to pickup a good friend and leave Maria in a safe parking. Lunch is back on the beach near the port in Malaga, and then its off to Cordoba in the wet. We find the hotel even though it is dark by the time we arrive.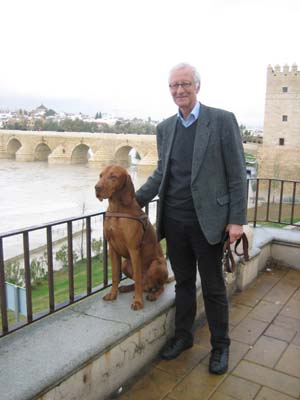 6-DEC-2010 We drive into the town and inspect the Roman bridge, the prayer hall with its own cathedral en suite and then find a very nice restaurant for a wonderful lunch.
7-DEC-2010 we drive the long way back to Malaga airport with the almost continuous olive grove for most of the way.
We pickup Maria and head south towards Malbella where we do some serious shopping and then find a great campsite next to the sea just north of the city.
| | | | | |
| --- | --- | --- | --- | --- |
| | | Good site, pleanty of room, hot showers but sometimes a little chilly. Close to a great beach for walks and jogging. Not too far from a supermarket | N 36º29'19.47" | W 4º44'34.83" |
We stayed until the 7-JAN-2011 mostly walking or jogging on the beach, meeting people.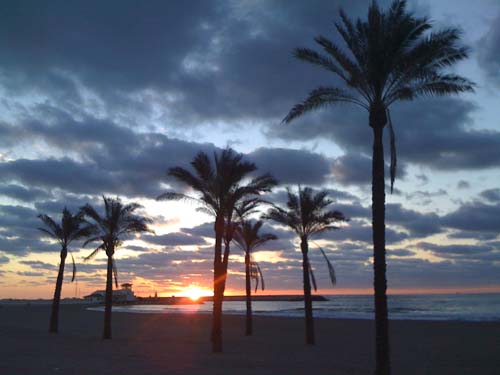 The beach is also known as Costa del Natura because of the nude sun-worshippers - for some reason I didn't get any pictures.
We did do a number of trips:
Gibraltar with friends. The place is dreadful, it reminded me of the tourist traps on the Isle of Wight when I was a boy, then it was all penny arcades and "Kiss me Quick" hats. Gibraltar was a line of duty free shops, bars and fish & chip restaurants.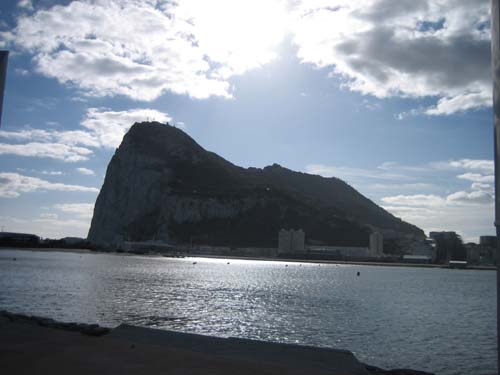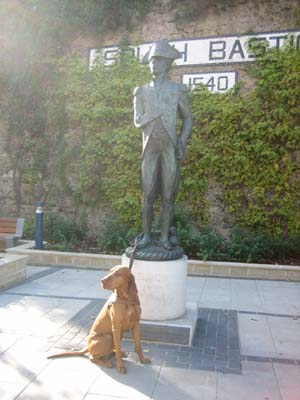 Rhonda once on an expedition to see what it was like and how accessible it would be for a Camper Van, and again with a good friend.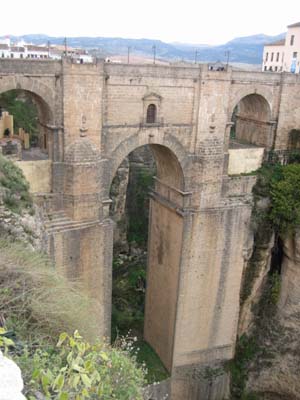 Seville and Jerez with a good friend to see the cathedral and the Moorish Palace, both amazing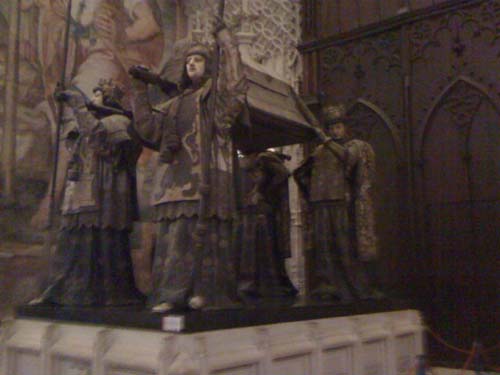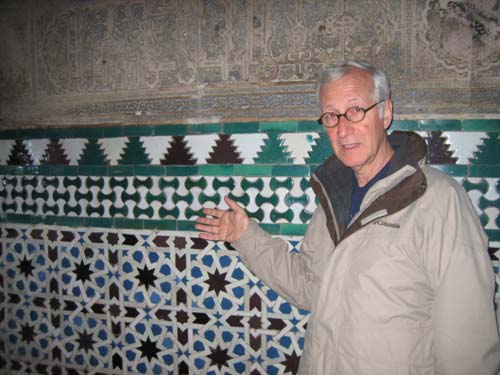 ---
© Copyright 2003, 2004, 2005, 2006, 2007, 2008, 2009, 2010, 2011, 2012, 2013, 2014 Brian Rees All rights reserved